Faux 'Evening News' set in 'Truth' anything but an honest re-creation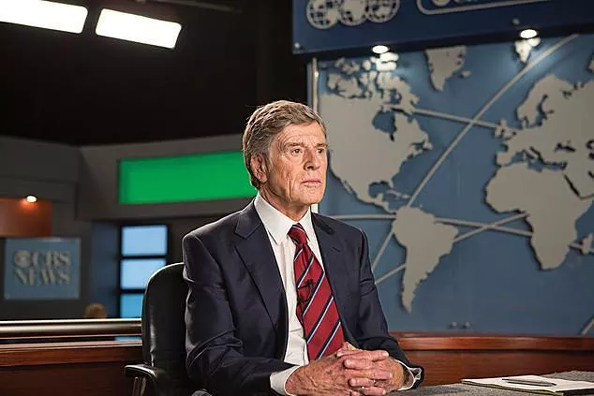 The Robert Redford helmed film "Truth," which chronicles Dan Rather's fall from CBS News after a discredited report on President George W. Bush's military record, has failed to impress audiences and won't win any awards for its faux "CBS Evening News" set either.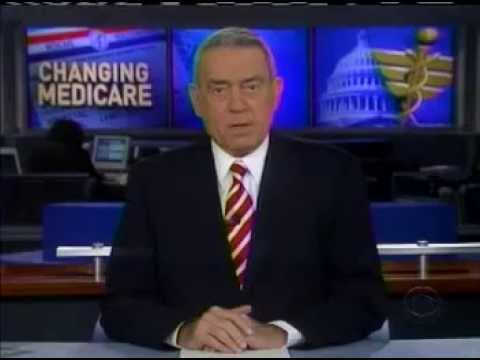 As you would expect, scenes from the film portray Redford, who plays Rather, on the set of the "CBS Evening News. The film's producers attempted to recreate the set the broadcast was using at the time — a heavily blue and dark wood toned look.
While the film gets the basic layout of the set close, it misses the mark on creating a look that's convincing of a network caliber newsroom.
Some notable design elements include the wood-toned header with accent downlight and the wooden credenza and metal rail behind the anchor desk. In addition, the film attempts to recreate the frosted glass world maps on either side of the set.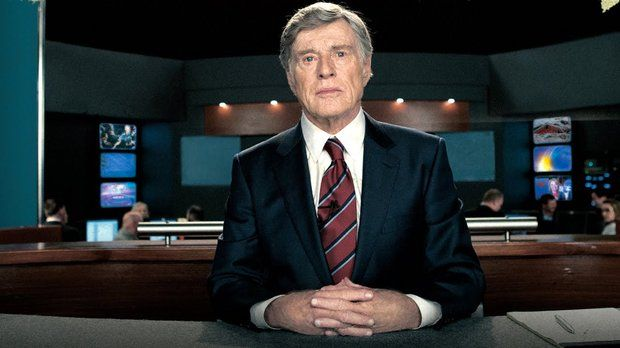 The set suffers mostly from its lack of refined lighting design — which makes it look flat and bland and fails to bring out the richness of colors. Some monitors are incorporated into the set wall behind the main shot, but the scaling is off.
Another odd choice is that, in some places, the "three globe" "Evening News" logo is featured — a design that wasn't prominently featured during Rather's tenure.
Overall, the design looks like someone gave up about halfway through the construction process.
Of course, it wouldn't be realistic to expect the film's production designers to create an exact replica of the impressive "Evening News" newsroom set, but other filmed productions have achieved much better results, including two network TV shows a few years back and HBO's "The Newsroom."
The "CBS Evening News" set depicted in the film underwent several updates through the years, including the addition of an updated anchor desk and rear projection screens along the back wall. When Katie Couric took over the anchor desk in 2006, the set was redone in lighter and brighter colors, but notably retained much of the same basic layout.
The political docudrama "Truth," which was filmed in Australia on a budget of $15 million, is based on "Truth and Duty: The Press, the President, and the Privilege of Power," written by ex-"60 Minutes Wednesday" producer Mary Mapes, who is portrayed by Cate Blanchett.