Pittsburgh NBC debuts fresh new home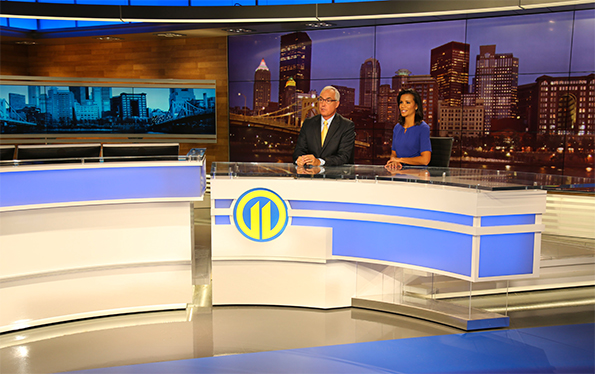 WPXI-TV, the Cox-owned NBC affiliate in Pittsburgh, Pa. took the wraps off a new set during its 4 p.m. newscast today that combines some traditional elements with clean, modern and unique elements that create a fresh look.
The centerpiece of the set, which is was designed by Clickspring Design, is a 3 × 6 array of 65″ monitors that are used to project both branded backgrounds and cityscapes.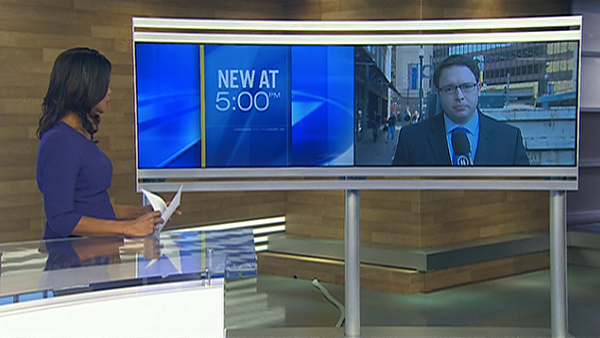 The new set, which replaces a working newsroom set, boasts a curved desk in front of this video wall is combination of clean white and internally lit, segmented panels and the station's iconic "Circle 11" logo.
In addition to the cityscape, the station can also added graphics on top of the cityscape, such as a "Breaking News" banner. The set is also equipped with color changing technology, which includes the use of red for breaking news.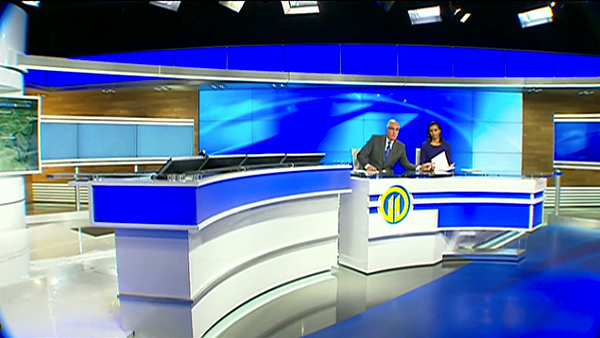 Topping off the set is a gently curved backlit segmented header that could perhaps be reminiscent of several of the city's famous bridges.
On either side of the side, a light but warm wood tone is used on the walls with a freestanding row of flat panel video monitors. These monitors are used as both background elements and OTS for standups and at the anchor desk debrief location.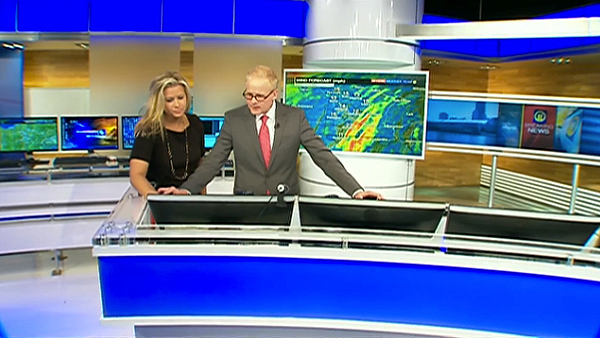 Camera left is the new weather center, which is centered by a white toned column with flat screen mounted on front, creating a presentation area that allows for weather maps to be shown being the forecaster while he or she has full access to the weather computers built into the weather desk, which interestingly buts nearly right up against the main anchor desk.
The weather center also features additional monitors, frosted panels and more computers.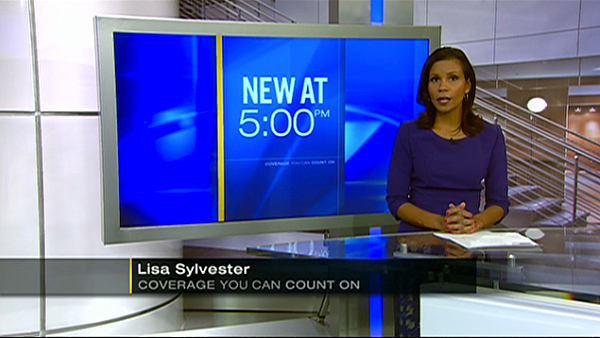 Additional areas include a multipurpose area with flat screen and pod and a printed graphic of a staircase behind it as well as an additional interactive touchscreen backed with wood, gray and blue toned wall.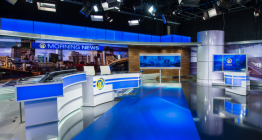 Set Design
WPXI-TV
View a gallery of this project…