MSNBC adds colored columns to set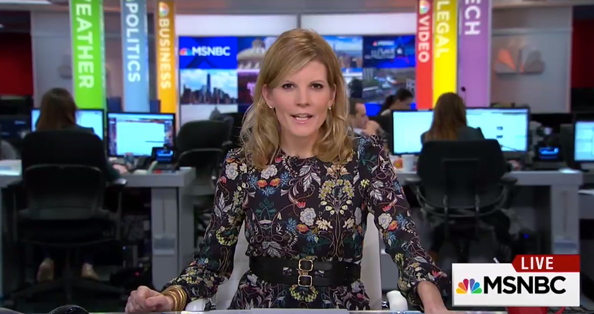 As it continues to reshape its dayside coverage, MSNBC has updated its newsroom set with a series of multicolored columns.
The columns have been placed in the middle of workstations directly behind the anchor position that, on the original set, used the window into the "NBC Nightly News" studio as its background.
That opening was later covered up when WNBC-TV took over the studio with a video array added. Today, the background features backlit panels and a monitor array that can be maneuvered to accommodate the breaking news studio for Brian Williams.
The columns are stepped so they are all visible from this anchor position. At the top of each one is a sideways NBC peacock along with a word that's also placed sideways and each one is a different color.
Interestingly, although there are six columns that roughly correspond to the colors found in the iconic NBC peacock they aren't placed in the same order. It's also worth noting that the colors assigned to certain topic areas — such as orange for "Business" — don't match the color coding used by Tegna stations and USA Today.
Gannett, which owns USA Today, has been color coding its sections (with green used for its business section, "Money") since it launched in 1982. It also carried over matching color coding to the lower thirds used by its TV stations, which it since has spun off into Tegna.