Chicago ABC fakes snow behind anchors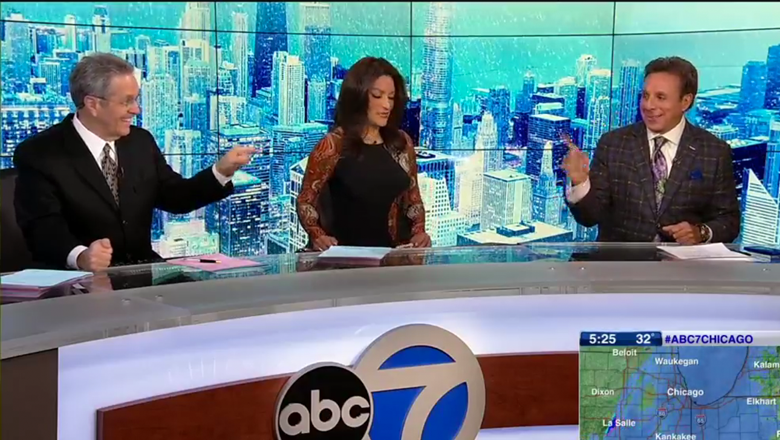 Chicago's ABC O&O WLS-TV wasn't going to let a lack of snow get in the way of hyping up its storm coverage with blizzard-y visuals.
During much of the station's Wednesday afternoon and evening newscasts, the station fed an image of the city skyline with gentle snowfall to the large video wall behind its anchors. The problem? It was fake.
The still image, which was also colorized with a blue hue, also featured the overlay of snow animation, which was the only animated part of the backdrop. The "snow" was shown behind the anchors despite the fact no white stuff was actually coming down at the time.
At other times in the newscasts,  the station did feed actual live footage of the storm (albeit from a location not in the city proper) to the video wall:

Although competitors and viewers are crying foul, WLS-TV doesn't see what the big deal is.
"It was a choice to use a graphic representation, and we think our viewers are smart enough to be able to discern the difference," Jayme Nicholas, a station spokesperson told the Chicago Tribune's Roger Feder. "We think it was very clear that it was not a live shot."
Smart enough to be able to discern the difference? That's a pretty dangerous assumption.
Sure the imagery used was, to anyone experienced with graphic design, pretty clearly fake, someone just taking a quick glance at the TV or viewing it from a distance could easily be fooled into thinking it was, in fact, snowing in the city.
It's also worth noting that, on mobile devices, the details that make the artificial-ness of the image more obvious aren't nearly as sharp.
Plus, as anyone who's answered the phone in a TV newsroom, there are some pretty dumb viewers out there — and that certainly extends to fancy tricks with sets and graphics.
For example, I recall a story that circulated at WNEP-TV, the ABC affiliate in Scranton/Wilkes-Barre, Pa., about a visitor to the station who was confused as to where the "window" in the studio was.
The window in question was actually a virtual set extension that replicated the look of a large rear projection screen for tosses to the station's outdoor weather set: