NeuLion releases new OTT dashboard solution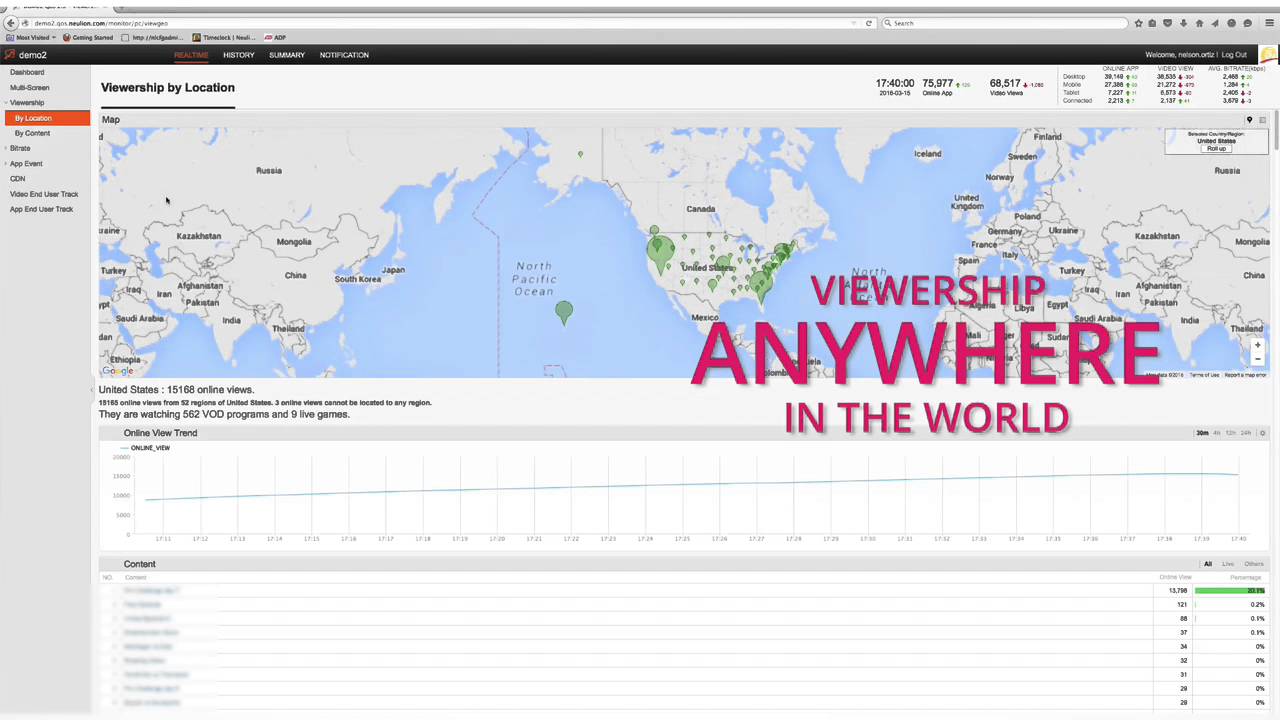 Subscribe to NewscastStudio's newsletter for the latest in broadcast design and engineering delivered to your inbox.
NeuLion has announced a new analytics dashboard has been added to the NeuLion Digital Platform to monitor in real time every viewer's quality of experience and for the content rights holder, business metrics showing instant feedback on the health and growth of their over-the-top and TV everywhere services.
In a continually changing and fragmented digital landscape, the new OTT Dashboard gives NeuLion partners a single view of their digital service that seamlessly combines both quality of service and quality of experience for their viewers but now also includes real time subscriber business metrics.
As part of the NeuLion Digital Platform, the NeuLion OTT Dashboard ensures the best quality video is delivered to all viewers while driving revenue.
With continual data collection at the subscriber and device level, NeuLion delivers real-time metrics to analyze every single viewer through live and VOD content QOS/QOE monitoring – updated every 30 seconds with views broken down by device, bitrates, location and more.
The system now includes easy to use global map views with real time analytics on specific streaming content by device plus as viewers renew or sign up for the digital services, details of the viewers attributes light up on the OTT Dashboard.
"NeuLion gives us the ability to visualize what is taking place for our Univision Now service across platforms in a single view," said Scott Levine, senior vice president, product and technology at Univision Communications Inc., in a statement issued by NeuLion "With these real-time insights, we can improve our audience's quality of service, lowering churn while making the experience better for our users."
The brand new OTT Dashboard now enables NeuLion customers to make business decisions based on real-time critical data analytics and global intelligence to enhance content offerings, attract new customers and retain existing customers all the while driving more revenue for their OTT service.
Features include:
Live views of OTT customer activations including application downloads, registrations, purchases, logins and authentications; all viewable by device type and location
Breakdown of users by paid, free, trials and more
Content watched: most viewed videos, drill down to see what devices the content is being watched on and from where
Integration with Nielsen data to create one view of broadcast and OTT analytics together
Retention History: see the value of your content driving views coming back the following months
See live linear channel reports including viewership by channel, duration, bitrate and view length
"The NeuLion Digital Platform and its OTT Dashboard provides all the data and more that we need to deliver the highest quality service to our viewers," said Michael Calderon, vice president programming and digital media at the Big Ten Network in the statement. "We have been able to take all of the data and make real-time decisions that help reduce customer churn, drive subscriptions through customer acquisitions, retention and satisfaction, while optimizing our marketing efforts based on the results of the OTT Dashboard."