New Releases: Fresh production music tracks for fall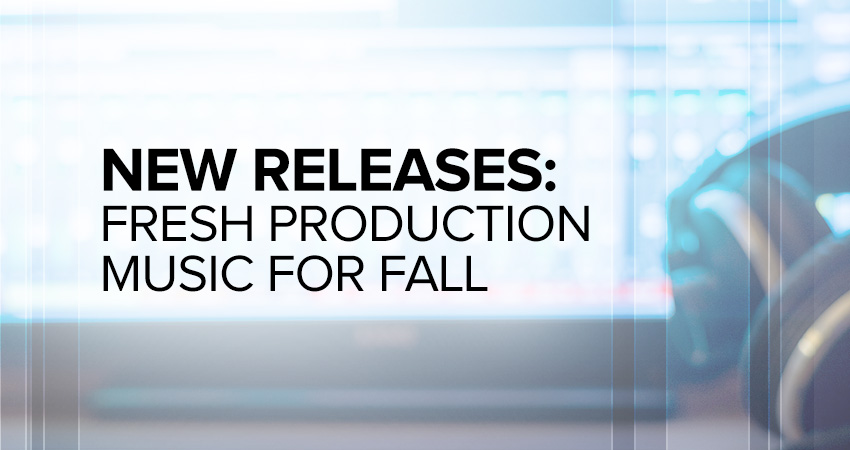 This fall has seen many new releases, including some new collections and catalogs. Here's a quick look around the various production music libraries to see the latest.
FirstCom's new releases include Jonathan Elias' album "Lifted 2" with documentary and film style cues, provoking a range of emotions and thoughts. We also recommend listening to "Breaking News Drama" for beats created for news coverage and unfolding events.
Warner/Chappell Production Music released many new albums in November, including plenty of sweeps and swooshes in "Promo Toolkit v2" and many dark soundscapes in "Drama Cuts," with track "Drama in the End" really standing out for promo use.
From its Non-Stop Producer Series, "Indie Drum Hive" provides unique indie beats with pop and electronic hooks.
APM Music has dropped another large release for November and December, ranging multiple genres including the sounds of Brazil to a storybook collection of epic and unfolding cues.
"Status Symbol" has many slick tracks worth checking out, such as "Beams of Light," as does "Lifestyle Sketches," with its positive acoustic vibe.
KillerTracks sports 32 new albums for November and December, ranging from the latest in its "Motivational" collection to new installments from labels Immediate Music and Volta Music.
Tray Dahl and the Jugtime Ragband contribute a carefree, swinging album of tracks inspired by the 1920's/30's with their Artist Series album.
On "Motivational 13," we recommend "Upward Climb," a track perfect made for uplifting promos and teases. Also worth checking out is "A Christmas Wish," as TV stations begin to promote their holiday event coverage.
VideoHelper debuted a new collection in November, dubbed Carbon, with cues created with the producer in mind. Easily editable, the tracks are a bit longer at 2-5 minutes each.
The first two "Carbon" albums include "Spires: Emotional Momentum" and "Sellout: Post-Urban Indie Beats," with two contrasting sounds and styles ranging from powerful building tracks to EDM beats.
Stephen Arnold Music's The Vault has updated its collection with new whimsical and fun albums, ranging from "Christmas at the Movies" to "Positively Light Hearted" and "Mischief And Whimsy."
For a change of pace, "Go Rural 2" provides a set of laid back country tracks.
MegaTrax's updates include tracks straight out of "Monster Sports" and an "EDM Xmas."
"Quality Time" provides a series of quirky, fun beats, while "Emergency Call" shifts to the other end of the drama spectrum.
Watch for more "New Releases" on NewscastStudio next month, as we help you find new and thoughtful production music for your next TV or film project. Plus, make sure to check out our "Top Tracks" series for the curated selections for a variety of themes.
The latest in design, production and engineering
Subscribe to NewscastStudio for the latest delivered straight to your inbox.