Ocean City High debuts expansive broadcast facility for student journalists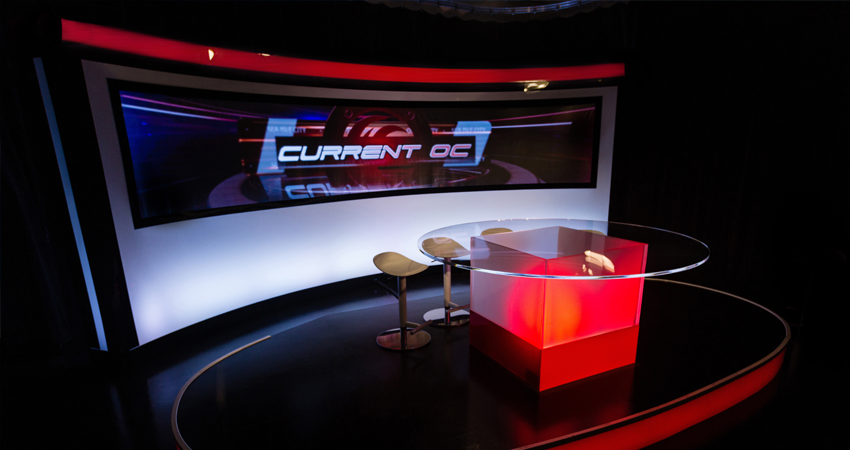 Ocean City High School has debuted a new, state-of-the-art broadcast facility with an impressive set for its student-produced newscasts, "Current OC."
The final look, which includes a 300-square foot control room and 890-square foot studio, boasts a multi-venue set design with an impressive 20-foot seamless LED video wall behind the anchor desk.
The studio set, which includes three distinct areas despite its small footprint, also melds color-changing lighting technology into a sleek professional look that rivals that of some network level sets.
"We wanted to be sure we gave the same attention to detail to the set as we did to the infrastructure after upgrading the environment to tapeless HD because having a properly lit set is just as important — especially in education where we're training students who may ultimately wish to make a career out of television production," said Steven Trauger, the district's engineer, in an interview with NewscastStudio.
The final design includes a main news desk, interview area and chroma key wall, as well as an isolated audio booth.
[field name=iframe]
"Knowing that we are able to provide our students with a program and a studio that rivals what is done on a national level, such as ESPN, is amazing and makes me proud to be a part of it all. I cannot wait to see what the students create," said Kathleen Taylor, superintendent of Ocean City, N.J. public schools in an email interview.
An overarching goal that triggered the new look and equipment overhaul was a switch to 16:9 HD production.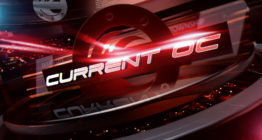 Motion Graphics
Current OC
View a gallery of this project…
The project was spread out over three years, starting in 2014 with a $192,500 investment in a high-definition control room and camera update. In 2015, the school upgraded its editing suites and various hardware for $65,771.10, according to the district. The final stage, completed over 2015 and 2016, included the new set and lighting and represented a $136,145 investment.
While those figures represent a substantial investment, the state-of-the-art facility represented a key part of the district's goals to equip students with valuable skills that prepare them for the future.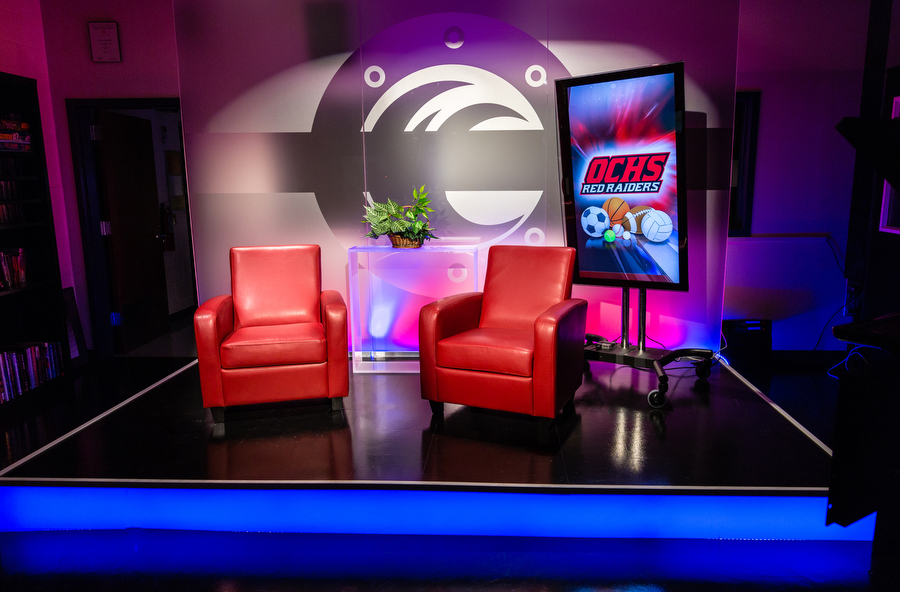 "Students in our highest-level television production course have the opportunity to receive college credit for their work, so it was important to have a production environment that meets those standards while properly preparing them for the future," explained Trauger.
"Not everyone will continue on and major in television production at the college level, but they all will leave class as smarter consumers of media. They'll know what goes into the craft, how to frame a shot, pace and edit and tell a story," said Trauger.
Special attention was also given to creating a workflow that was both state-of-the-art while also reducing redundancy in having to enter lower third text or weather data across multiple systems, an effort that led to Trauger to work with Rundown Creator and BroadcastPix to tightly integrate lower third text and XML-based weather data with the production procedures.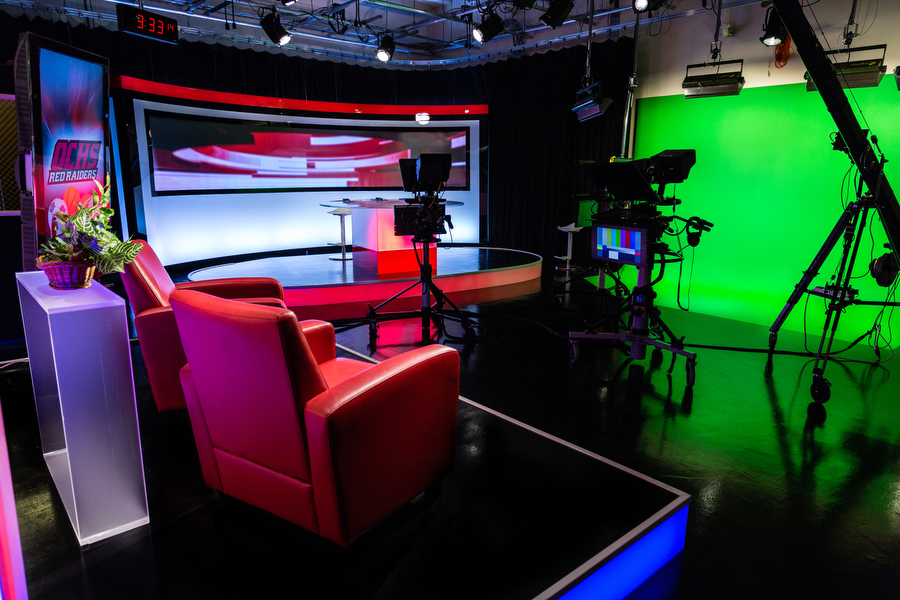 At the same time, Trauger strategically eschewed automation technology so that students would get as much hands-on experience as possible—literally.
The new equipment and set have boosted students' enthusiasm for the TV production program.
Mackenzie Pearce is a senior enrolled in the N.J. School Choice program and has been taking TV and media classes at OCHS since her freshman year.
"I was told about the program through friends who had taken the class before and they mentioned how Ocean City has the best high school news program in New Jersey. I absolutely love being a part of it, and it was great to see the department working so tirelessly with the school this past year to bring Current OC to life and now this state-of-the-art studio," she said in an email interview.
"I'm ecstatic to be able to see our school have such an amazing studio and be able to work so closely with the equipment, because it offers the experience of a lifetime," said Morgan Pfau, who works as a producer on Current OC.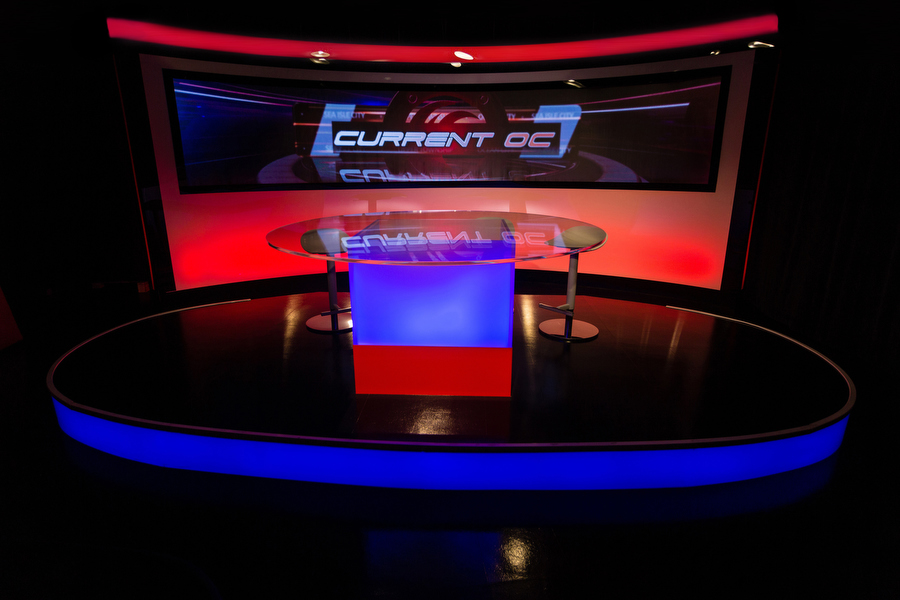 McKenna Robel, a producer with Current OC who hopes to one day become a professional video editor, recognizes the value this studio is giving her. "I'm excited to be able to get hands-on experience using technology that is used in the professional world," she said via email.
From a technical standpoint, the multi-year project also includes updating the school's routing and signal distribution.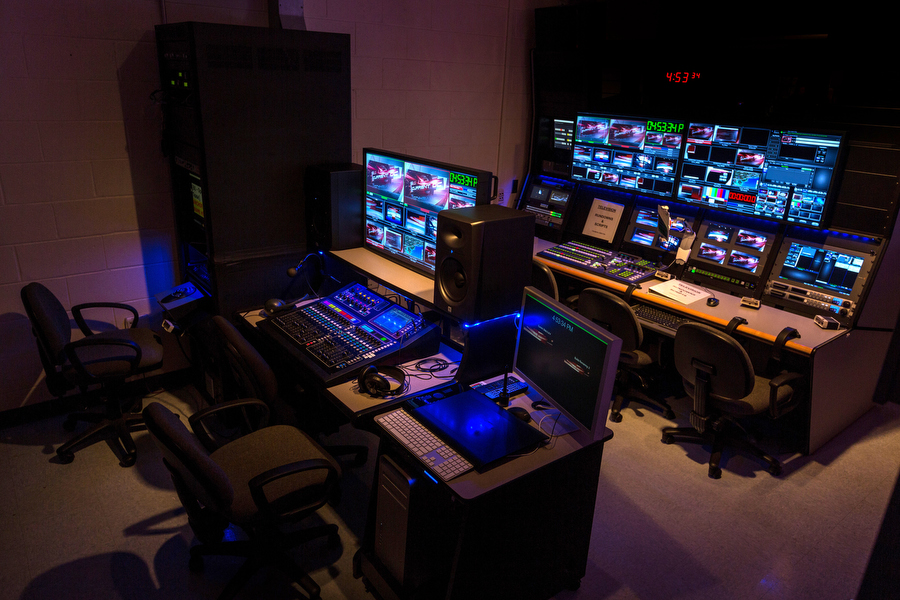 A Ross Synergy switcher was replaced with a BroadcastPix Granite series and an analogue Mackie mixing console was replaced with a digital Allen & Heath console.
DVCPRO VTRs were replaced with solid state media recorders, and the layout and orientation of the control room was reconfigured to more closely resemble the workflow and layout one might find in a similar control room environment within the business.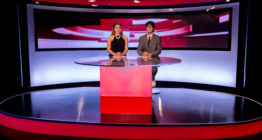 Set Design
Current OC
View a gallery of this project…
Project Credits
Set Fabrication: Horizon A/V
Systems Integration (Control Room/Studio): Horizon A/V
Systems Integration (Nonlinear Editing Environment): Reboot Computer Services Inc.
Broadcast Design: In-House
News Music Package: "The Insider" (by Megatrax)
Voice Imaging: Brian Battle Creative