Yin and yang: Blending Martha Stewart with Snoop Dogg for VH1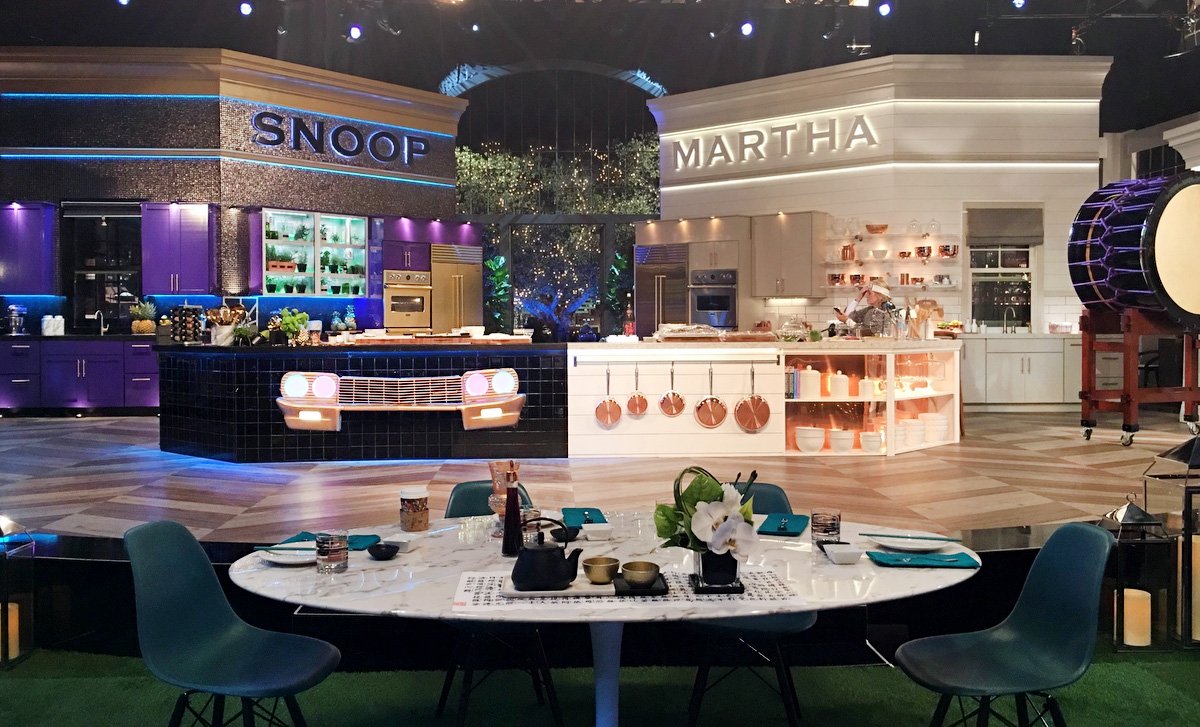 Subscribe to NewscastStudio's newsletter for the latest in broadcast design and engineering delivered to your inbox.
To add a more homey feel, Connelly brought in a structural gable that also helped disguise the uneven roofline of Stage 26 at the Paramount lot, where the first season of the show was filmed.
The elongated shape of the soundstage, meanwhile, pushed the set's layout to be deeper rather than the more traditional wide configuration one might expect for a split design such as this.
That depth allowed Connelly to create dynamic angles that form multiple cozy nooks, including two that jut out and hug the audience seating area.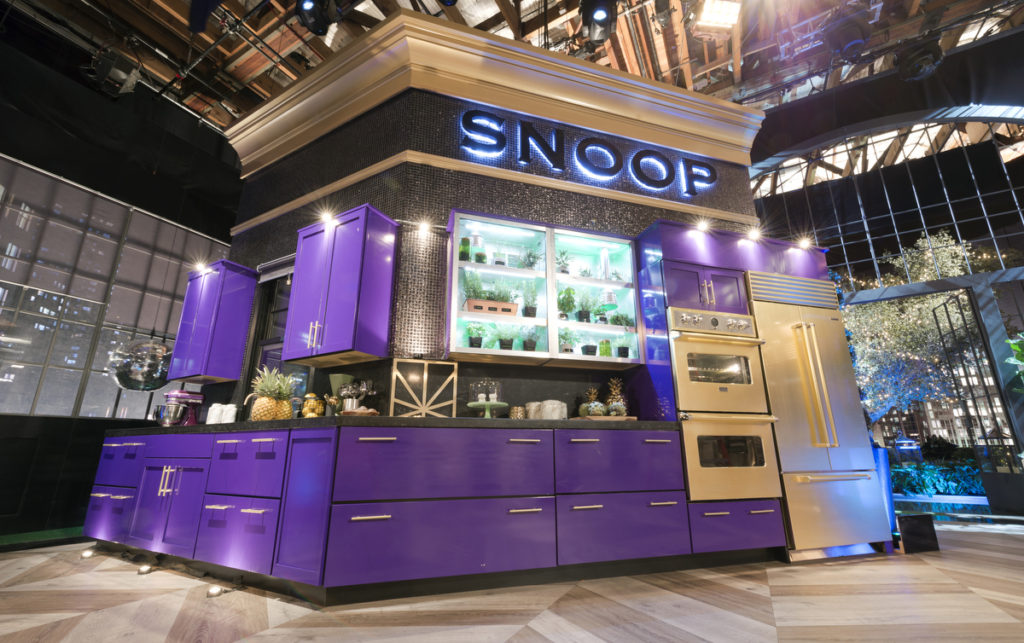 On Snoop's side, that alcove was set up as a DJ booth complete with faux grass and hedges decked out with twinkle lights.
Martha's alcove, meanwhile, was used as a multipurpose area designed with the feel of a living room.
Scattered throughout the area, various windows allow the cityscape background to shine through, which gives viewers a subtle visual cue that, while the spaces are so unique, they still sit within the same space.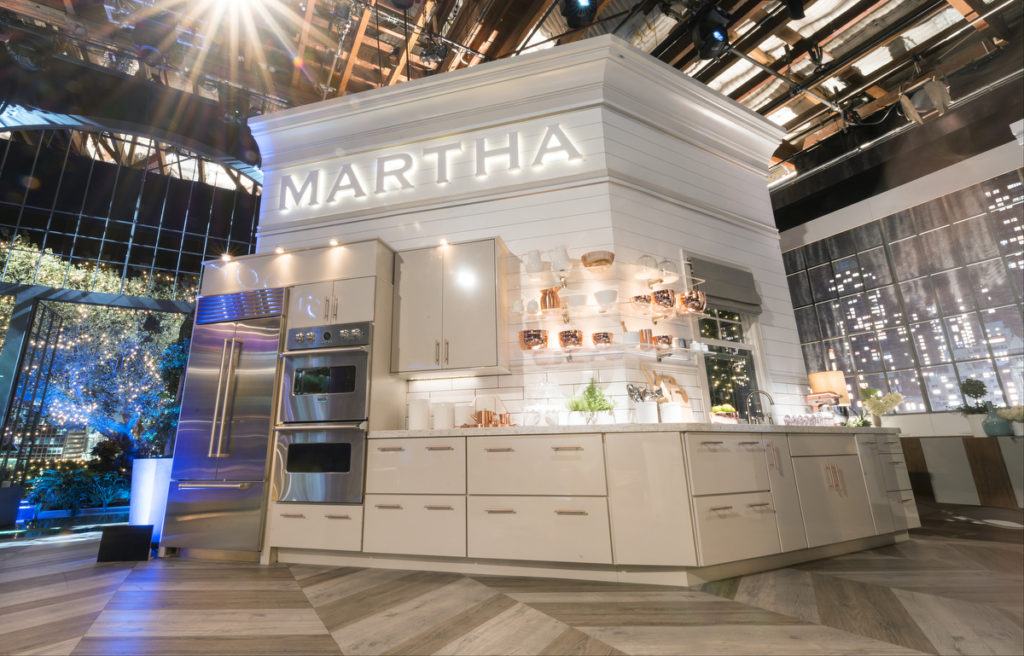 The two incongruous personalities of the two hosts were brought to life with careful attention to detail.
Martha's side mixed mid-century modern design and furnishings with the clean style she's known for, while Snoop's kitchen featured a color scheme influenced by the Los Angeles Lakers colors.
Connelly used a company that wraps vehicles with printed graphics and slick finishes to add a glossy purple and brushed gold tone to cabinets and appliances, respectively.
That gold color found its way into Stewart's side with the cookware adorning the front of her kitchen island — while Snoop's island includes an actual 1964 Chevrolet Impala grill.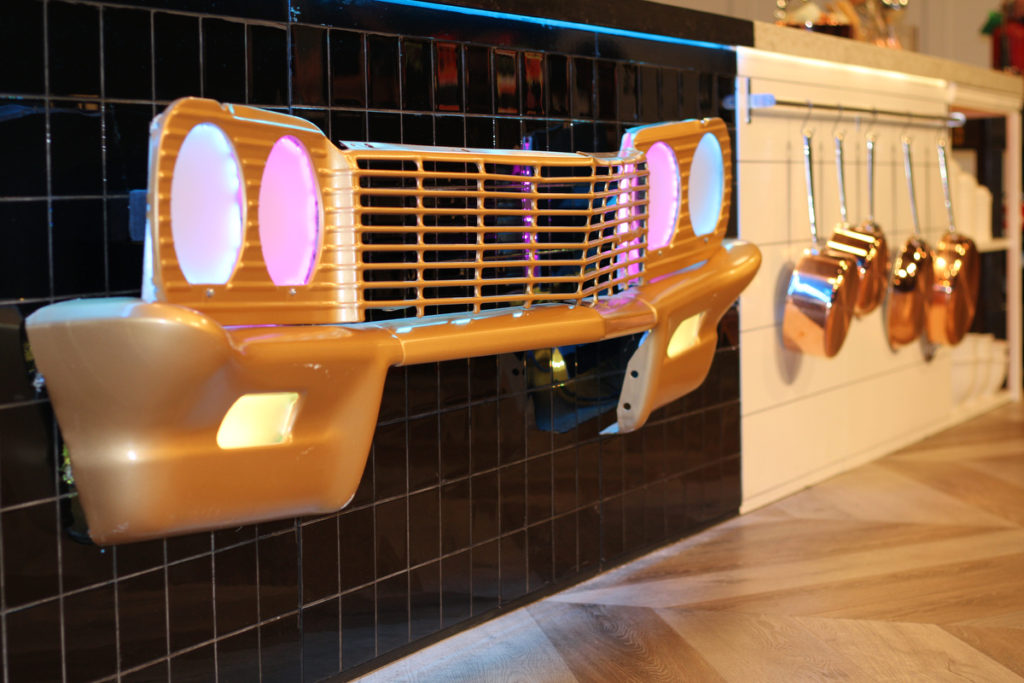 Those islands both play a key role in how the set works — in addition to being functional workspaces for food-oriented segments.
That ample counter space gives the show's producers the flexibility to have a wide variety setups for various guests and segment types.
Other cooking shows, on the other hand, tend to be more focused on creating "zones," explained Connelly, who also handled production design for Bravo's "Top Chef" this season.
For example, these shows tend to cluster the refrigeration and cold storage equipment in a single area and place less emphasis on counter space.
For "Martha & Snoop," however, Connelly placed a strong emphasis on the "work triangle" between the range, refrigerator and sink.
Working with Stewart and Snoop gave Connelly a chance to both stretch his design muscles while also learning from the show's marquee hosts.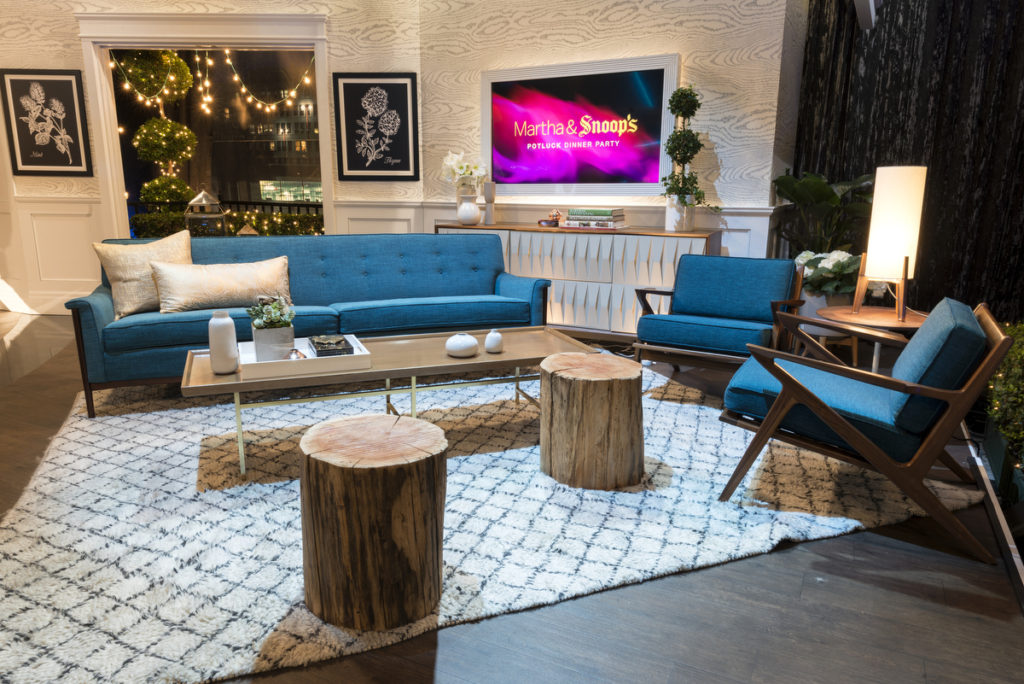 "Martha had some great ideas about texture and colors," he explained, adding that Snoop's eclectic career and tastes also added fuel to the design arsenal.
"Every piece of that set was curated by myself, Martha or Snoop," said Connelly.
As it turns out, Snoop and Stewart have great on-camera chemistry and the show has hit home with viewers — it's been renewed for a second season.
For the new installment of episodes, the set will be relocated to a yet-to-be-determined space for what will likely be a higher episode count.
Connelly expects the set design will remain largely the same, but expects some enhancements and updates to accommodate the evolution of the show as it matures and grows.
Project Credits
James Connelly, Production Designer
Lydia Smyth, Art Director
John Calderon, Run of Show Art Director
John Myatt, Asst. Art Director
Kyle Doll, Asst. Art Director
Michael Gump, Property Master
Jeremiah Gastinell, Set Decorator