Ikan brings DMX control to lights, introduces new LED instruments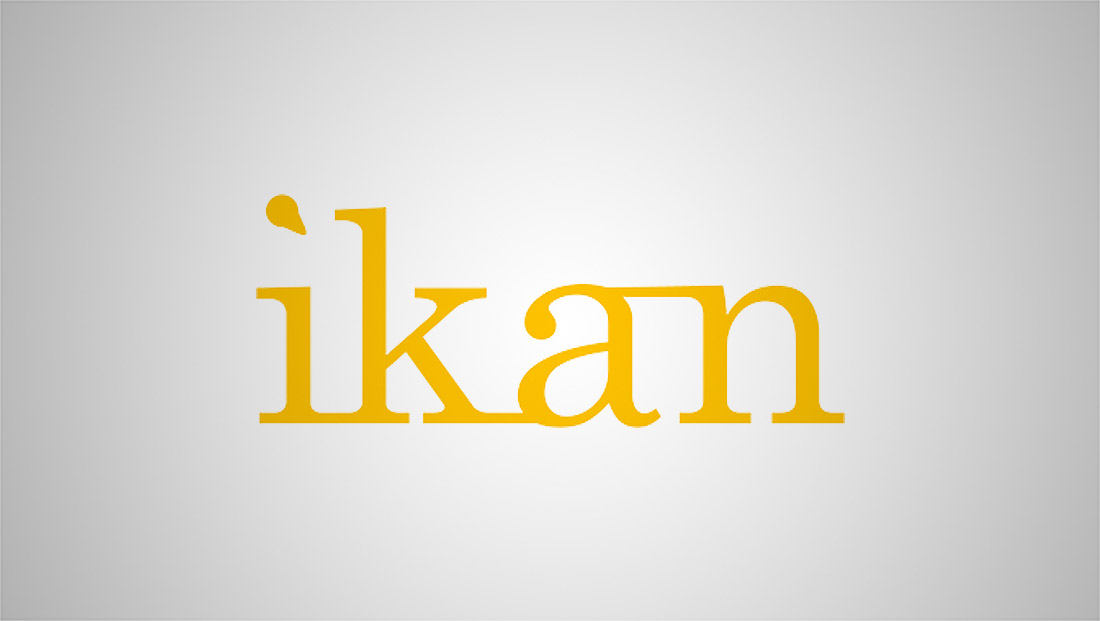 Subscribe to NewscastStudio's newsletter for the latest in broadcast design and engineering delivered to your inbox.
Ikan will release an array of LED light updates at the upcoming NAB Show in Las Vegas.
The updates, detailed below, included DMX control to its Lyra and Rayden series, new on-camera lighting, updates to its Mylo family and a new fresnel for field production.
DMX to Lyra and Rayden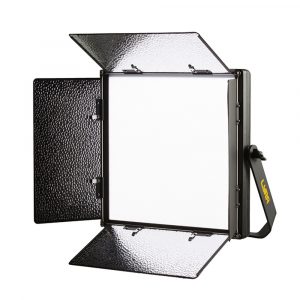 The Lyra DMX brand of soft lights have high CRI chip LEDs paired with a soft panel to produce a very soft wrapping light. With a bicolor adjustability that ranges from 5600K-3200K, these lights can work with any setup.
The Rayden DMX LED lighting line has high CRI 45 degree LEDs, creating a bright light. The 50 degree beam angle also makes it possible to light a large area with a single fixture. The Rayden line of DMX lights includes the RBX5, RBX10, RWX5, and the RWX10.
Both the Lyra and Rayden line of DMX lights have a 30 degree yoke and a baby 5/8" or junior 1 1/8" combo pin.
In addition to these two DMX lighting lines, Ikan has also introduced new larger Lyra DMX lights including the LBX30, LBX15, LBX20, LBX25, and the LBX40.
Mylo Additions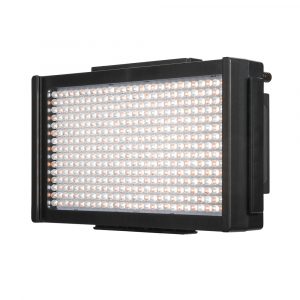 The Mylo LED series will add the Mylo mini (MB4) and the Mylo soft (MSB8) lights.
The Mylo mini has high CRI LEDs (95+ CRI) with bi-color adjustability ranging from 3200K-5600K. The brightness of the light is consistent across all color temperatures. In addition, the beam angle is about 50 degrees, making it possible to light a large area with a single fixture. The Mylo mini is battery powered with Sony style "L" series batteries.
The Mylo soft lights have high CRI chip LEDs paired with a 1⁄2 stop soft diffusion panel. They are also bi-color adjustable from 3200K-5600K. With the Mylo soft lights, you have the option of using the Sony "L" battery or DV battery.
Onyx Series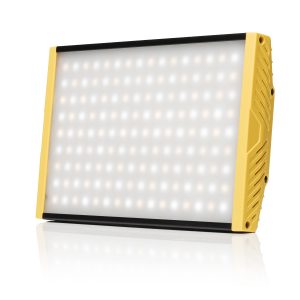 Built out of aluminum, the Onyx is both durable and lightweight. In addition, the fixture gives off minimal heat due to the aluminum frame, allowing for excellent ventilation. With the LED display, you can easily and accurately control the brightness from 10-99% and color temperature from 3200K-5600K. All lights come with a battery, battery charger, and hot shoe mount.
The Onyx currently comes in two sizes: the OYB120 and OYB240. The Onyx joins Ikan's growing roster of impressive on camera LED lights and complements well with Ikan's dependable flat panel LED lights such as the Lyra, Rayden, and Mylo series of lights.
Stryder fresnel light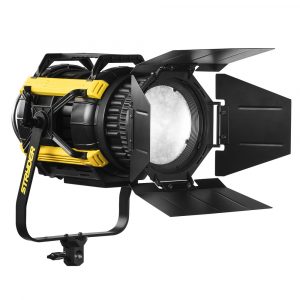 Ikan will debut a new line of LED fresnel during the NAB Show, the Stryder.
The Stryder Bicolor 200 watt LED light or SB200 is a part of Ikan's new Stryder line of COB LED lights. The SB200 is a 5" Fresnel light that can change from a wide beam angle to a tight beam with just a click of a latch. With an extremely quiet active cooling system, professionals can easily keep working through any shoot. In addition, the Stryder is easy to move around on set with its lightweight Nylon-Resin body and easy setup.
The light's hardy outer shell makes the Stryder resilient from the rigors of any shoot. With DMX512, this versatile field light can be used in or out of the studio. Using the gold mount or V-Mount battery, the Stryder can be used in any environment. With four way barn doors included, the Stryder SB200 bicolor LED is all you need on set.
The Stryder Daylight 50 watt field light or SW50 is a 4" Fresnel light that can also convert from a wide to a tight beam angle with a latch. The SW50 also has an extremely quiet active cooling system to keep it working through any shoot. With 18650 batteries, the SW50 can be easily powered and used in any production environment.