James C the design guy: Merging academia, tech and the zany Bill Nye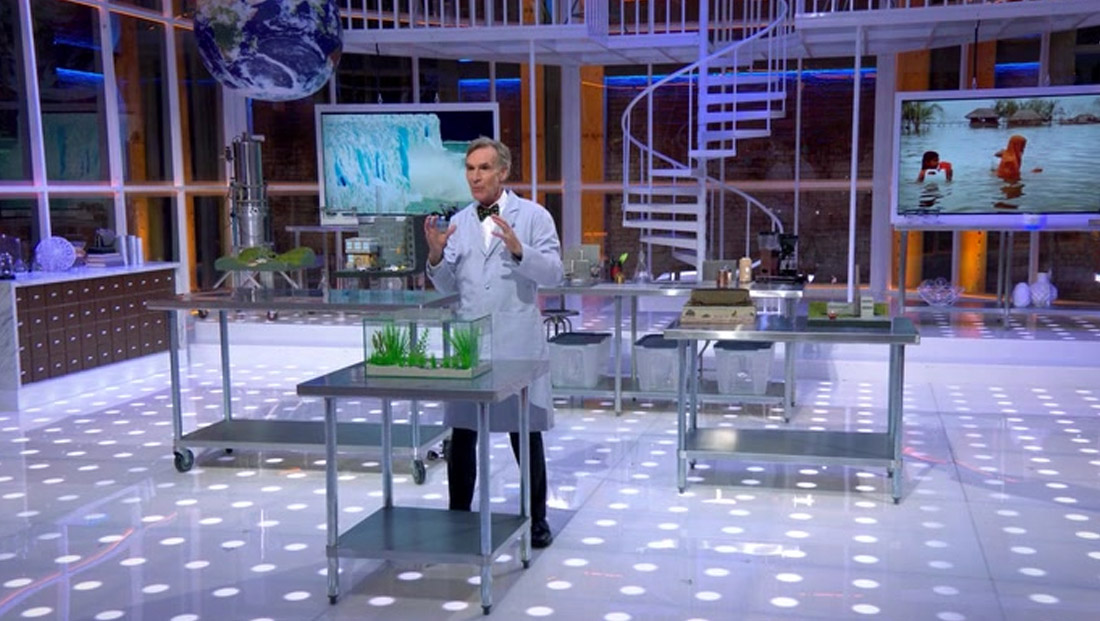 When it comes to scientific terminology, Bill Nye is a stickler for details.
While collaborating with Netflix and Nye to create a set for "Bill Nye Saves the World," designer James Connelly was reminded of that every time the topic of the set's centerpiece — a spiral staircase — was brought up at a design meeting.
"Ah, ah, ah, it's a circular stair. A spiral actually tapers off at the top," Nye would remind everyone in jest, said Connelly.
It's that quirky and offbeat personality of Nye's that ended up inspiring the entire aesthetic of the studio's final design.
When first researching the project, Connelly discovered that Nye is not only quite proud of his Pacific Northwest roots but also had a passion for swing dancing.
In the end, mixing those two concepts created what Connelly imagines as a warehouse or train depot that's been repurposed as a high tech lab for Nye.
It offers a wide open space where the flexible choreography of the show can take place — if lively science experiments and demonstrations count as choreography.
[quote]"To me, it was important to not refer back to the original show. I wanted to stay in the very bleeding edge."[/quote]
A sort of "set within a set," the central area of the the studio is known as the lab.
It features a custom-engineered, internally lit floor and wraparound, windowed walls, and is anchored by the spiral — err, circular — staircase that leads to a mezzanine level.
Planning for this space required meticulous experimentation, with Connelly's design team creating a mock, taped-off template of the space to test each of the various scenarios producers imagined Nye using — whether it involves an open flame or throwing a basketball.
In a way, Connelly pointed out, Nye is swing dancing throughout each episode.
To achieve the slick, polished look, Connelly used high-gloss spray of automotive finishes throughout the set, including much of the lab surfaces and even the concrete pavers that front the set. (Incidentally, Connelly also used automotive wrapping technology on the purple kitchen for his work on "Martha & Snoop's Potluck Dinner Party," which won NewscastStudio's Entertainment Set of the Year award.)
"I truly believe in not staying in your lane in design," said Connelly, referring to his interest in automotive finishes. "I love looking for ways to 'cross-pollinate' and draw inspiration from other artists."
Outside of the ring of windows is an academia-inspired library with exposed brick, arched windows, exposed girders, custom millwork bookcases and subway tile, which is designed to purposefully contrast with the stark and sleek high-tech look it houses.
When shooting the show, Nye walks down the narrow hallways created by the glass walls, giving viewers a glimpse at the curated items found in this area — which includes personal photographs and some of his favorite tomes.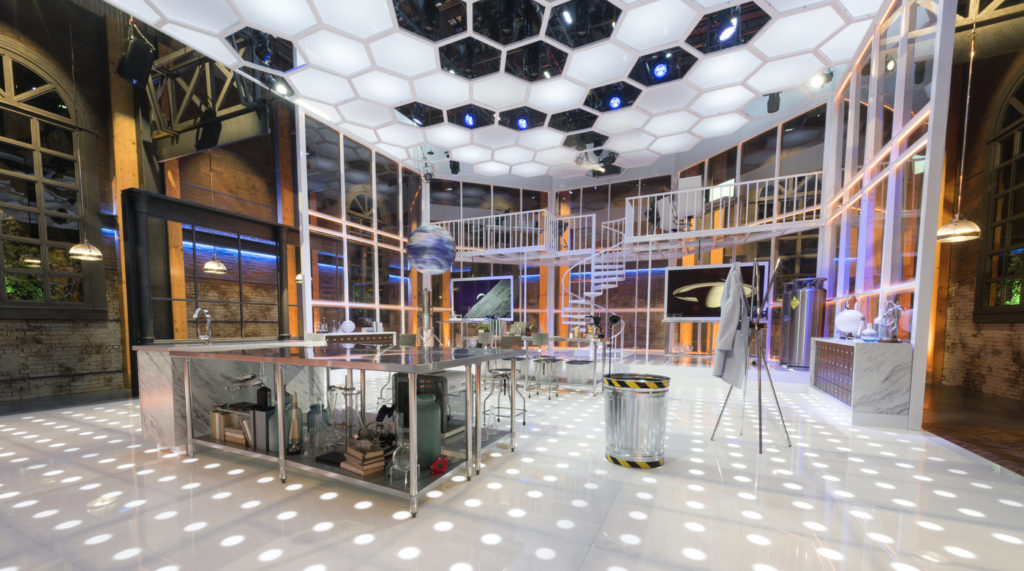 To separate the areas, the front portion of the glass windows can be raised and lowered using automated lifts, allowing the two zones to be used separately or together.
Being able to separate the lab from the rest of the studio was also a key design decision, so that interview and other segments that take place in front of the closed glass have a more intimate connection to the small studio audience — whereas the lab area is meant to be used for a conversation between talent and the viewer.
For those conversation segments, which feature scientific experts, Connelly noted early on that the conversations between Nye and his panels were more genuine than on other shows, and they, therefore, demanded a unique presentation style. For these segments, Connelly opted to restrict the design to simple background elements and furniture to allow the focus to remain on that exchange of ideas.
"It's such a deep sharing knowledge and not trying to show each other up, that we wanted to capture that on screen and bring both the viewers and audience into that experience," said Connelly.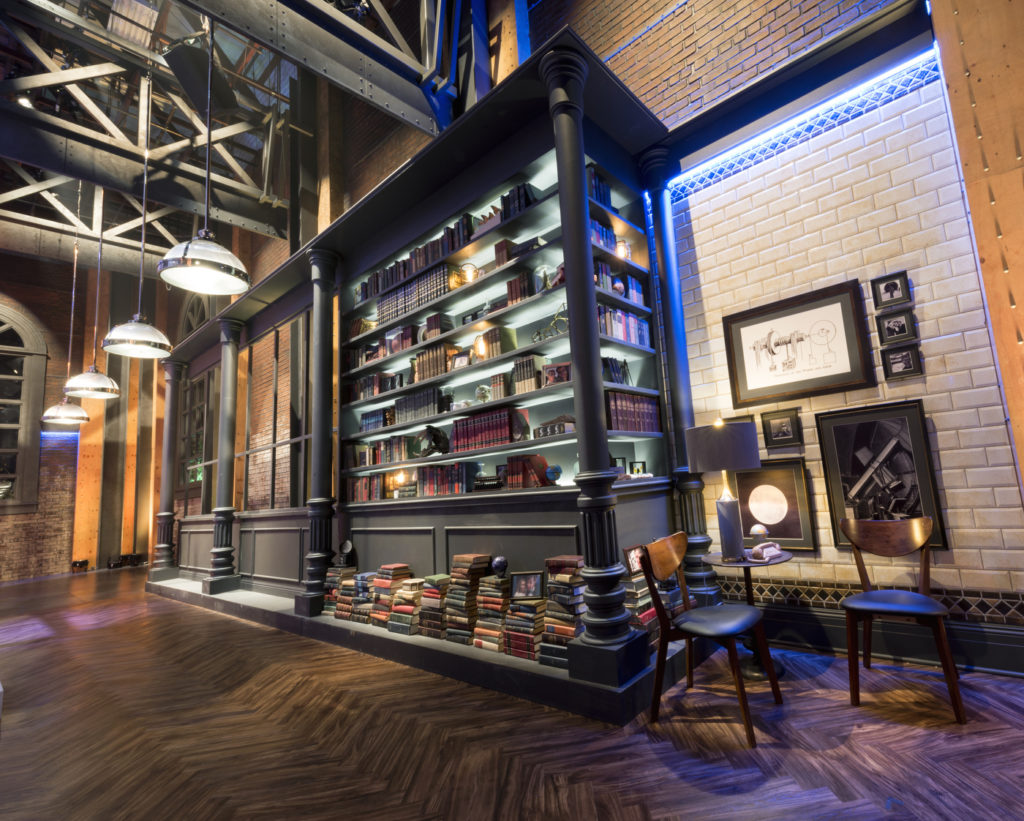 The set is designed with multiple venues for these conversations between experts, including one that sits directly in front of the closed lab wall.
A section of lab wall there is outfitted with electrically charged glass that can become a rear-projection screen at the flick of a switch. The show often features dynamic shots where the wall is lowered and a video clip flickers to life on the screen.
That glass, as well as the other normal panes included in the wall, were carefully gimbaled at about 5 degrees to avoid glaring reflections, but Connelly purposefully wanted viewers to be able to see that the glass pane is there.
"We all live in a world of reflections with glass all around us," he said. "It seems the make or break rule of the design community today is to avoid reflections."
However, Connelly feels that, especially with Netflix being a leader in HD and 4K content, crystal clear finishes, textures and realism are expected and, in fact, allow shows to dazzle on screen with layers, depth and movement.
The glass on the "Bill Nye" set is also strategically outfitted with RGB tape along all of the horizontal bands, allowing the design to play with light and reflections in another way, using splashes of color along the sides and part of the glass itself.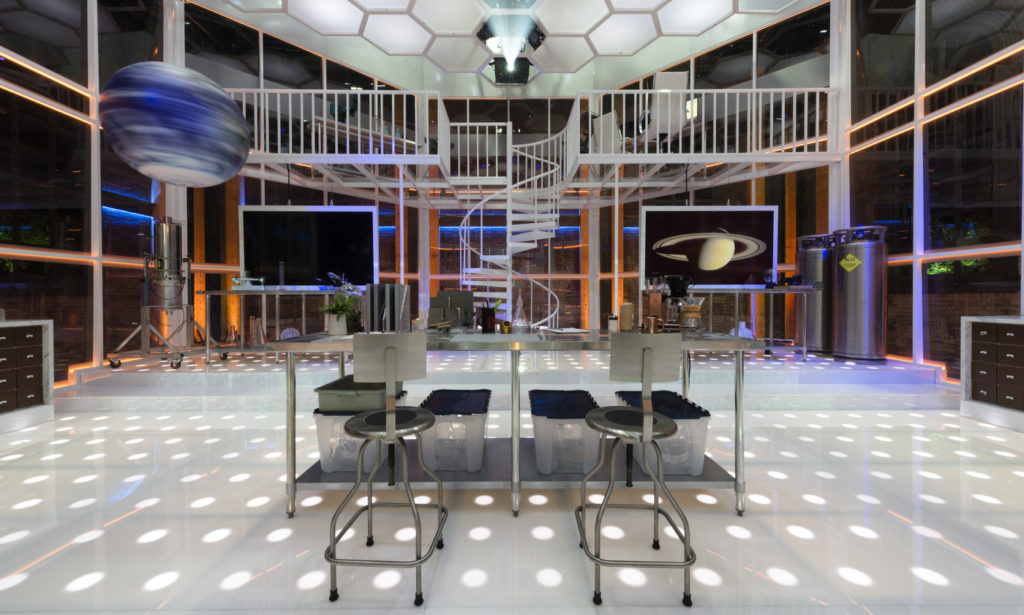 Above, the lab's ceiling is a metal frame and fabric hexagon-shape inspired by the idea of Nye and his "worker bees" bustling around inside the lab. It serves as both a literal reference and as a bold pattern to break up the solidity of the minimalist design elsewhere.
To finish off the details of the both the lab and library areas, Connelly also brought in a team of set decorators to add the finishing touches of books, scientific equipment and other decor. He noted that this was an interesting intersection of television news set design and Hollywood's approach to production design.
The set, which was built on Stage 9 at the Sony Pictures Studios, took three separate shops about three weeks to build — with another two-and-a-half weeks of installation time, including a hand-laid herringbone wood floor in the library area. Shooting was spread out over approximately one month.
Of course, it's hard not to draw connections between Nye's new venture and his PBS show, "Bill Nye the Science Guy." However, while Connelly remembers watching those episodes as a teenager, he purposefully did not go back and research that show's design approach.
"To me, it was important to not refer back to the original show. I wanted to stay in the very bleeding edge," he explained.
He was, however, happy to see that the "Bill, Bill, Bill, Bill!" chant made it into the version of the opening sequence that Netflix ultimately settled on.
Working with Netflix and Nye was one of the highlights of Connelly's career, he says.
"I've never felt as appreciated before as working with them. They really were great collaborators in trusting in a vision and a focal point," he said.
The latest in design, production and engineering
Subscribe to NewscastStudio for the latest delivered straight to your inbox.