Fox Chicago takes full advantage of new set's video walls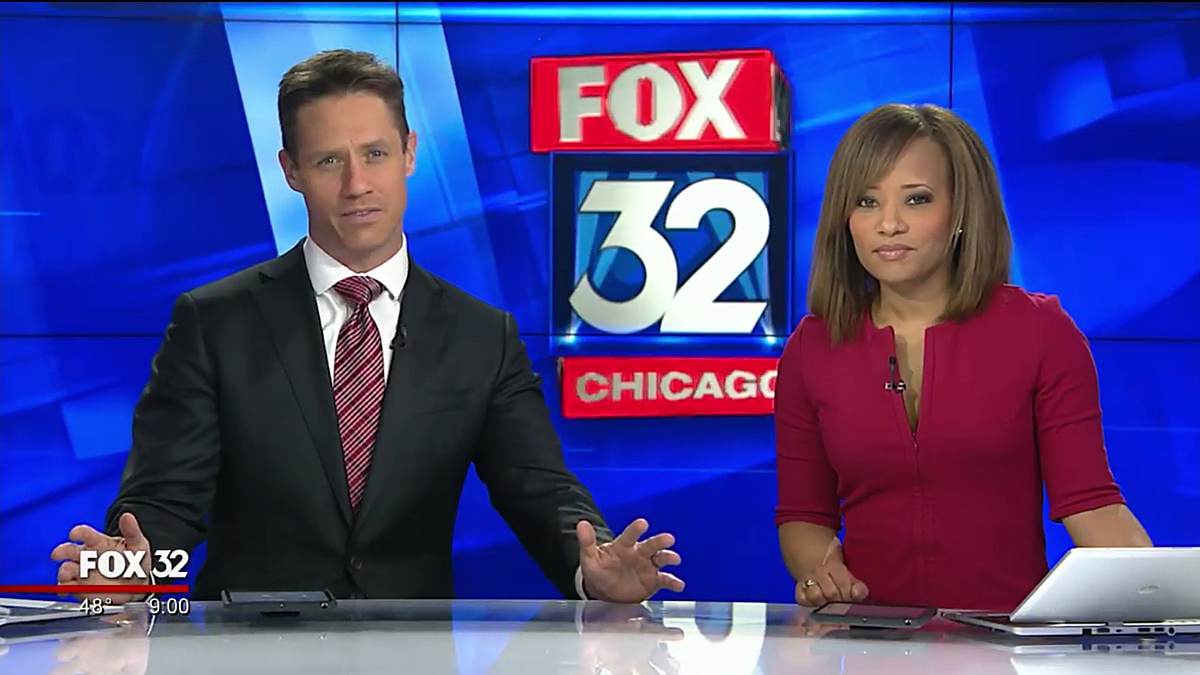 WFLD, the Fox O&O in Chicago, has debuted a new set from Clickspring Design that blends dynamic use of large video panels with a thin, horizontal banding design motif.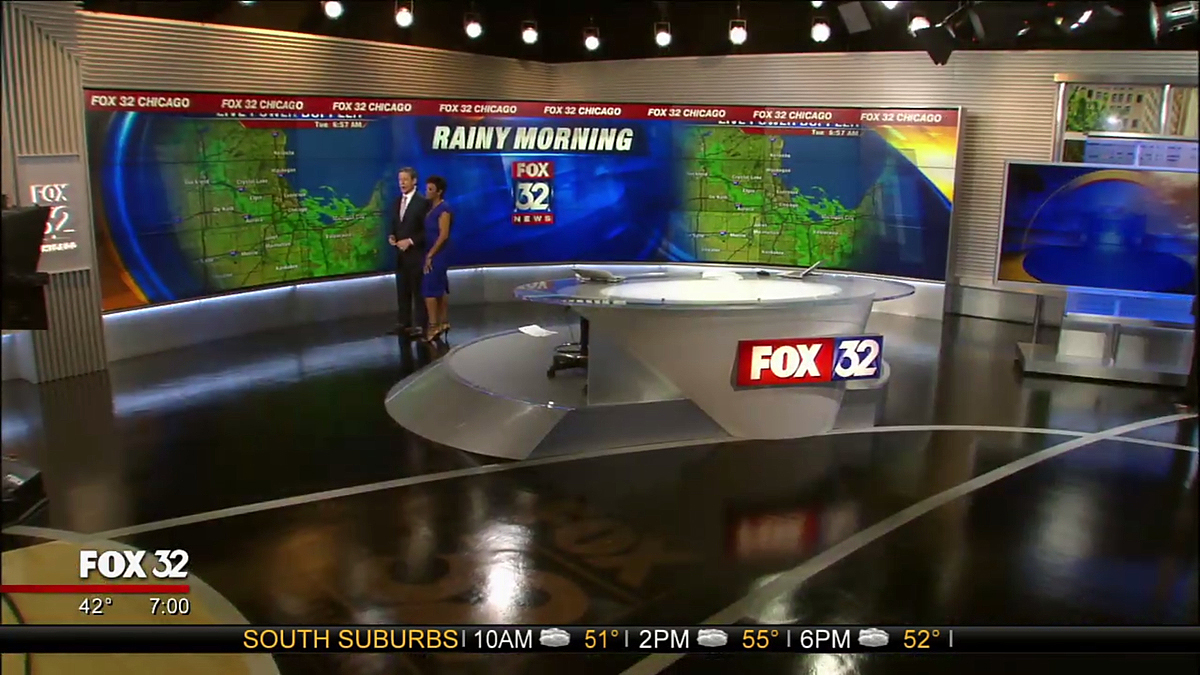 The new set, which debuted Monday, centers around a home base that features an oval anchor desk that transitions from a narrower base that expands as it moves upward. The off-center design of the base mimics the look of iconic Fox searchlight shape, with a "Fox 32" logo added.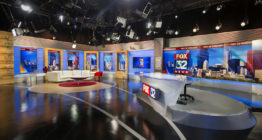 Set Design
WFLD
View a gallery of this project…
The desk, which is situated in the corner of the studio, is backed by a wraparound 9×3 video wall mounted on a low knee wall.
Horizontal banding in a metallic finish tops the video wall and wraps around both sides, with a dimensional, simplified Fox 32 logo on the camera left side.
The left side also features a mitered corner where the bands transition from horizontal to vertical.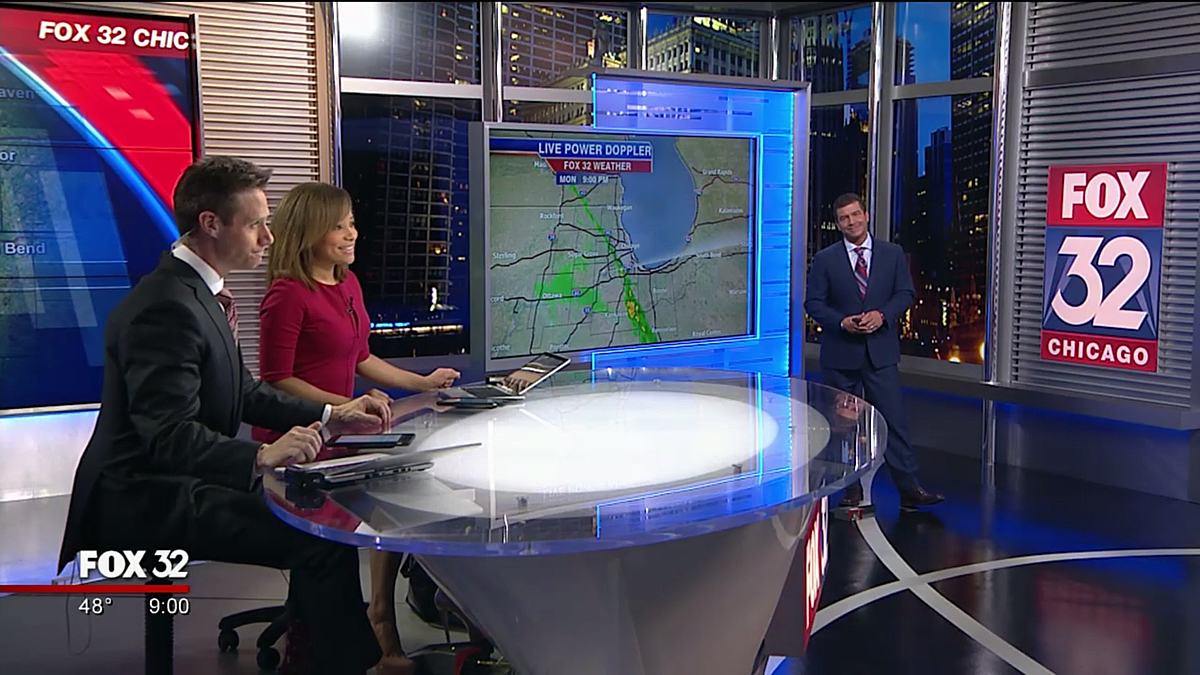 Camera right features a faux windowed corner created with video panels, with a large freestanding flat panel used primarily for weather.
The monitor itself is wrapped in frosted plexi with horizontal banding and a silver, metallic toned base, using edge lighting to create a glowing effect.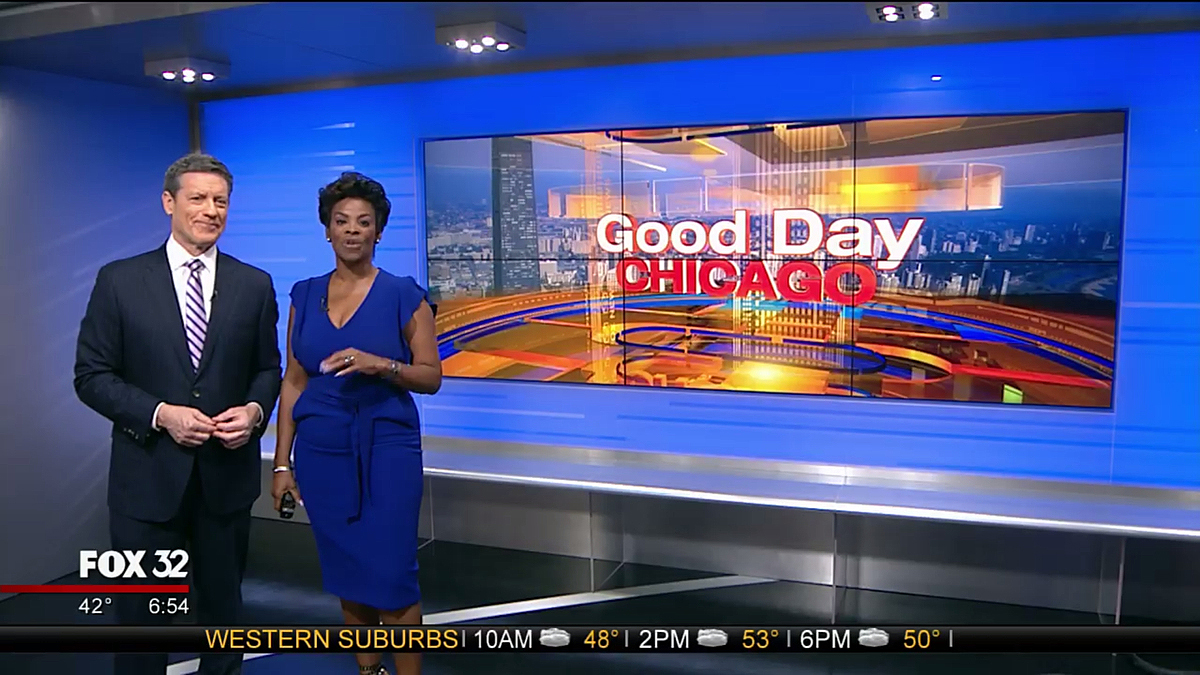 To the right of this more frosted plexi with the horizontal banding pattern fronts a backlit wall with integrated video array. A lower ceiling topped with the metallic banded material and a bench-like knee wall feature create an alcove-like feeling.
Details in this alcove also feature square shaped accent lighting, with one of the flat metallic toned walls boasts a subtle splash of horizontal line accents from the frosted plexi wall.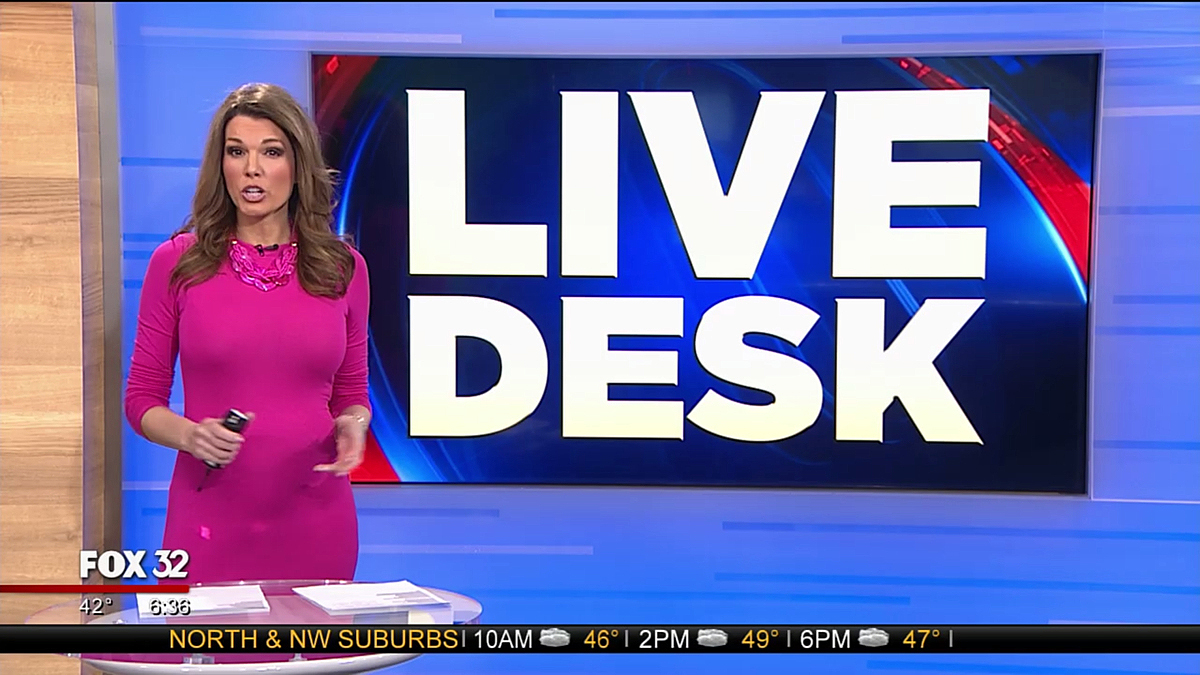 On the opposite side of the anchor desk is an additional standup area, sometimes branded as the "Live Desk."

The area next to this, meanwhile, is a living room-style set with vertical video panels integrated into alternating backlit plexi and wood toned segments, both of which continue the horizontal banding motif.
These video panels and the larger, continuous one behind the anchor desk, often feature a cityscape graphic with subtle diagonal animations and a bold red band featuring a "Fox 32 Chicago" ticker running along top.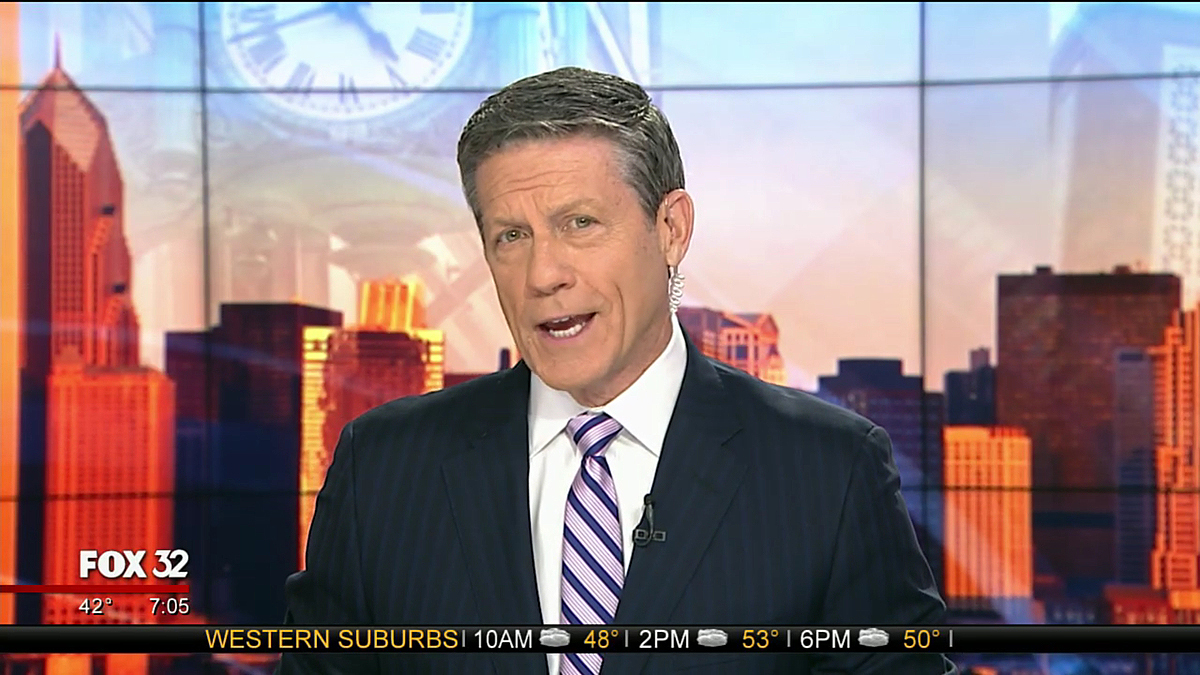 For a more varied look, the design includes closeups of city landmarks worked into the sky area of the graphic.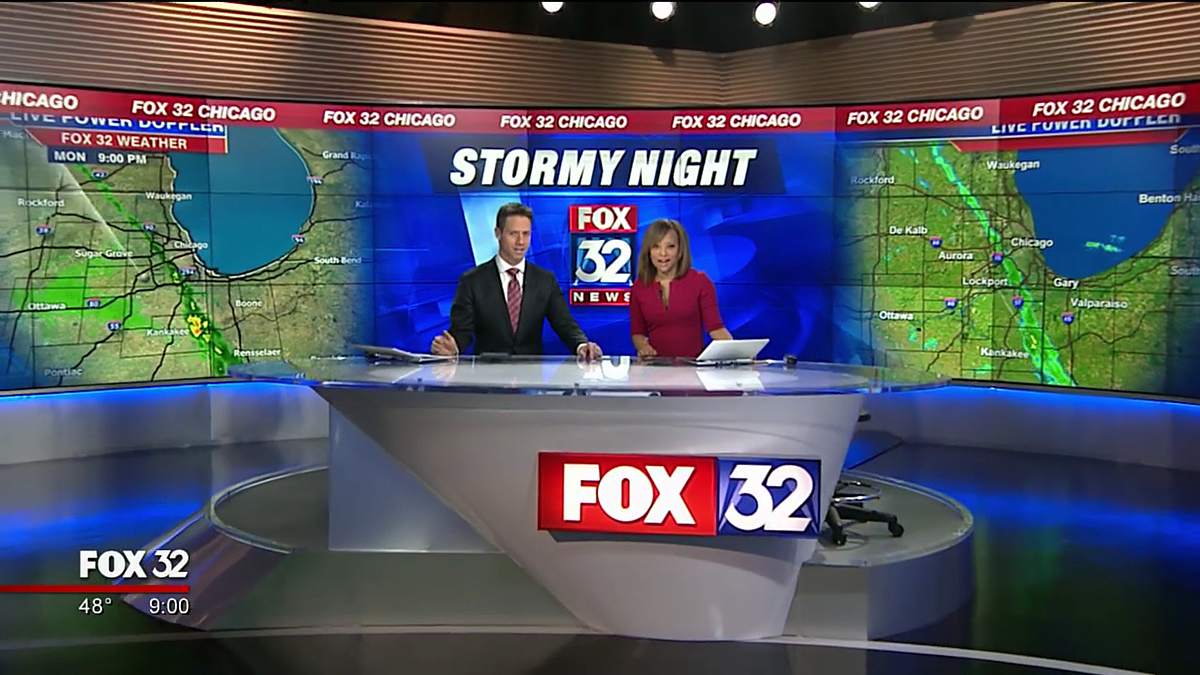 Right from the start, the station has found varied uses for its video walls beyond simple cityscapes, including opening its newscasts with a weather-based top story design that places the station's logo camera center topped with a headline and flanked by two large radar images.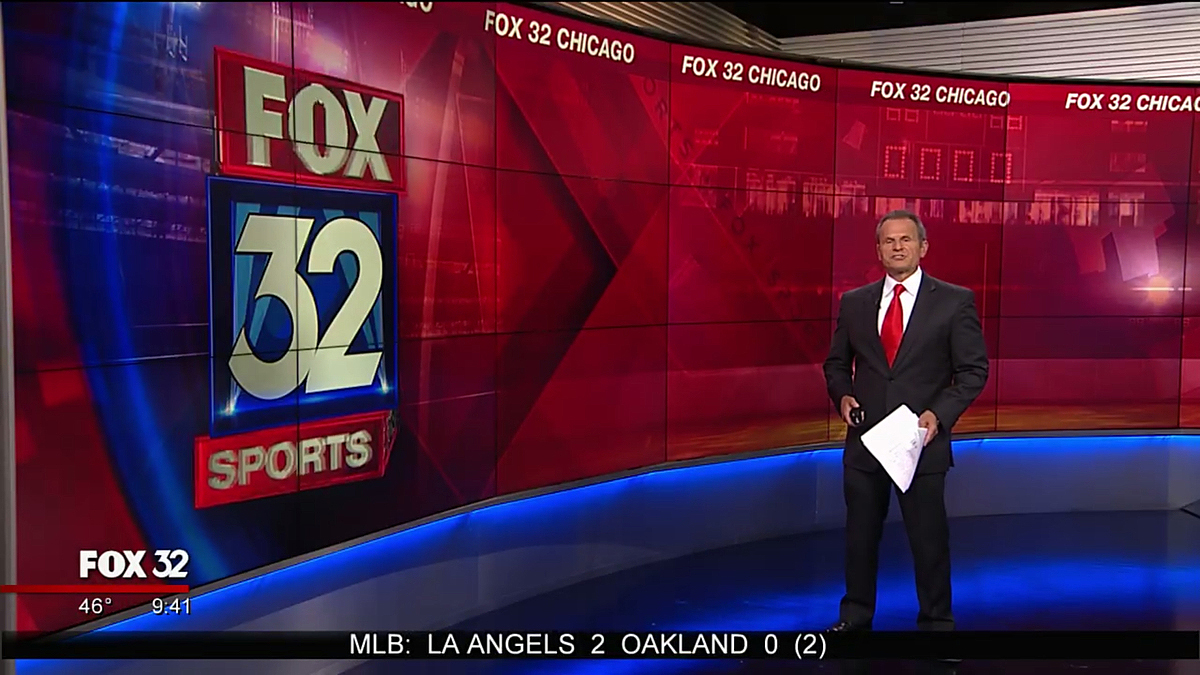 The station also uses the wall for a standup area for both one and two anchors, as well as sports, typically framing the shot very wide and including both a topical graphic and large, animated Fox 32 logo.

Other uses include anchor OTS shots with topical graphics and live shot tosses. For many of these uses, the cityscape background is replaced with an animated blue graphic with red accents that match the station's graphics package.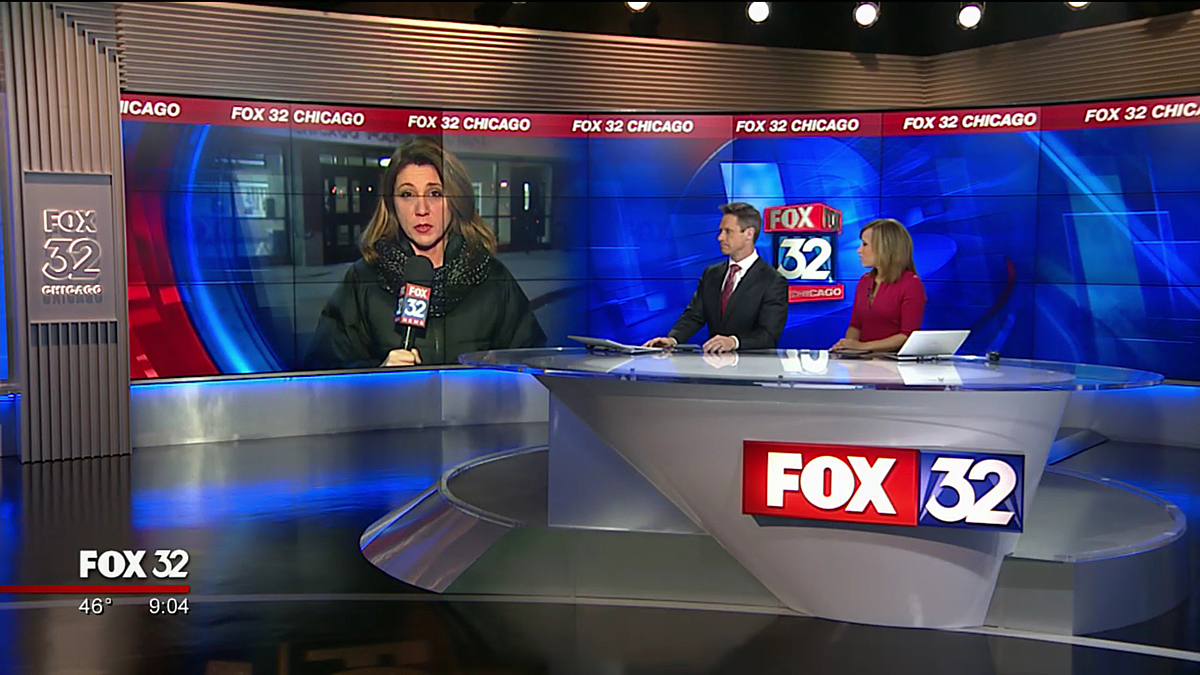 The set was fabricated by Mystic Scenic Studios, with lighting handled by Devon Allen Lighting Design and AV integration from AV Design Services.