Denver station blends nature, tech to showcase state's beauty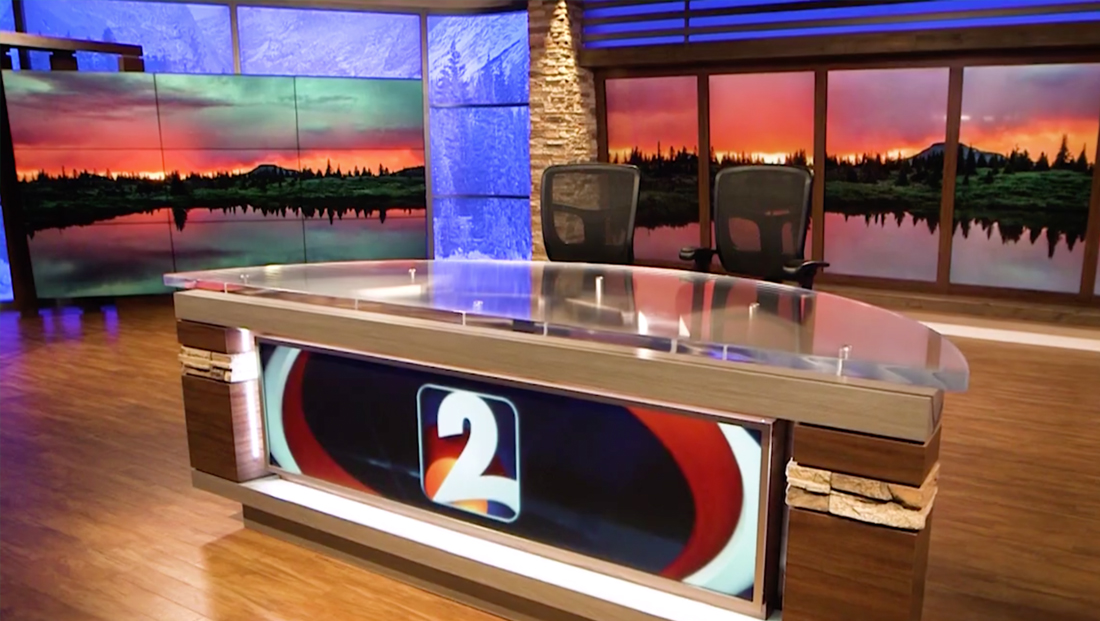 KWGN, the CW affiliate in Denver, Colorado, has debuted a new home that blends modern design with natural tones to create a look that is decidedly Denver.
The design combines wood, stone and nature imagery to create a set that expertly conveys the feel of a modern lodge blended with a high tech news set, creating a set design that conveys a sense of place.
The move matches updates the station made to its logo and graphics in September to create a cohesive Colorado-themed on-air look.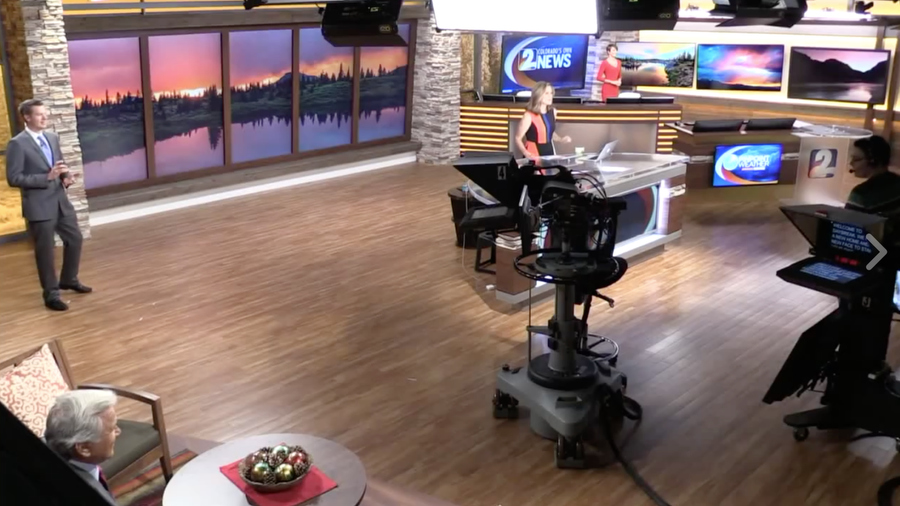 The set, from Broadcast Design International, is centered around a half-moon anchor desk fronted with an LED panel and topped with plexi.
Behind the desk, a row of vertically mounted flat panels creates a faux window bay — but, unlike most other implementations of this style, uses a thick wood-toned frame.
On either side of this video panel array are faux stacked stone columns. The station takes full advantage of the video wall by feeding colorful landscape imagery to it during much of its newscasts.
Above the faux windows are horizontal slats equipped with color changing accent lighting.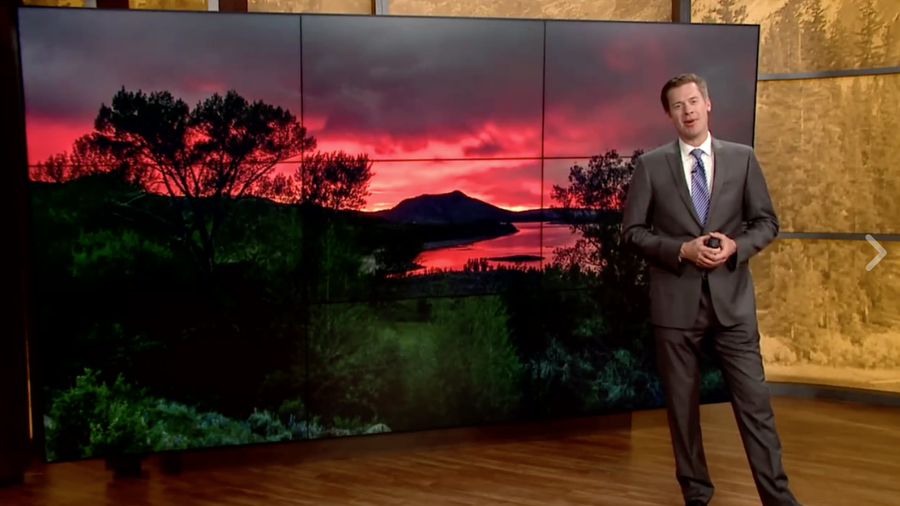 To the left, the station set features a freestanding multipurpose video wall positioned in front of color changing floor-to-ceiling backlit graphic of trees and mountains.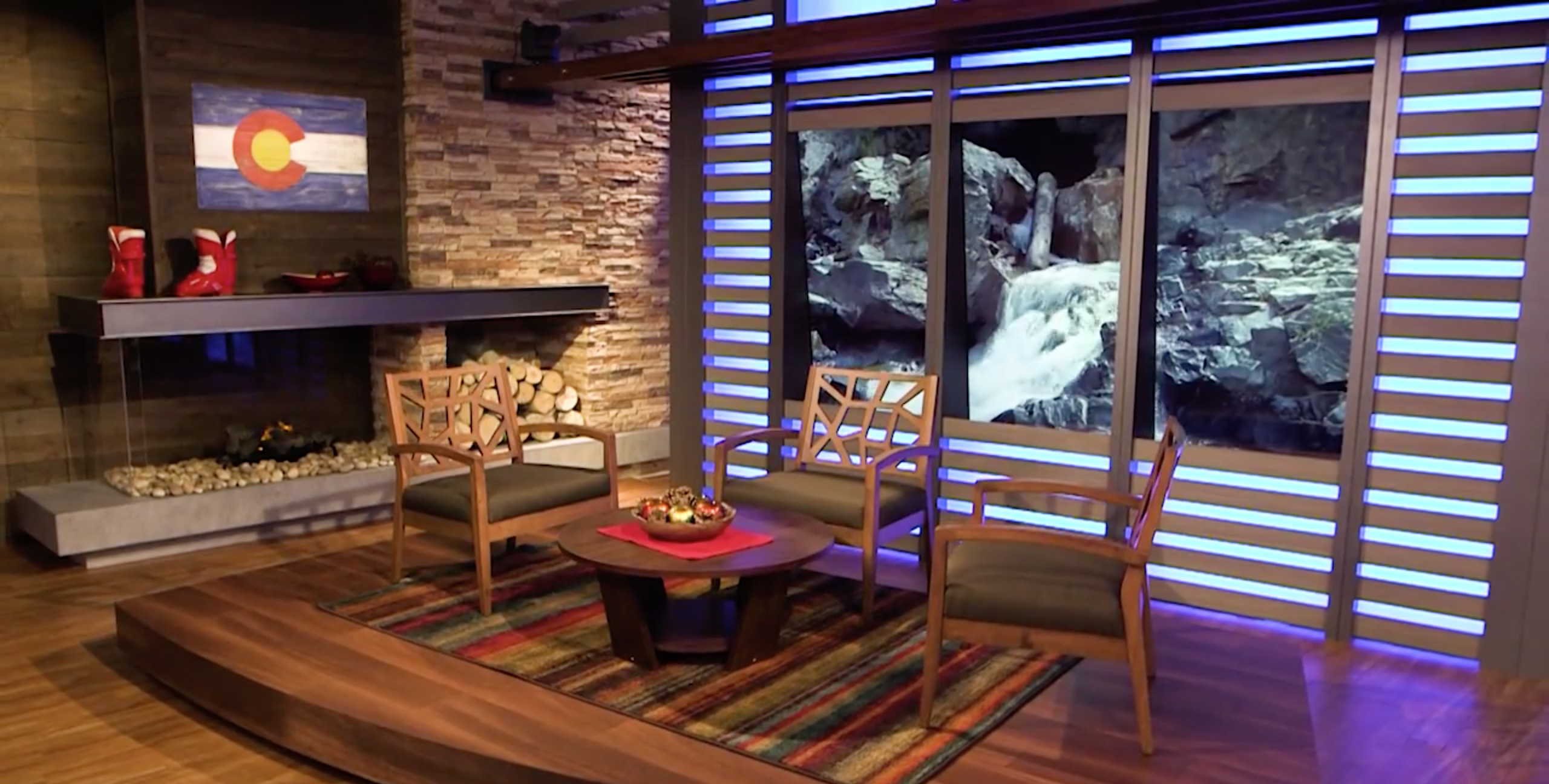 The far left of the set, a cozy interview area with an additional video "window" framed with horizontal slats. A stacked stone and wood wall boasts an integrated fireplace, resplendent with a faux fire log set and a weathered rendition of the Colorado flag above.
This area also features carefully selected furniture that matches the natural, warm theme of the set.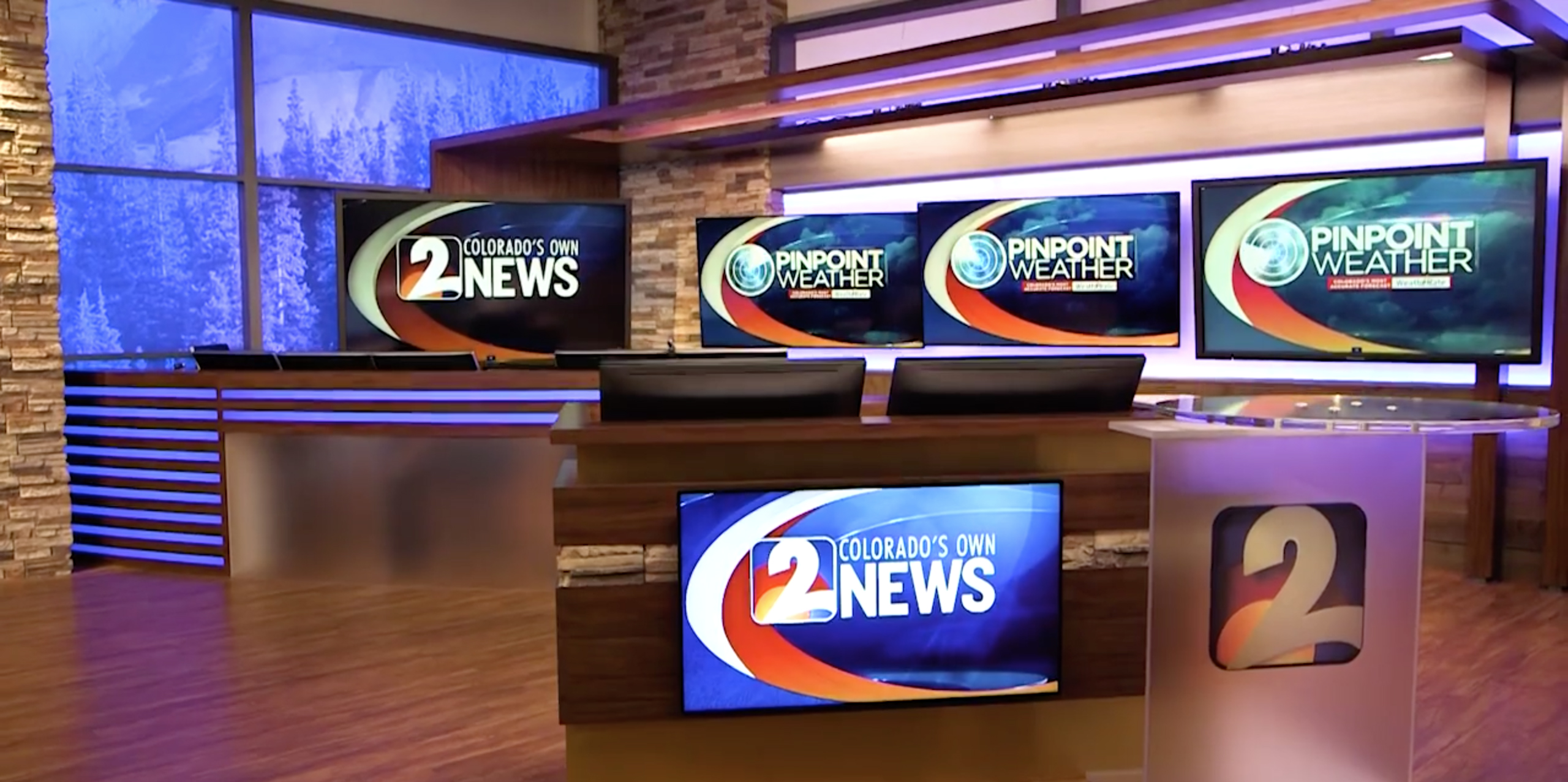 On the opposite side of the studio is a large weather center, which is situated in the camera right corner of the set.
The backlit printed graphic motif is continued here, while two large curved workstations provide multiple presentation locations.
Situated farther in the corner is a multi-person work station with integrated computer monitors and a large flat panel. Behind this panel, a wood panel juts upward before turning at a 90-degree angle into a three-slat head element — a sort of modernized take on rafters.
The front of this workstation features a blend of the horizontal and accent lighted motif with frosted glass.
Three additional monitors on wall mounted articulating arms are tilted for optimal on camera appearance that also gives the wall a simple but effective depth effect.
The look also eschews the traditional "monitor wall" look of most weather centers, instead focusing on technology that is designed specifically for storytelling, while also keep the look and feel open and airy.
The outermost video panel is an interactive touchscreen for additional storytelling opportunities, while the second weather presentation area's workstation is capped with a circular debrief location that can be also be used in conjunction with one or all of the monitors.
This workstation also includes a front-mounted video panel for branding or topical graphics, while a full color version of the station's logo appears on the frosted glass panel to the right.
To introduce the new set along with a new anchor for its "Daybreak" morning show, KWGN opened Monday's newscast with one member of its morning team in each venue.
Newly appointed anchor Ernie Bjorkman was seated in the interview area, where he, with the help of meteorologist Chris Tomer, turned the "dark of night" into "the beautiful colors of daybreak." After traffic anchor Sam Boik promised a "visual tour" of the state, Bjorkman walked over to the anchor desk to join co-anchor Natalie Tysdal.
Watch the station introduce the new look here:
[field name=iframe]