Phoenix Beijing studio 'rises' from floor with gentle curves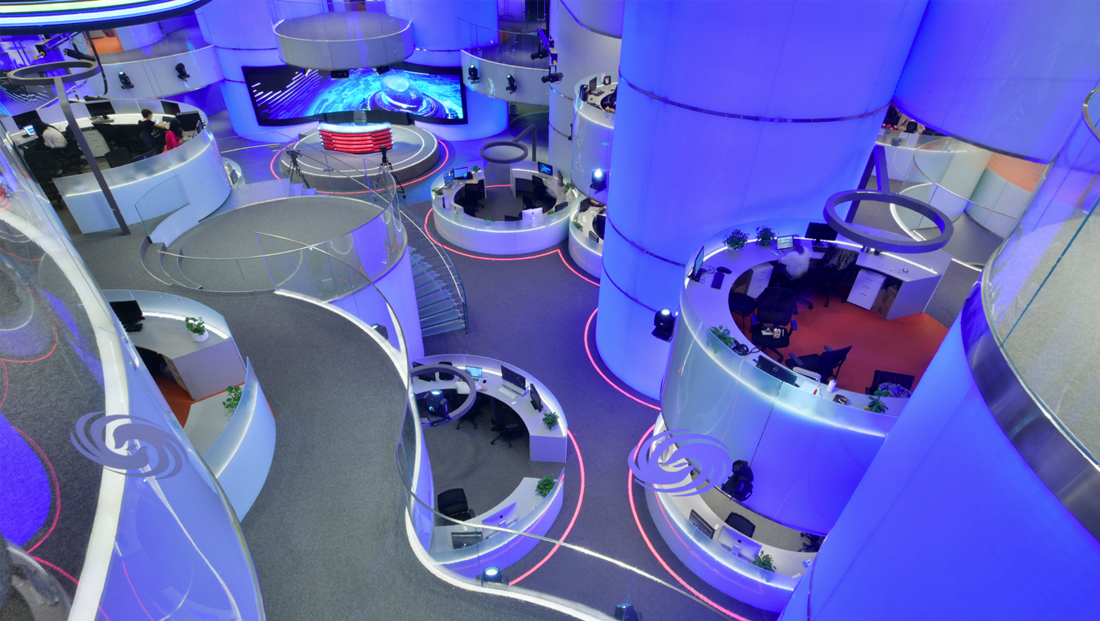 The Phoenix New Media's (凤凰新媒体) broadcast center in Beijing mixes sprawling floor space with multiple levels of tiered, circular platforms, to create a unique home for China's largest private broadcaster.
That use of all three dimensions of the office interior space was key to the design.
"The layout of the studio space is an intentionally meandering path. The client wanted staff and visitors to explore the space in three dimensions," said Mark Panckhurst from HEAD Architecture, the firm that designed the facility.
The design follows the classical zig-zag bridges (九曲桥) design of Chinese gardens, with many corners and stopping points, where staff and visitors can "pause to talk or just admire the view."
The set within the space features a large anchor area with an internally lit cylindrical platform cocooned by a curved LED video wall background, which echoes the shape of the platform.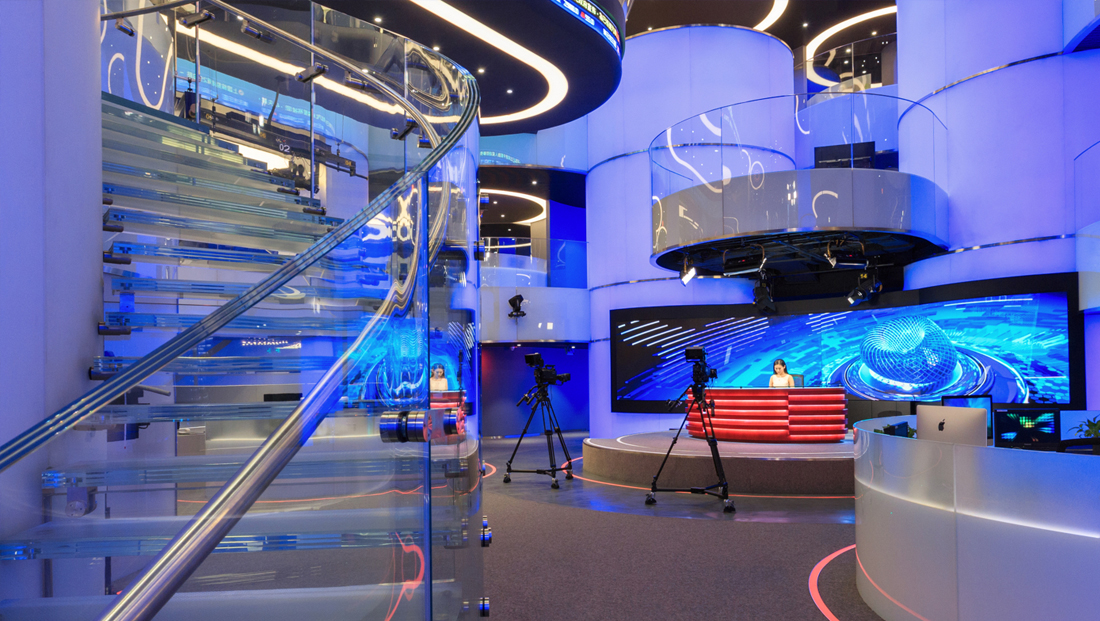 Above this is a curved balcony wrapped in glossy glass, a look that is also used on the railings of the space's curved staircases, which also boast semi-transparent risers.
Overlooking the studio space are multiple circular structures apart from the main floor of the set, each at a different height and acting as the base for workspaces, walkways or balconies.
"The concept of this project is to be able to shoot it from any possible angle," said Panckhurst. "We'll never exhaust the possibilities."
The curved nature of the design is further emphasized by wider bands of lighting panels installed on the underside of the "pod" overhangs.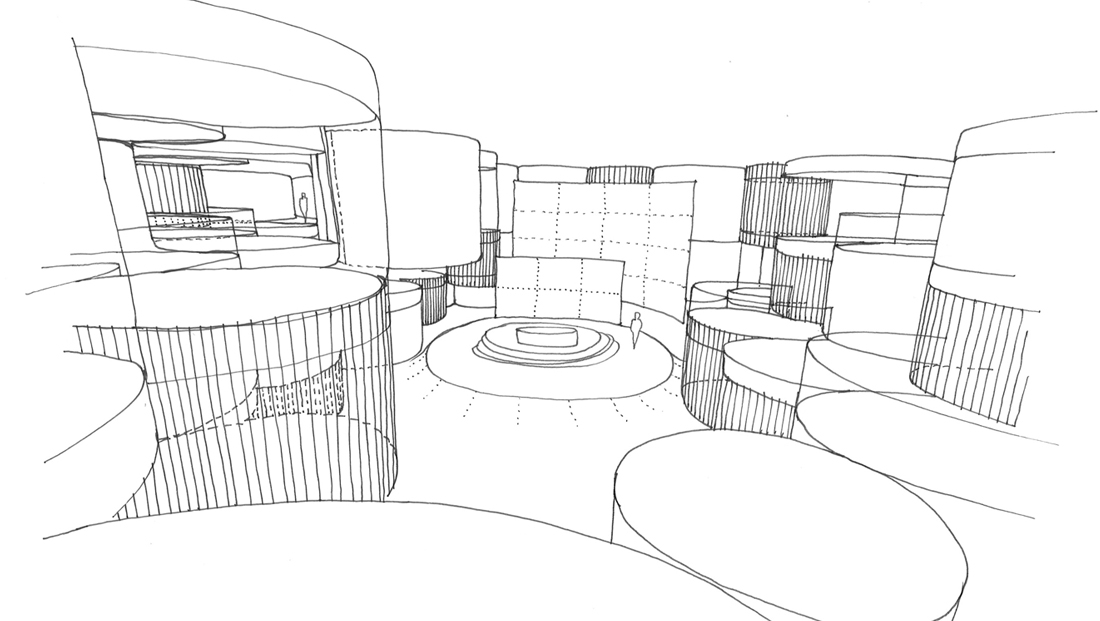 Many of these areas are topped with a ring-shaped "halo" that is suspended above from a vertical pole and features short, frosted glass panels atop the solid half walls.
Additional rounded workspace "pods" also ring the ground-floor anchor desk area, which also features bright strips of lighting integrated directly into the floor and tracing the outlines of the circular elements.
By staggering the heights of the cylinders and locations of the workspaces and balconies, the overall effect is an illusion that the studio is many more levels than the three floors it actually is — creating almost a rippling "valley" of workspaces.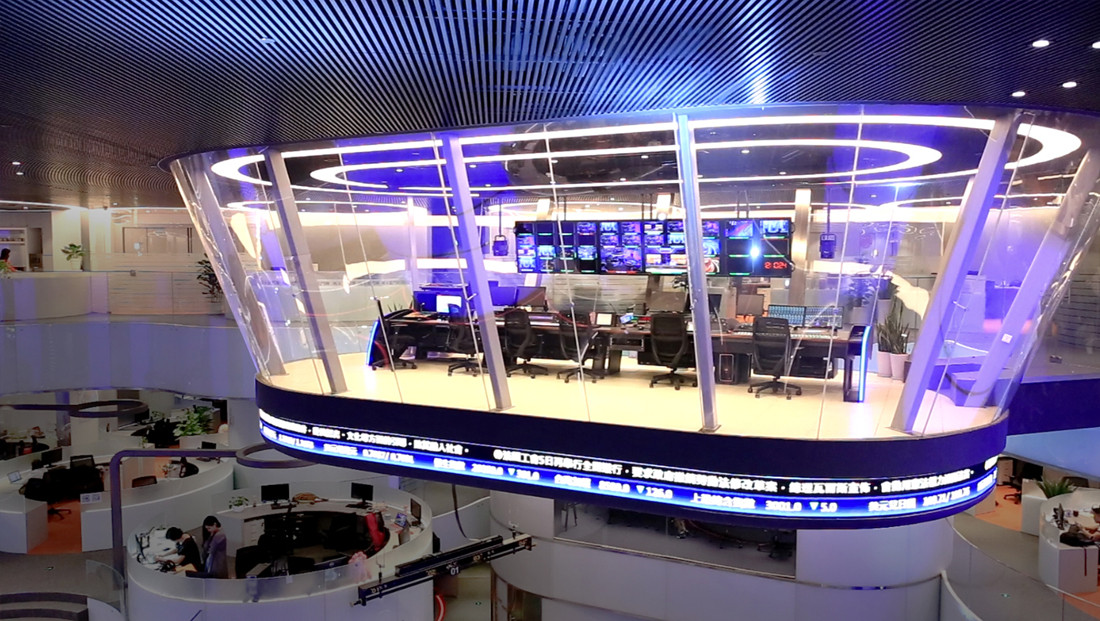 The studio's control room, meanwhile, is seemingly suspended from the ceiling and wrapped in tilted glass. An LED ticker wraps around the bottom, allowing the lettering to be visible from across the workspace below.
The design also includes glassed-in collaboration areas that allow for both meetings and informal gatherings.
"We want people to be able to see each other, meet each other … and constantly be able to communicate with each other," said Panckhurst.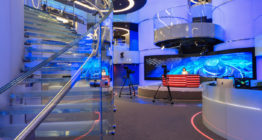 Set Design
Phoenix International Media Center
View a gallery of this project…