ESPN begins the college football 'fight to the finish' with new promo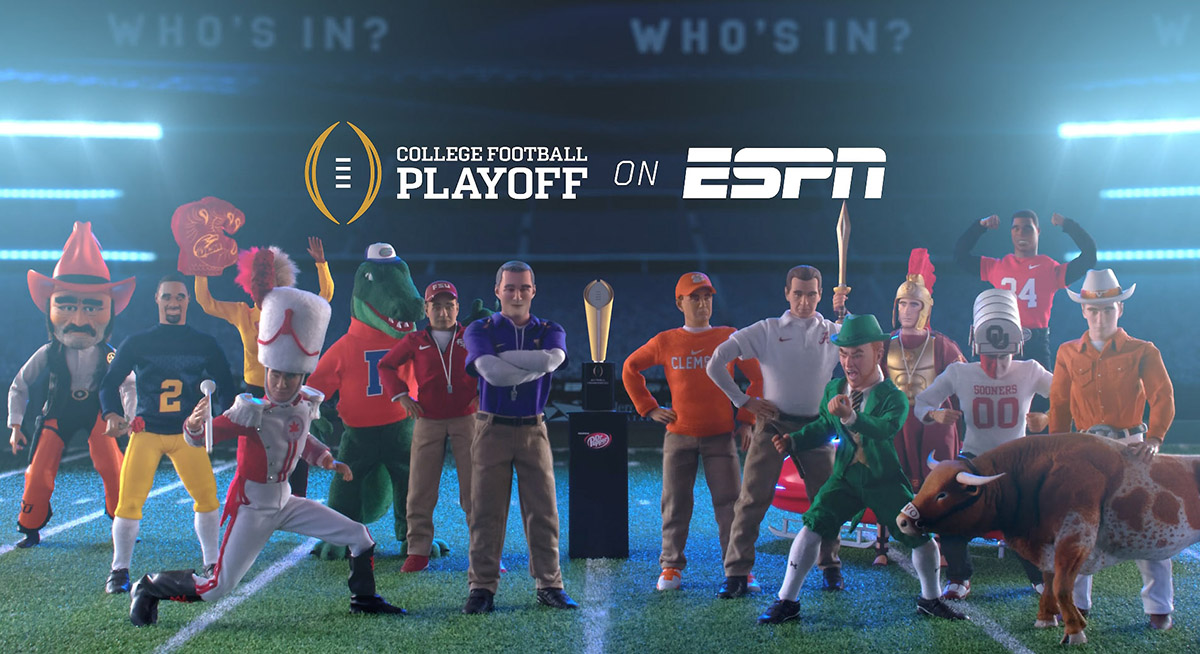 ESPN began its coverage of the 2017 college football season this past weekend along with launching a new promo spot teasing the College Football Playoffs, which airs exclusively on the networks of ESPN.
The spot, titled "Fight to the Finish," features an animated world of college football contenders for the 2018 College Football Playoff, set inside a scale replica of the Mercedes-Benz Stadium in Atlanta, which will host the National Championship Game in January.
"Producing the spots involved a unique process of custom animation and life-like modeling. Each character was modeled in 3D, printed in plastic resin, filed, primed, coated and painted, painstakingly finished, and costumed to specifications. Bevo, the University of Texas mascot, was hand modeled and cast in a custom-built mold that took several weeks to complete," notes an ESPN press release.
From agency 72andSunny NYC, the promo was produced by Psyop with director Todd Mueller, part of the season-long "Who's In?" campaign for ESPN college football coverage.
A SEC-specific version of the spot was also produced with Paul Finebaum and helmets representing the 14 member schools.
Credits
For ESPN:
Rob Temple – Sr. VP, Sports Marketing
Emeka Ofodile – VP, Sports Marketing
Pallav Tamaskar – Director, Sports Marketing
Willis Hulings – Manager, Sports Marketing
Margaret Davis – Associate Manager, Sports Marketing
Alexa Dettelbach – Coordinator, Sports Marketing
Sarah Connors – Coordinator, Sports Marketing
Agency: 72andSunny
Production Company: Psyop
Director: Todd Mueller
Producer: Adriane Scott-Kemp
VFX supervisor / 2D lead: Lane Jolly
Stop Motion Animation: Screen Novelties
Producer: Chris Finnegan
Animation Supervisor: Kelly Mazurowski
DP: Eric Adkins