Groupe Média wins IBC content creation innovative award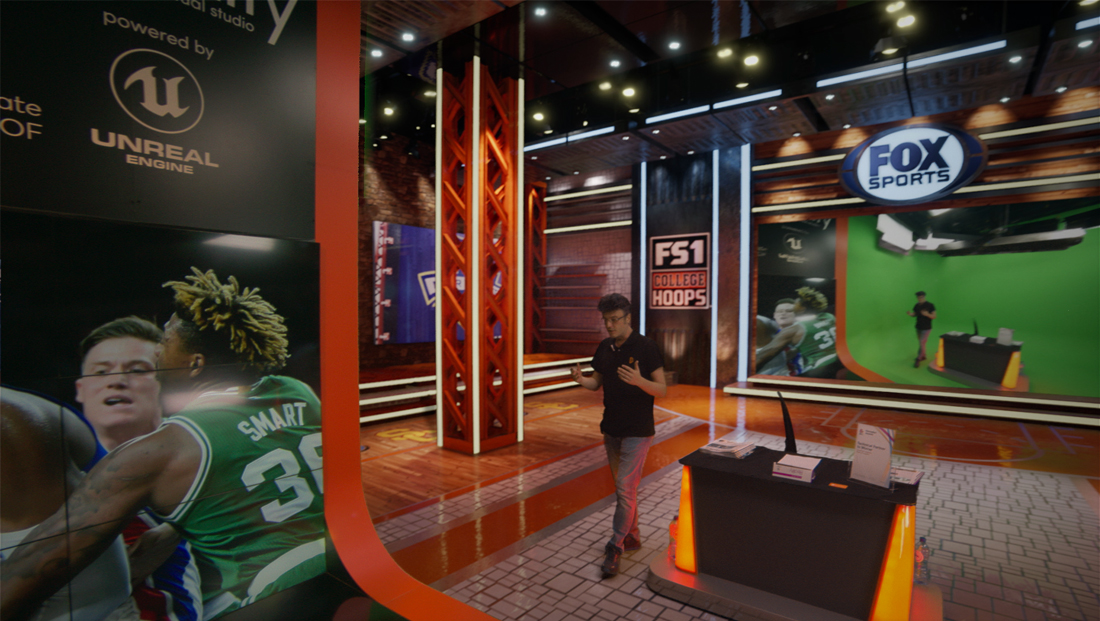 Subscribe to NewscastStudio for the latest news, project case studies and product announcements in broadcast technology, creative design and engineering delivered to your inbox.
At NAB 2016, a chance meeting between virtual studio company Zero Density and Groupe Média TFO, a public media organisation created by the government of Ontario, Canada, helped the latter win two prestigious awards at IBC 2017.
Groupe Média TFO was recognized in Amsterdam for its excellence in the industry, winning the Innovation Award for Content Creation as well as the Judge's Prize for its unique, innovative Laboratoire d'univers virtuels (LUV/Virtual World Laboratory), which is powered by Zero Density's Reality technology.
"What an honor, as a not-for-profit broadcaster and content creator, to win this IBC Innovation Award," said GMTFO Vice President Technologies and Optimization Éric Minoli at the IBC awards ceremony. "I would like to thank the IBC judges, our partners, Epic Games, Zero Density, stYpe and CEV and all of Groupe Média TFO's employees who embraced the challenge. The Laboratoire d'univers virtuels was a truly unifying project."
Although called a "laboratory," LUV is a revolutionary production environment that enables the creation of virtual sets that are almost indistinguishable from physical sets, enabling significant cost savings as well as encouraging new levels of creativity in storytelling.
The story behind this remarkable achievement started in 2014 when a team of individuals with a long experience in production, post-production and visual effects teamed up to pursue an innovative project.
They had conceived a brilliant idea: a powerful engine dominating the gaming industry could serve the broadcast industry.
By making this engine broadcast-ready Zero Density allowed the bridging of two industries and provided new options for advanced applications in VR and AR production.
A meeting between Zero Density and TFO in Las Vegas resulted in Zero Density being asked to bring its unique Reality virtual studio and Augmented Reality Platform – which builds on Unreal Engine, the acknowledged leader in video game development, and transforms it for the requirements of broadcast – to Canada for comparative tests with competing solutions and to take part in a proof-of-concept that GMTFO was planning. Based on its outstanding performance Groupe Média TFO selected Zero Density's Reality.
"GMTFO is changing the game with LUV, using technology and innovation to pioneer new and easier ways of creating content," said Kuban Altan, head of research and development at Zero Density in a statement. "To go from the launch of Reality to Reality making a significant contribution to TFO winning two prestigious awards a year later is a remarkable achievement."
"LUV leverages the enormous power and flexibility of Reality, which brings the incredible worlds that are possible in video gaming to the world of broadcast," Altan continued. "Groupe Média TFO is saving thousands of dollars in set design and post-production expenses, and making post-production significantly faster. Reality has also made an important contribution to TFO's ability to create new content, such as 20 YouTube channels, including Mini ABC, one of the top French language educational channels in Canada."
"LUV is showing amazing potential for real time virtual production in the broadcast space, and along with partners like Zero Density, we're glad to support Groupe Média TFO in this endeavor," said Marc Petit, CEO, Epic Games, the developer of Unreal Engine. "We're excited to see this innovation recognized by the IBC leadership, and we hope that LUV serves as a model for other broadcasters looking to think outside the box."
Zero Density's Reality is powered by Unreal Engine 4 and features a powerful integrated toolset that provides solutions for all types of virtual studio production workflows, including augmented- and data-driven graphics.
Reality sets a new industry standard in virtual studio production in terms of image quality, operation speed, keying technology and in many other ways.
Subscribe to NewscastStudio for the latest news, project case studies and product announcements in broadcast technology, creative design and engineering delivered to your inbox.