2018: N.C. station airs viewer's gravy and sweet tea advice for driving in the snow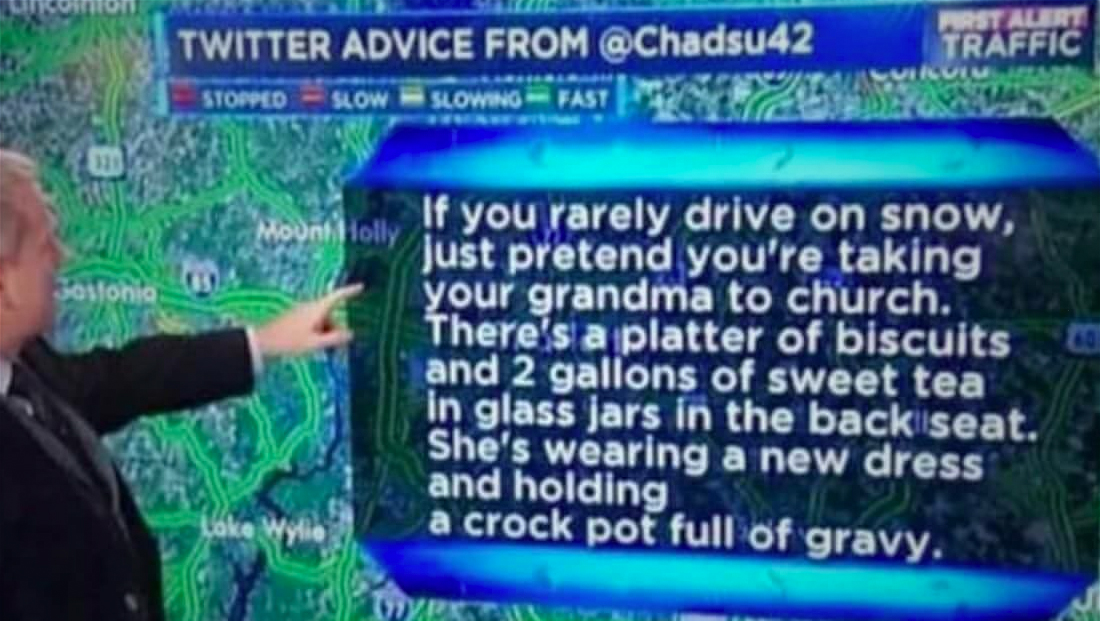 This story is from 2018.
WBTV, the CBS affiliate in Charlotte, N.C., opted to enhance its coverage of the region's inclement winter weather with a viewer's highly detailed — and rather entertaining — advice for driving.
The original tip, which was posted on Twitter by someone going by the name Chad Sullivan, was used on Monday, Jan. 15, 2018's 6 a.m. newscast.
If you rarely drive on snow, just pretend you're taking your grandma to church. There's a platter of biscuits and 2 gallons of sweet tea in glass jars in the back seat. She's wearing a new dress and holding a crock pot full of gravy. @KevinHarned @BGoodeWAVE3

— Chad Sullivan (@Chadsu42) January 16, 2018
Meanwhile, in other Crock-Pot news:
Crock-Pot speaks out on Facebook about starting a fictional fire on 'This Is Us' https://t.co/HJm57UrZQt #TVNews pic.twitter.com/riwFTf9dTZ

— TVNewsMix (@TVNewsMix) January 25, 2018