Telemundo mixes history, culture and technology in World Cup studios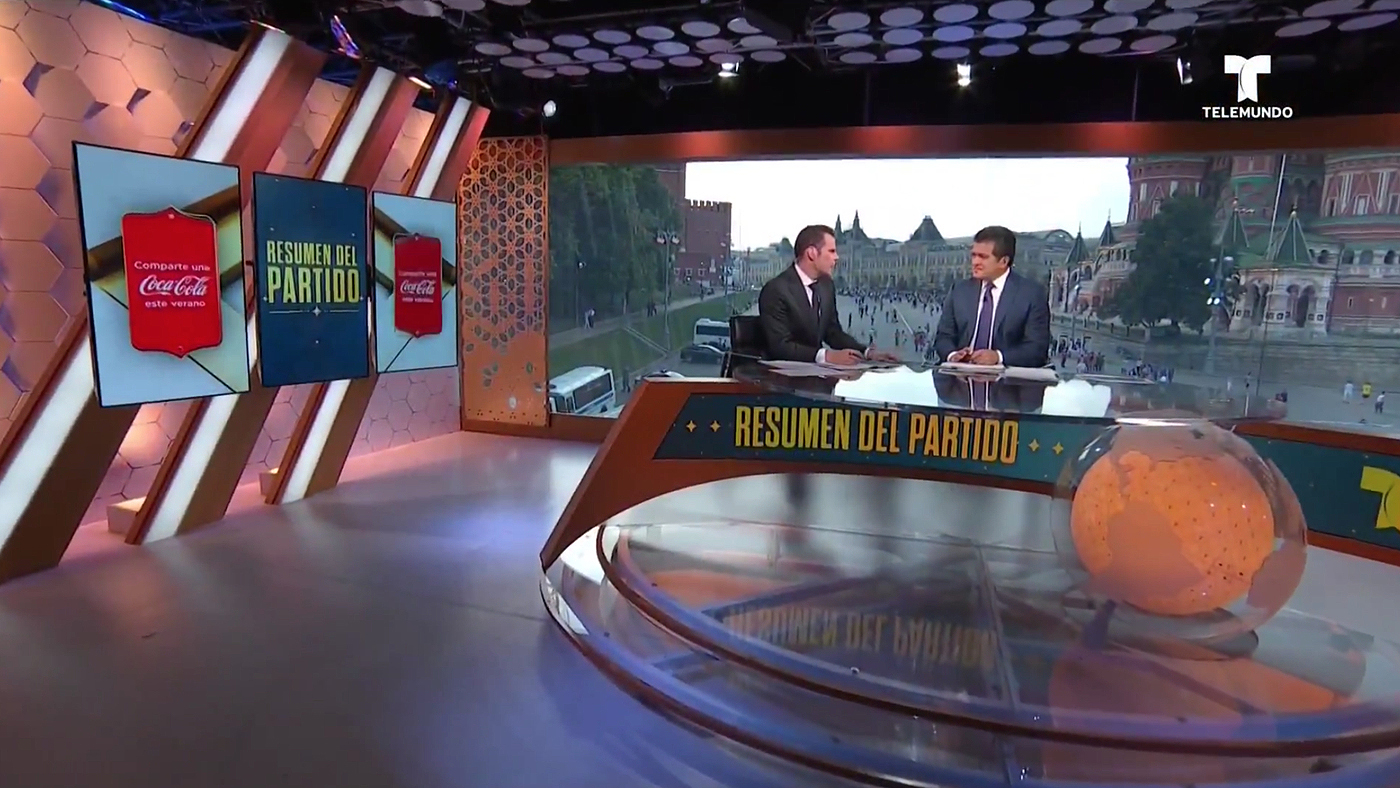 Red Square
The network's Red Square studio, located adjacent to the iconic plaza in Moscow, has a sprawling expanse of glass giving the space sweeping views of St. Basil's Cathedral and the Kremlin.
Designed by HD Studio with fabrication and installation by blackwalnut, the Red Square studio windows feature petal themed panels that are a nod to Russian culture and architecture.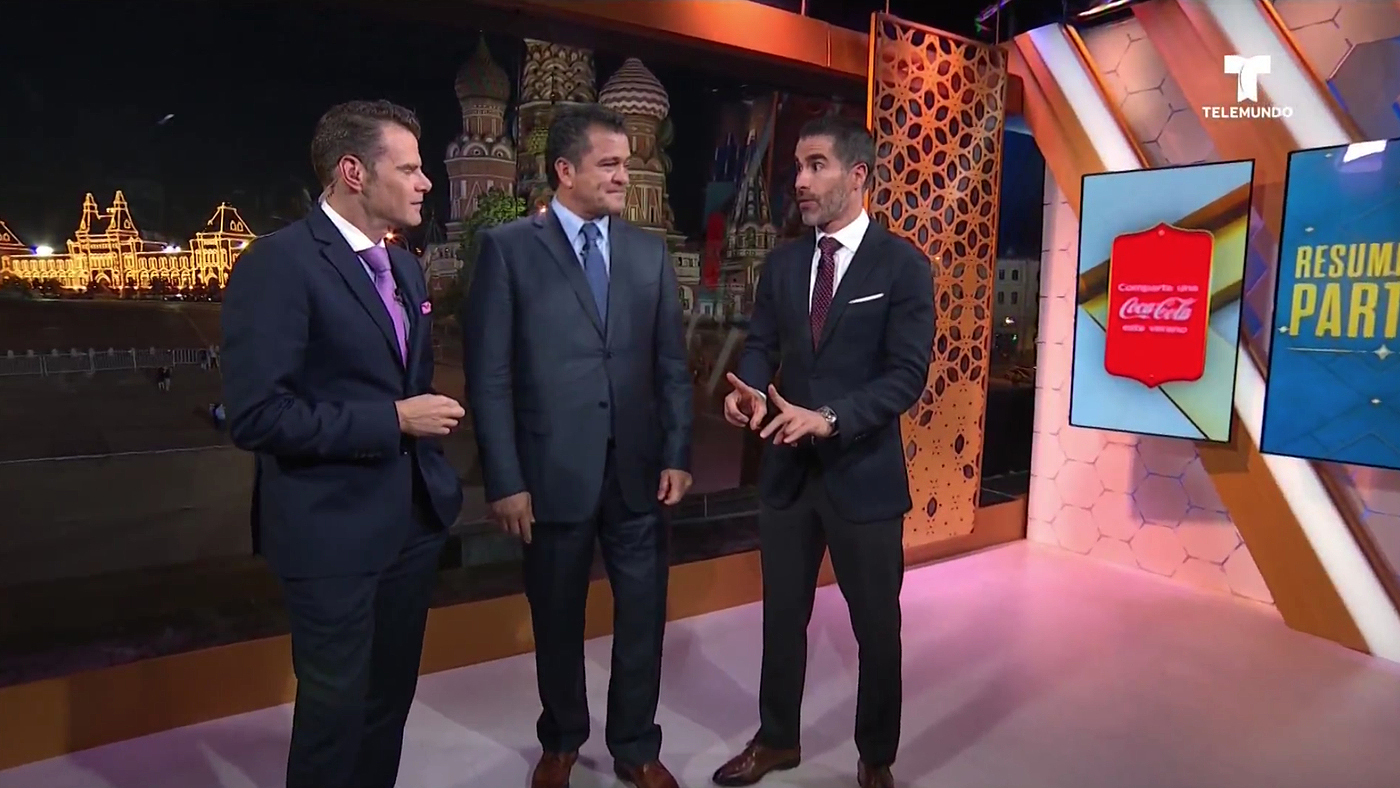 Two walls, on either side of the studio, feature perforated hexagon patterns inspired by the black and white stitching of footballs, that eventually becomes fully "cut out" and rotated elements, all of which are splashed with a variety of colors, part of the lighting design by The Lighting Design Group.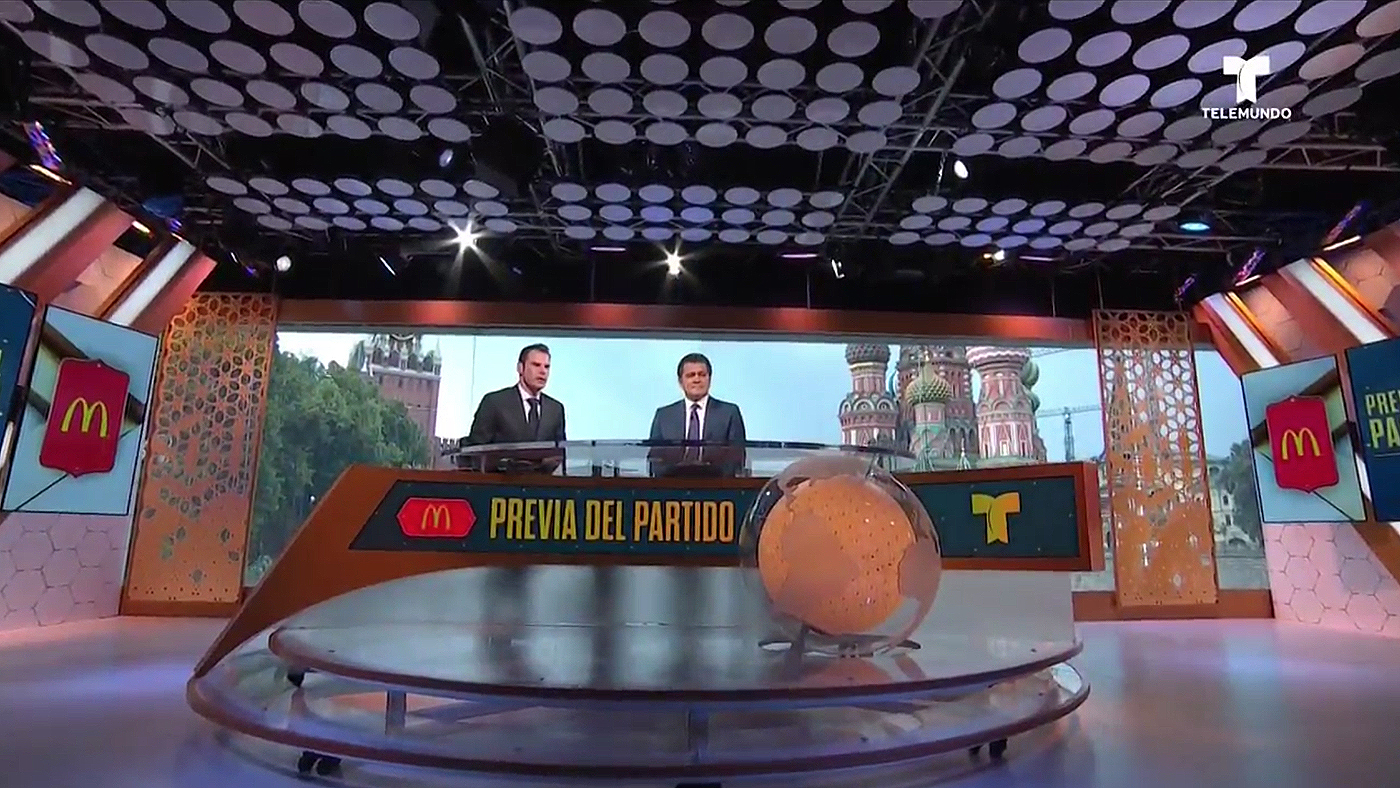 A simple clean palette of white and gold introduces a touch of modernism with a nod to the prize for which all players at the World Cup strive.
Angled wood and internally lit beams, meanwhile, support both vertical and horizontal LED video panels from Leyard that are mounted in front of the wall.
In front of the windows is a large, curved anchor desk with frosted glass base, double tier glass riser and sculptural glass globe inset into the platform.
The studio ceiling, meanwhile, features circular tile-like elements placed over the grid, adding visual interest to this otherwise dark void.
An additional venue at the Red Square studio features bold and colorful lightboxes with a collage of World Cup posters and Russian inspired imagery, all behind a circular glass-topped desk designed for interviews and multiperson setups.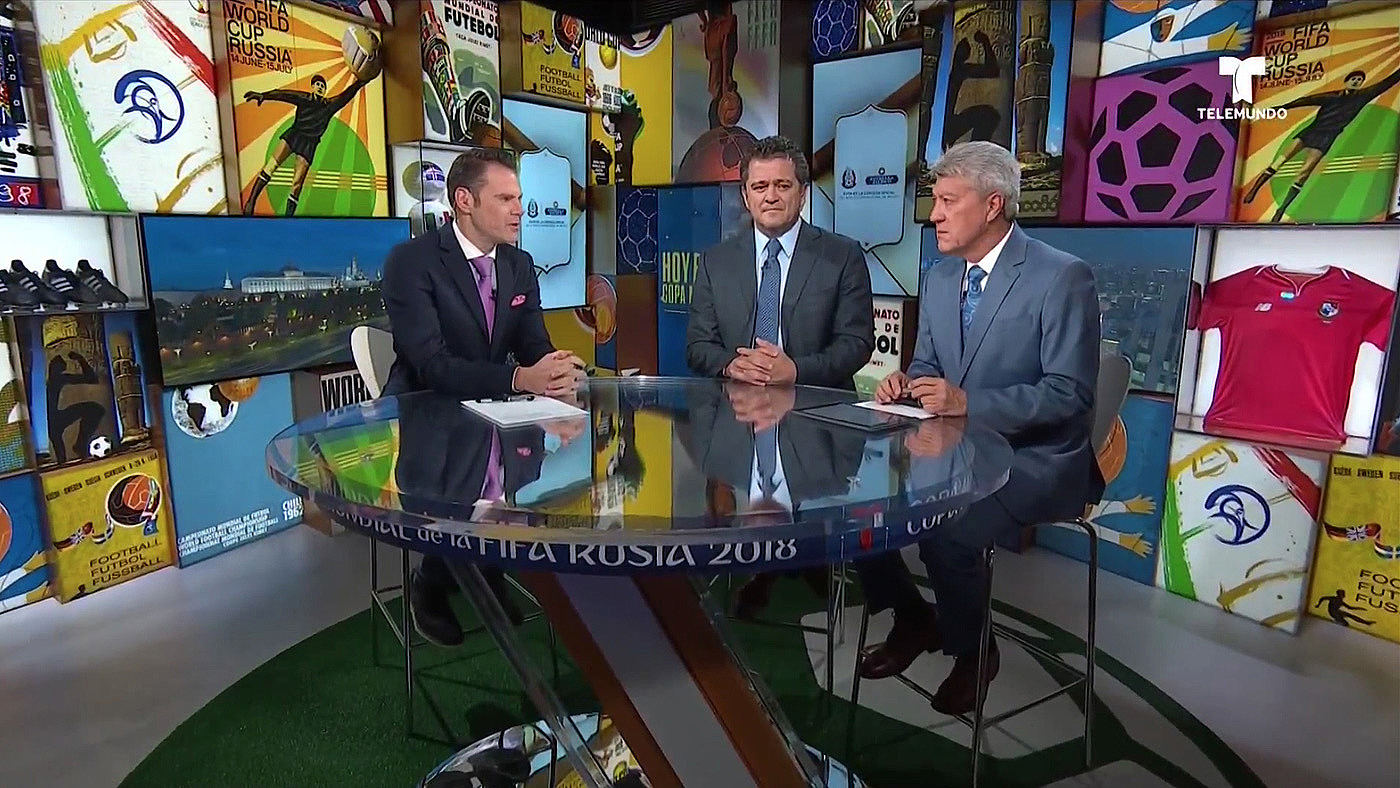 International Broadcast Centre
Both studio facilities share similar design DNA spurred on by great moments in World Cup history and accented by subtle Russian imagery, while still allowing each space to retains its own unique style and personality, flexibility and attitude.
A bright and airy corner studio is lined with a row horizontally mounted video walls framed inside a light textural pattern.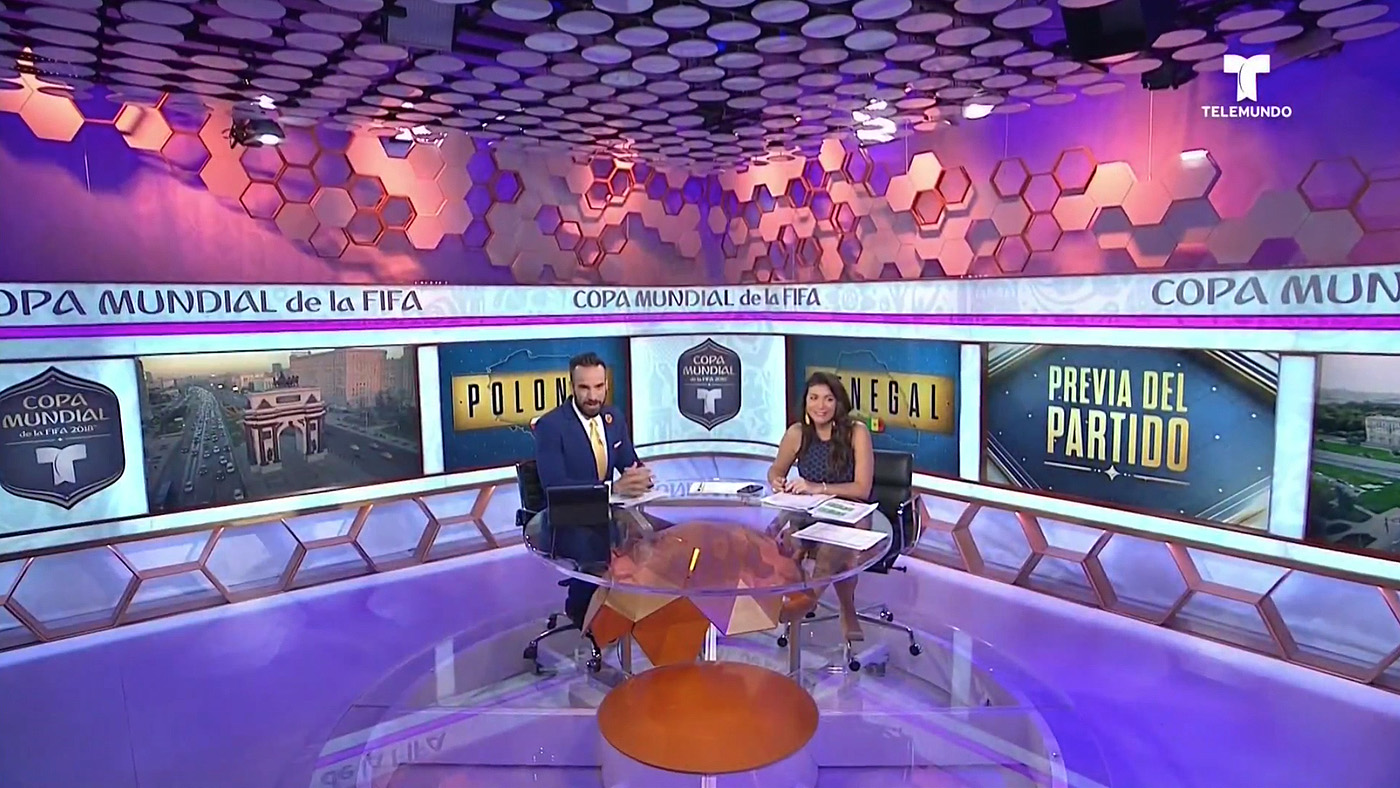 Below this, a knee wall is build using framed hexagons and topped with a flowing series of metallic hexagon frames and tiles set in front of splashes of bright golds, oranges and yellows. The studio's main anchor desk is a sculptural piece meant to evoke the passion, spirit and glory of the World Cup.
In addition, a display of the flags of all 32 nations participating in the contest are arranged in custom-built display cases.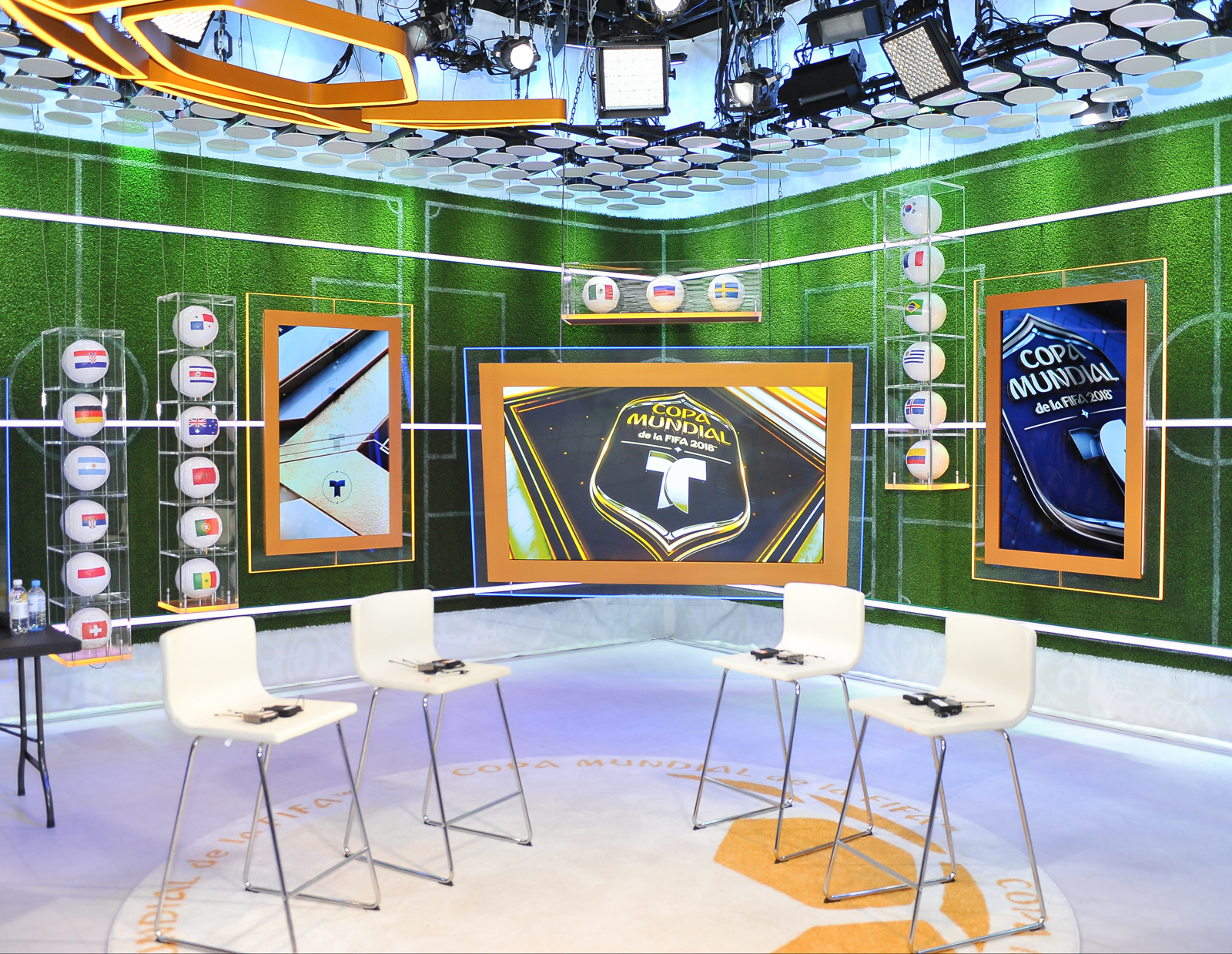 A turf wall adds a whimsical touch that adds a rare view of the pitch, while gold accented monitors and displays continue the color scheme and design from the other spaces.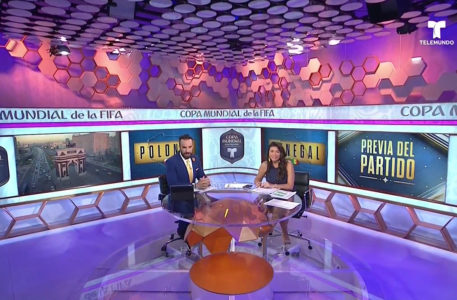 Set Design
Telemundo World Cup 2018
View more images of this project...
"We wanted to capture the history and cultural significance of this country in an elegant way that also spoke to the grandeur of the event taking place in a modern time," said Velazquez.
Project Credits
Set Design by HD Studio
Bryan Higgason, principal
Paul Benson and Sid Wichienkuer, designers
Fabrication and installation by blackwalnut
Lighting by The Lighting Design Group
President and Senior Designer – Steve Brill
Lighting Designer – Paul Lohr
NBC/Telemundo Lighting Directors – Sean Riley & Jonathan Crowe
Gaffer – Nick Dale
Best Boy – Sean Linehan
Technicians – Leon Virgo/Jon Greenwood
Project Manager Sheryl Wisniewski
Equipment provided by The Lighting Design Group, ELP, and Deki Designs
Technology from Leyard