How 'NBC Nightly News' covered Megyn Kelly's 'blackface' comments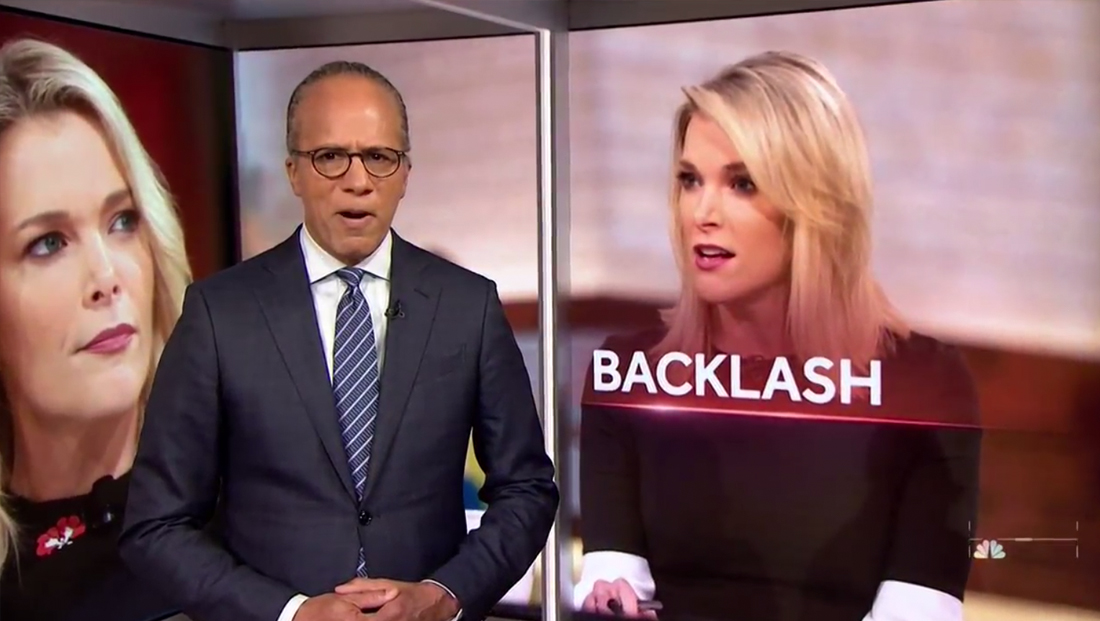 After comments she made about the use of "blackface" in Halloween costumes stirred up controversy, one of NBC's employees, Megyn Kelly, found herself in the headlines.
NBC was, of course, stuck in the awkward position of having to cover the remarks made by one of its own employees on one its own shows.
#MegynKelly seems to think blackface costumes are OK https://t.co/YnATpgmAFu

— TVNewsMix (@TVNewsMix) October 23, 2018
"NBC Nightly News" featured the story approximately 14 minutes into its Tuesday, Oct. 23, 2018, broadcast, with anchor Lester Holt standing in the show's video wall alcove in front of photos of Kelly and the word "backlash."
Holt's introduction to the package noted the comments were viewed as "tone deaf."
Kelly's comments were made on her morning talk show, "Megyn Kelly Today," as part of a discussion about Halloween costumes.
CBS and ABC did not cover the story Tuesday on "CBS Evening News" or "ABC World News Tonight," respectively.
At least one NBC O&O, WMAQ in Chicago, covered the story on its late newscast.
NBC O&O #NBCChicago covered the #MegynKelly 'blackface' controversy on its local 10 p.m. newscast https://t.co/jFzWzsWHL1 pic.twitter.com/H8kosVpLK0

— Chicago TV Critic (@ChicagoTVCritic) October 24, 2018
Kelly apologized for the comments at the start of "Megyn Kelly Today" on Oct. 24.
Watch #MegynKelly apologize for 'blackface' comments' https://t.co/TAN6jd5nLw

— TVNewsMix (@TVNewsMix) October 24, 2018