Fox News can't get Donald Trump's name right in graphic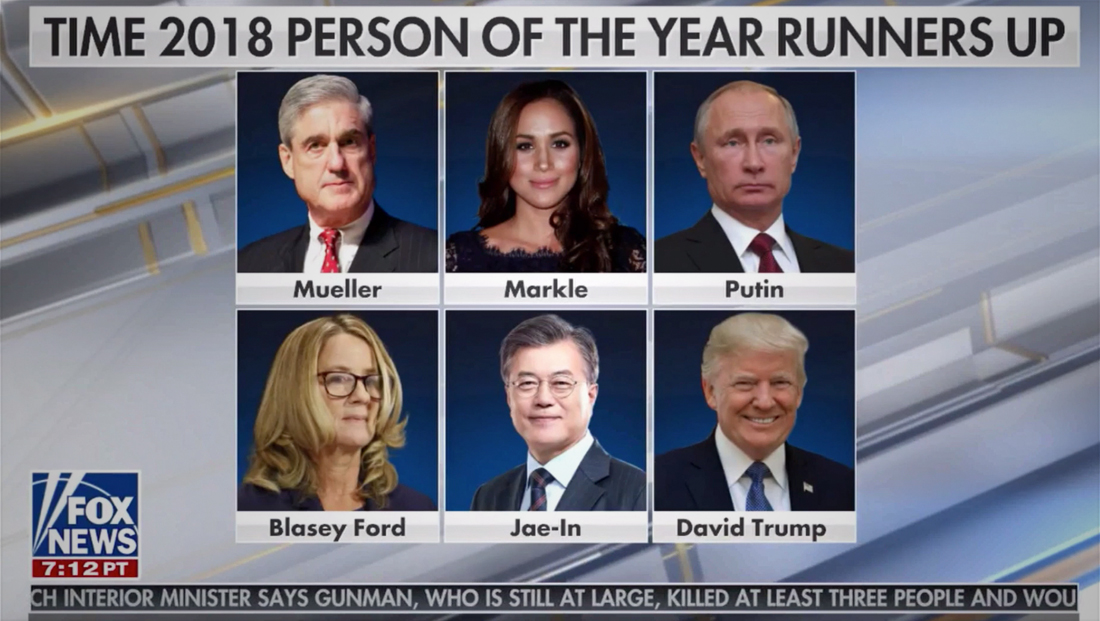 Fox News managed to "rename" one of its biggest supporters — Donald Trump.
During a segment on of the Tuesday, Dec. 11, 2018 edition of "The Ingraham Angle" when host Laura Ingraham was decrying Time picking killed or jailed journalists as is "Person of the Year," the network showed a fullscreen graphic with photos of six other contenders — including one labeled as "David Trump."
The photo above those words was actually of Donald Trump, and Ingraham's printed copy of the show's rundown apparently also read "David Trump," which she noted on air.
In the repeat of the show that aired overnight — and online versions — the graphic has been fixed with the proper name, though Ingraham's audio saying it says "David Trump" on her "sheet" was kept.
Ironically, the name "David Dennison" was reportedly used as an alias for Trump in legal documents in the Stormy Daniels case.
It's also worth noting that Moon Jae-In, the president of South Korea, was shown on screen identified as "Jae-In," which is actually his given name — with "Moon" being his surname, following the traditional Asian formatting of names.
That means that Fox should have, for consistency, either used his full name (as it did only for Trump) or "Moon" under his name (this wasn't the first time in recent memory that Asian names gave Fox trouble).