ABC News 'World News Now' promoting co-anchor's last broadcast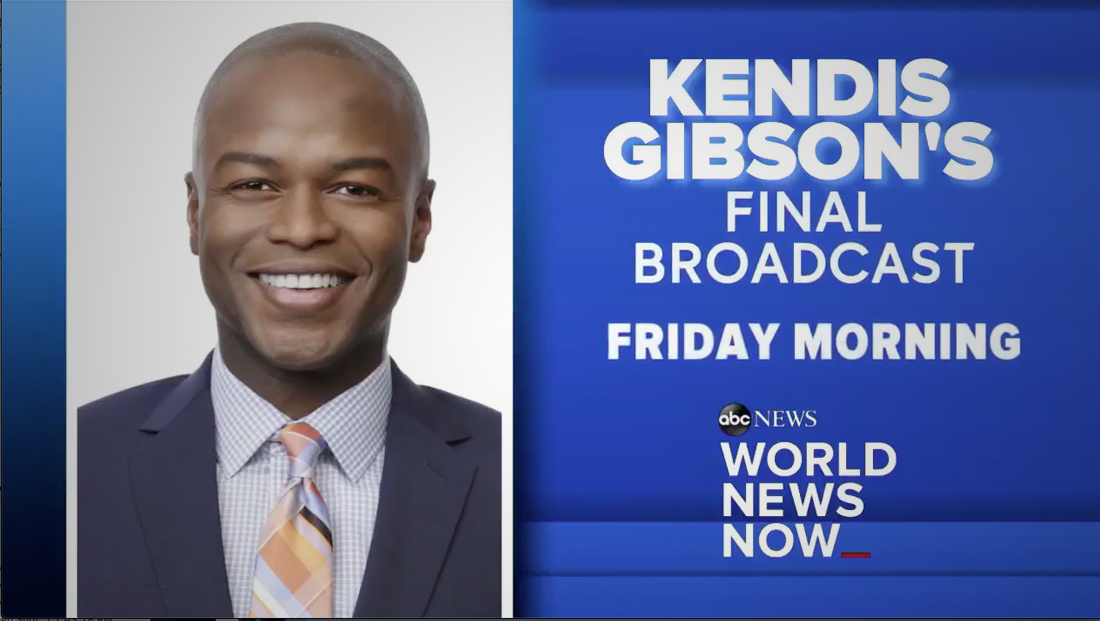 Update: Former "World News Now" anchor Kendis Gibson has a new job.
After Kendis Gibson announced his departure from ABC News' "World News Now" earlier this week, the show has promoting his last newscast— in its usual quirky way.
He's been on '#WorldNewsNow' since 2014 https://t.co/9EV0Oy2DGB

— TVNewsMix (@TVNewsMix) December 20, 2018
Gibson, who joined took over"World News Now" chair in 2014, will anchor his last show Friday, Dec. 21, 2018.
In addition to a retrospective segment, the show is also promoting Gibson's last broadcast.
Or, as it puts it, "dancing his way into unemployment."
Does former "#WorldNewsNow' anchor Kendis Gibson have a new job? https://t.co/4CH0dgZWZu

— TV Q+A (@TVQandA) December 22, 2018
Gibson will be departing ABC and has not announced any future plans, though he has hinted he will stay in television.
BIG ANNOUNCEMENT: @kendisgibson has revealed that Friday will be his last day serving as co-anchor for World News Now… and we couldn't be happier! Join us as we celebrate this momentous occasion all this week! pic.twitter.com/czSUuX9091

— ABC World News Now (@abcWNN) December 17, 2018
There is no word on a replacement for Gibson. ABC will likely fill his spot with a rotating selection of anchors before settling on a permanent host.
"World News Now" anchors typically do not last more than a year or two due to the grueling hours so musical anchor chairs is not uncommon.
The anchor chair is also seen as a stepping stone to higher profile positions within ABC or other networks.
Correction: An earlier version for this story misstated the number of years Gibson had anchored the program.