MSNBC gives up counting hours, minutes and seconds of government shutdown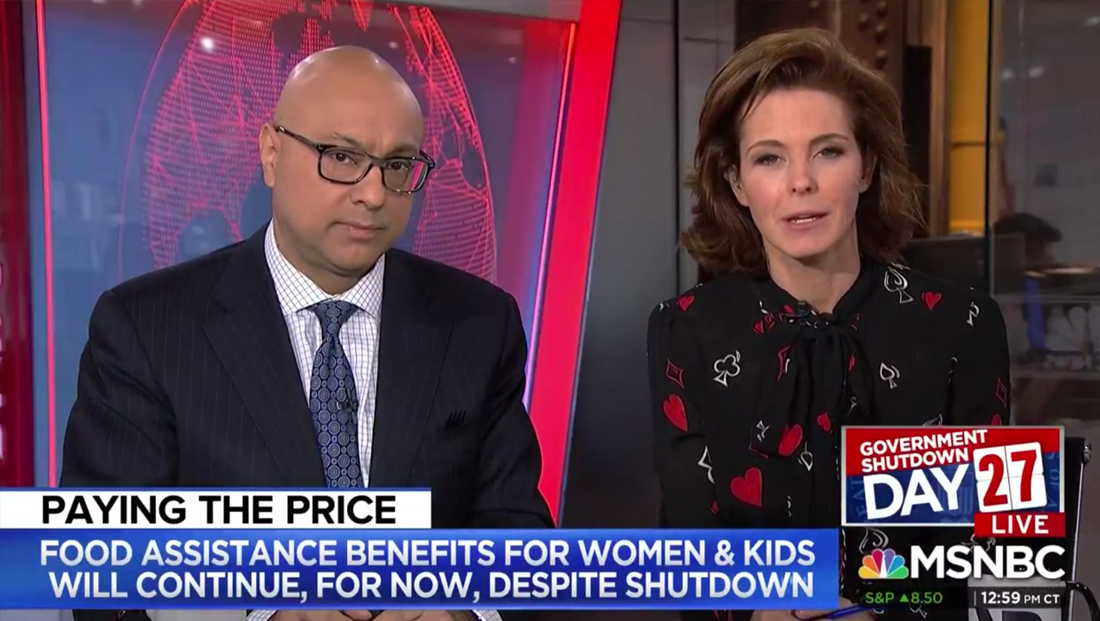 The government shutdown is now gone on so long that MSNBC has apparently decided the number of hours, minutes and seconds is irrelevant — and has moved to using just a day count — a move that also removes a potential point of confusion that caught NewscastStudio sister site TVNewsMix earlier today.
Correction: It is Day 27 of the shutdown, though Fox's counter says Day 26, since there was no 'Day 0' — the number actually gets bumped up a day pic.twitter.com/1b66JZHksl

— TVNewsMix (@TVNewsMix) January 17, 2019
Similar to the idea of how 2001 was actually the start of the new millennium because there was no "year 0," having a traditional counter showing the number of days, hours, minutes and seconds the government has been partially shut down for can lead to confusion because, put another way, when most people label the day number of the shutdown, they are actually referring to the day currently in progress — which would be one more than those traditional counters show.
In other words, Fox's Ainsley Earhardt was correct saying it's "Day 27" of the government shutdown — though having the (also correct) number "26" on screen is bit of an odd juxtaposition — which is probably one reason MSNBC made the change they did.
In other words, even though a counter, like the one used on Fox, shows "Day 26," we are actually in the middle of Day 27 as of this writing on Jan. 17, 2019 at 1 p.m. eastern.
It's worth noting, however, that, it's technically incorrect to say the government has been partially shutdown for "27 days," using the same example from above, because the 27th day is not yet complete until midnight.
MSNBC, meanwhile, has switched from the days, hours, minutes and seconds counter to a bold graphic that simply says "Day 27" (as of Jan. 17).
CNN also switched over to using the day designator.