NYC station 'predicts' a really¹⁸ hot day in Canada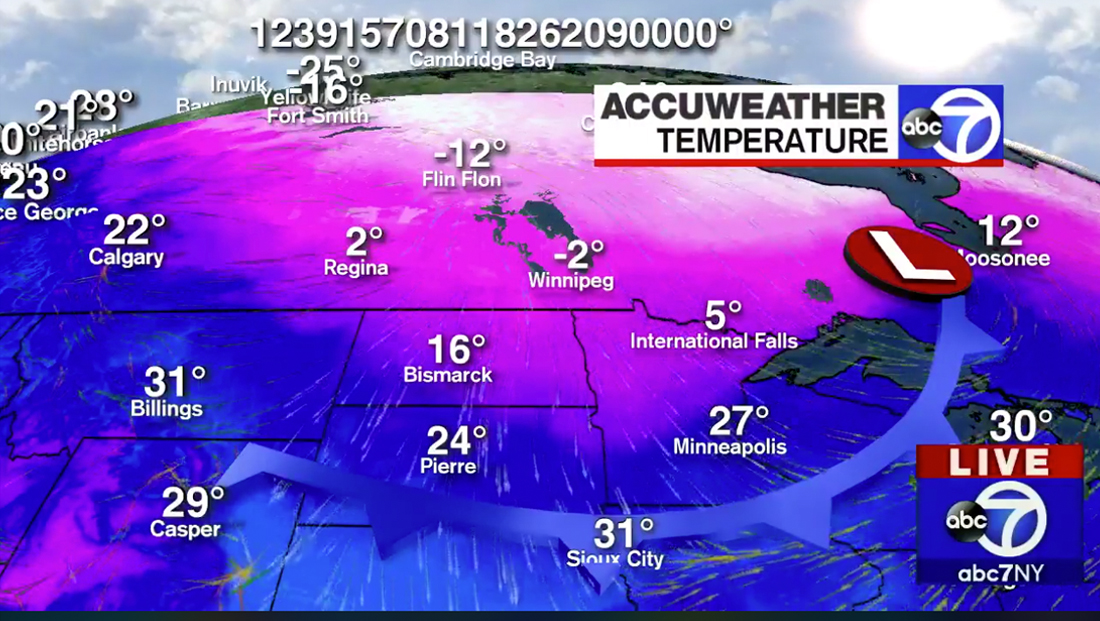 A WABC weather map erroneously reported that it would be 123,915,708,118,262,090,000 degrees in a place called Cambridge Bay, Canada, according to s screen capture of a weather map used during a Facebook Live update hosted by Lee Goldberg Tuesday, Jan. 15, 2019.
The error was tweeted by "AllanWeather."
The number, which would actually be 123 quintillion degrees (not the "quadrillion" mentioned in the tweet), appears to be the result of a computer glitch. \
A quintillion, by the way, is 10¹⁸.
Not only is the number obviously an impossible measurement for earth, but the real weather is actually completely in the opposite direction.
A nearby city named Fort Smith is listed as having -16 degrees, while another locale, whose name is obscured by another number, is listed at -25 degrees.
I highly doubt it is 123 quadrillion degrees in Cambridge Bay, Canada. ?

WSI glitches are the funniest sometimes! #WxGraphics #Whoops #Torch pic.twitter.com/5QAVdHO7WC

— AllanWeather | New York (@AWxNYC) January 16, 2019
You can watch the full update here: