CBS's Super Bowl sets look to stadium, eye logo for design cues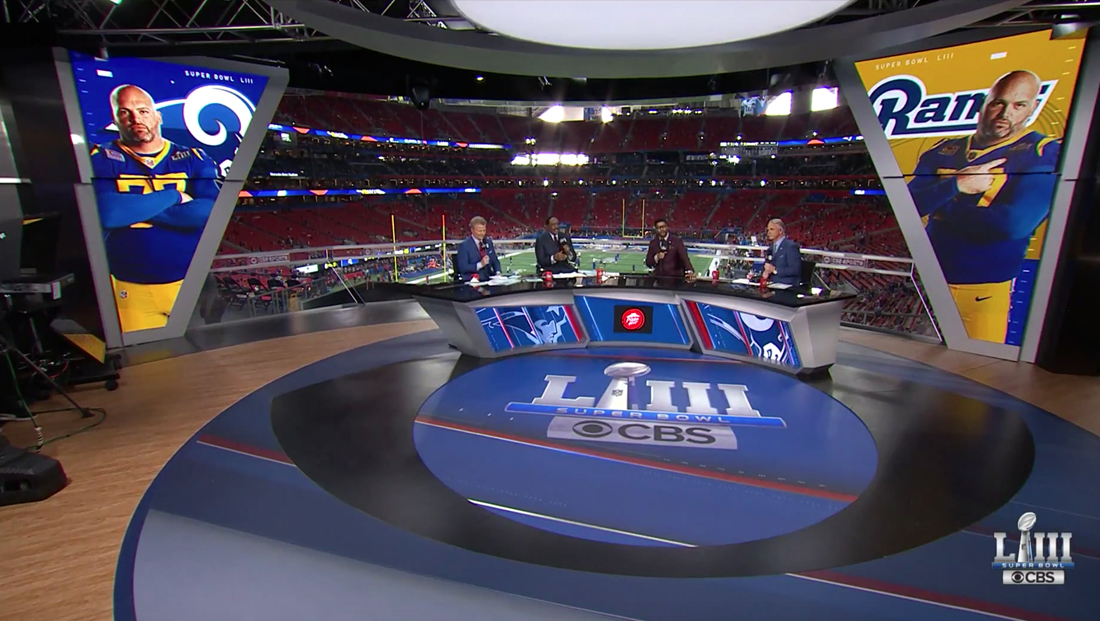 For the CBS broadcast network coverage of Super Bowl LIII in Atlanta, the network used three main sets designed specifically for the coverage.
Inside the stadium, a mezzanine level set served as home base for key coverage of the game and featured elements that echo the unique geodesic angular design of the Mercedes-Benz Stadium while also playing tribute to the CBS eye.
The open for CBS Sport's #SuperBowl Kickoff Show pic.twitter.com/kVtvbCrOxL

— NewscastStudio (@newscaststudio) February 4, 2019
This set, designed by Jack Morton Worldwide, featured a retractable roof that could raise about four feet to allow better sightlines of the field during broadcasts.
On either side of the set were two large polygons of LED video panels, which mirrored the stadium design as well as the other angular elements used throughout the broadcast.
In addition to the design team at Jack Morton, Mystic Scenic Studios provided fabrication services for the CBS Super Bowl sets, with stages provided by Filmwerks and lighting design is Beth Fowler.
Nice reverse view of the @CBSSports mezzanine set for #SuperBowl coverage pic.twitter.com/rkYgkogwCI

— NewscastStudio (@newscaststudio) February 4, 2019
The desk itself also featured additional LED panels set inside of three polygonal "fins" that added dimension to the front of the desk.
In addition the desk was set on the edge of an oversized element made of printed graphics and LED panels in the shape of the iconic CBS eye logo.
Above the desk was a curved header with lighted element that also play homage to the "eye" look.
Wrapping around the edge of the mezzanine set was a glass and metal railing created using polygons of edge lit glass and topped with a frosted CBS Sports logo band.
Excited and ready for Game Day! pic.twitter.com/8BroCvlXWA

— Jack Morton (@jackmorton) February 3, 2019
Behind the scenes look inside the CBS booth at #SuperBowl pic.twitter.com/9EoDJnOtLI

— TVNewsMix (@TVNewsMix) February 4, 2019