NBC's farewell to Kathie Lee broadcasts from Megyn Kelly's old set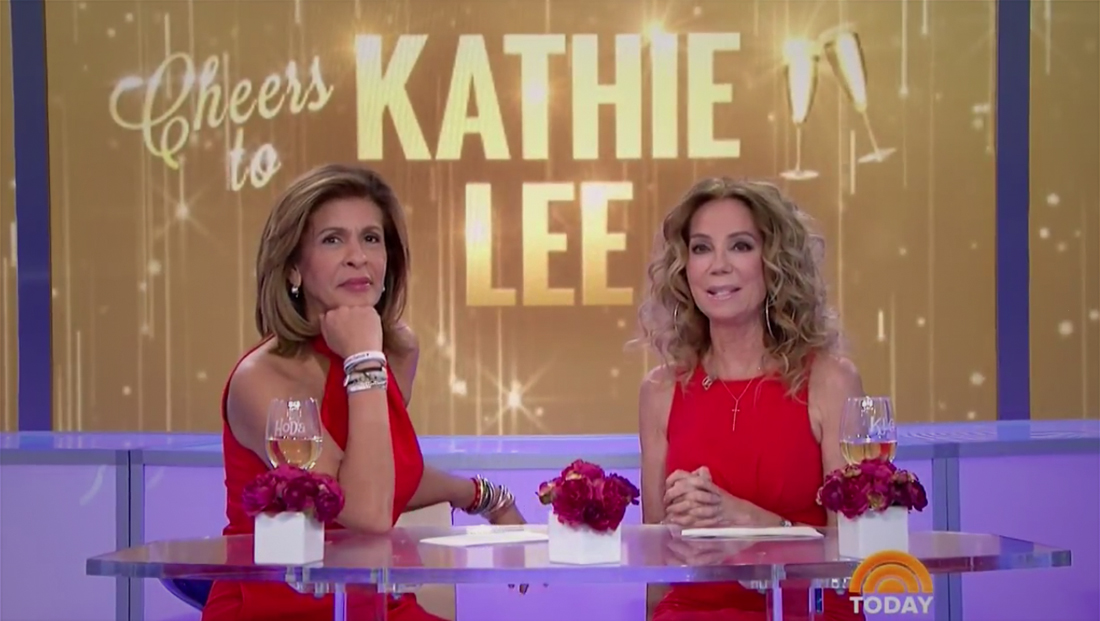 NBC News' farewell to Kathie Lee Gifford originated from Studio 6A, the former home of "Megyn Kelly Today" using her old set and a full studio audience.
The show also featured a "special edition" open that used special graphics but still ended with the classic clip of Gifford and co-anchor Hoda Kotb sitting in beach chairs saying "how do we do it, day after day?"
The live shot that normally features the Rockefeller Plaza sign showed the honorary "Kathie Lee Gifford Plaza" sign outside.
The show opened with a gold video wall background with the "Cheers to Kathie Lee" branding.
The graphic was carefully designed to avoid being covered by either host on two-shots, with "Lee" strategically placed between the pair.
After a week of surprises, '#TodayShow' says goodbye to @KathieLGifford #CheersToKLG https://t.co/kkbykwhNPz

— TVNewsMix (@TVNewsMix) April 5, 2019
Gifford and Kotb's hour of "Today" also used Megyn Kelly's set during the 2018 Winter Olympics.
At the time, Kelly's show was still broadcasting from the space as well — but was canceled in that fall after Kelly made controversial statements about blackface during a Halloween costume segment.
The third hour of "Today" also used Studio 6A in months following the cancellation of "Megyn Kelly Today" — though production moved to Studio 1A permanently in January 2019.
Many of the elements from those episodes, including the internally lit "bar" running behind home base and balcony bartender, were brought back.