Alex Trebek gets his 'very own Vanna' for Teachers Tournament tie in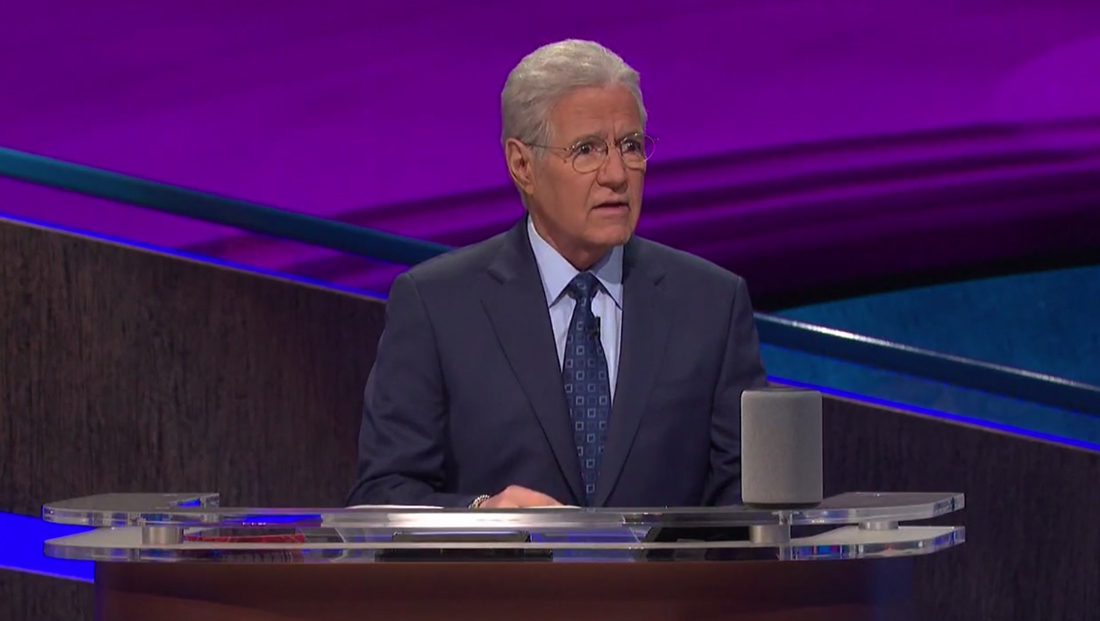 With the seemingly unstoppable James Holzhauer stopped — at least for two weeks — for the show's annual Teacher Tournament — "Jeopardy!" added an Amazon Alexa tie-in for the occasion.
At the start of the tournament, Monday, May 6, 2019, host Alex Trebek appeared on camera before the episode began standing next to an Amazon Alexa perched on a small table next to him.
Trebek also made note of Alexa's name — and its similarity to his own.
The show's open, which was updated with a school theme, also included a "presented by Alexa" logo.
Announcer Johnny Gilbert also included that line in the open, similar to how the 35th anniversary "All Star Games" were sponsored by Consumer Cellular.
After the contestants were introduced, Trebek entered the studio and mentioned Alexa again, with the unit now sitting on the glass rim of his lectern.
"And Johnny, I hope you will not take this as a negative, but for the very first time in 35 years … I finally get to work with my own Vanna," Trebek said, referencing sister game show "Wheel of Fortune" co-host Vanna White (and perhaps the reason a white model of Alexa was selected).
After the board setup shot and sound cue, Trebek then asked Alexa to reveal the category names — which "she" gladly obliged him with in her slightly robotic voice.
The unit remained on Trebek's lectern throughout the game, with the tight shot on him normally used going into breaks and when an explanation to a response is needed framed looser to allow the device to appear throughout the entire game.
Trebek, however, took over reading the category names for the "Double Jeopardy!" round and Alexa was not heard from again.
As of Tuesday, however, the Alexa unit no longer appeared on set.
The Teachers Tournament tie-in isn't the start of the show's connections to Alexa — the device has had a "Jeopardy!" "skill" for some time now, allowing users to access the "J6" clue — an extra clue from each category that was originally prepared in case of a technical glitch during taping.
The latest in design, production and engineering
Subscribe to NewscastStudio for the latest delivered straight to your inbox.