Alex Trebek has Alexa play 'think music'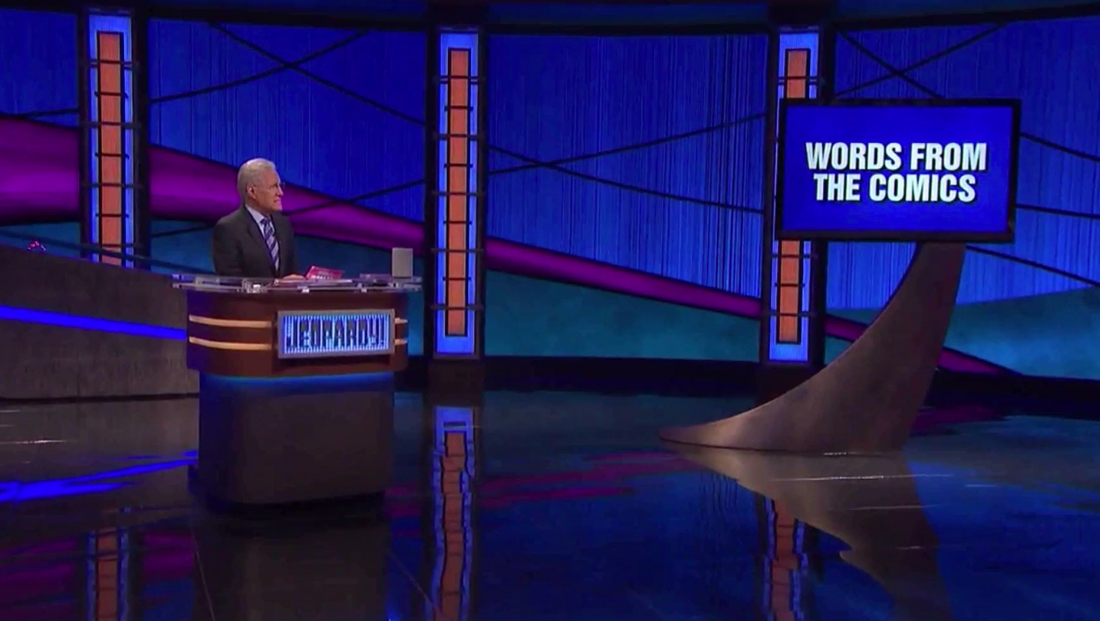 As part of a continued tie-in with "Jeopardy!" and its Teachers Tournament, an on-set Alexa device was used to "trigger" the playing of the show's iconic "think music."
On the Wednesday, May 8, 2019 episode of the syndicated game show, host Alex Trebek appeared on camera to promote Alexa's "Jeopardy!" "skill" that lets fans access an extra clue each day.
It's worth noting that, during the message, Trebek used the device's name — and trigger word — "Alexa" twice, and each time the device's lighted ring that signals it's "listening" was activated.
Later in the show, after Trebek read the clue for the "Words from Comic Books" Final Jeopardy! clue, Trebek turned to the device, now sitting on his lectern, and said, "Alexa, play the 'Jeopardy!' 'think music.'"
From a production standpoint, it's not clear if the Alexa actually triggered the music — or the control room, as it normally does, did.
It's also possible that the music played from the Alexa's speakers for the contestants to hear on-set but viewers heard an audio feed from the control room — or that the entire setup was simulated.
In the version of the show that aired, Trebek's request of Alexa actually ended up giving contestants a sliver of extra time — since the "think music" usually begins playing after Trebek reads the last word of the clue.
However, that extra time didn't seem to help the contestants — no one managed to come up with the correct question for the clue about a two word phrase made popular by "Peanuts" cartoonist Charles Schulz.
It's possible that the episode was edited to eliminate the brief extra time Trebek's request gave the contestants, though the typical "portions of this program have been edited" disclaimer did not appear in the episode's credits.
"Jeopardy!" is known for sticking to its rules down to errant "S"s in responses.
That said, all contestants got the same "advantage" — if you can call it that — though not all of the competitors in the tournament's quarter final rounds did.
In addition, the fact that Trebek was still talking during the time was likely "distracting" enough so that no one really was able to take advantage of the extra time.
That, and the minuscule amount of extra time the request added to the normal 30 seconds Final Jeopardy! gives players, probably chalks up to being almost inconsequential in the grand scheme of things (not to mention no one got the right response either).
For what it's worth, we tried triggering an Alexa device using Trebek's exact phrasing and it jumped to an Amazon Music radio station with TV soundtracks that was, at the time, playing the "Dallas" theme.
Alexa's archenemy Siri, did play a version of the "think music" when asked on a device linked to Apple Music — but its default pick isn't the version used on the show.
But at least it didn't return with "I found six places that mention 'Jeopardy!' 'think music.' Two of them are close by" or "Would you like to try a web search for 'Jeopardy!' 'think music'?"