The 23 box (or, in some cases 24 box) graphics networks created for dems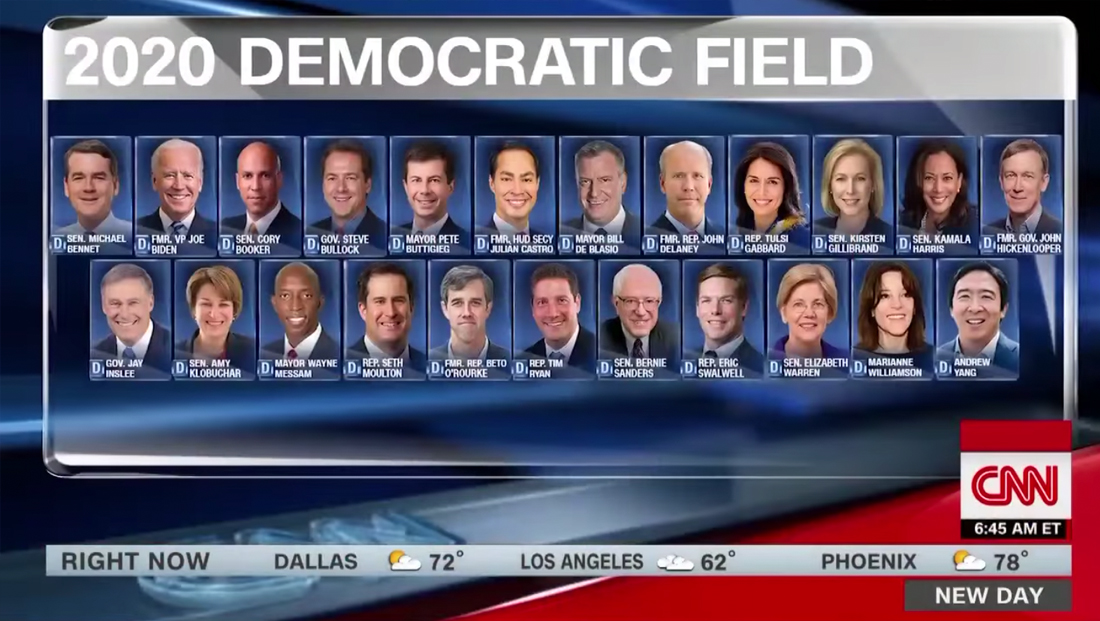 Note: This post was originally written to cover the candidate count as of May 16, 2019. Since this time, additional contenders have entered the race and most of the networks have updated the graphics to match the new count.
With 23 (or 24 — more on that in a bit) candidates now in the running for the 2020 democratic presidential nomination, networks are graphics showcasing each candidate's headshot and name.
CNN's graphic that it used after New York City Mayor Bill De Blasio announced his run Thursday, May 16, 2019, included 23 headshots arranged in two rows and alphabetical order.
So, why did NBC and CBS have 24 boxes while MSNBC and CNN had 23?
It appears that CNN and MSNBC omitted former Sen. Mike Gravel, who, although is technically running and has an exploratory committee, has self described his candidacy as more of a way to make a statement.
"The goal will not be to win, but to bring a critique of American imperialism to the Democratic debate stage," he said.
Gravel originally actually discouraged people to vote for him, but did try to get the 65,000 small donations needed to appear in the debates.
His campaign stated later that he was in fact in to win the race and not just participate in debates, but Gravel himself appeared to contradict this later by praising the value of a Sen. Bernie Sanders and Rep. Tulsi Gabbard ticket.
Both Sanders and Tulsi are also running separately and appear on the 23-box version of the graphics.
The graphics each network are using don't strictly meet the definition of what some would consider a "23" or "24 box" — since they aren't moving images of "team coverage" like the "25 box" WSB famously used during a blizzard in 2014.
While all 25 boxes shown on screen were video, the graphic included pre-taped "look lives" of at least some of the reporters since combining 25 live shots into a single graphic would be quite challenging from a technical standpoint