Lester Holt and American Airlines CEO squeeze into airplane seats for interview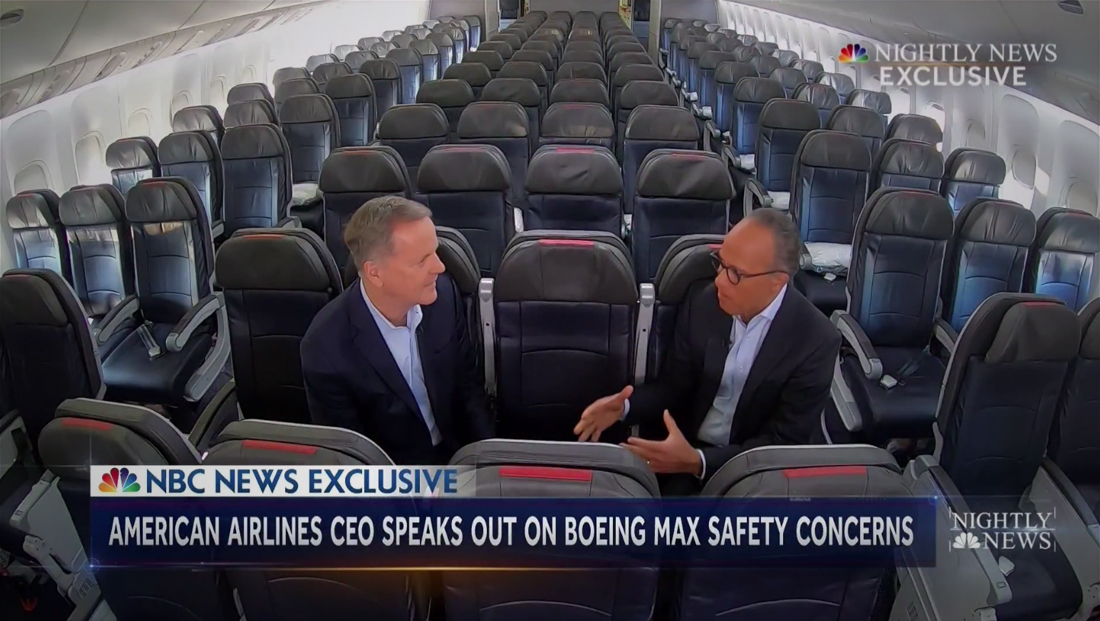 For an interview with American Airlines CEO Doug Parker, he and "NBC Nighty News" anchor Lester Holt talked onboard a parked and empty airplane.
The interview, which aired during the May 22, 2019 newscast, focused on American's statement on safety concerns with the Boeing 737 Max aircraft after two fatal crashes as the airplane manufacturer works to release a fix for potential flaws that may have lead to the accidents.
The crux of the interview was taped inside of an American Airlines aircraft — but it wasn't a 737 Max.
737 Max aircraft are "narrow body" aircraft and could not fit the 10-seat rows (in a 3-4-3 configuration) that are shown in Holt's interview.
Holt and Parker were seated in what appeared to be a standard economy or coach class cabin, turned somewhat awkwardly toward each other in a position any frequent traveler will likely recognize as an attempt to sit comfortably without much legroom.
NBC appeared to have brought at least four cameras to capture the interview — one at seat level for a traditional two shot of Holt and Parker, another mounted above that showcased more of the mostly empty aircraft and one each on Holt and Parker.
It was not immediately clear when or where the interview was taped or what type of aircraft was used, though one airline expert told NewscastStudio it is likely a Boeing 777.
In the wake of the ground of the grounding of the aircraft earlier this year, many airlines have moved their 737 Max aircraft into storage locations away from their primary operational areas, which could be one reason why a 737 Max was not used for the interview.
NBC News did not respond to requests for comment about the aircraft type used.
The latest in design, production and engineering
Subscribe to NewscastStudio for the latest delivered straight to your inbox.