CBS blends special report countdown with Apollo 11 one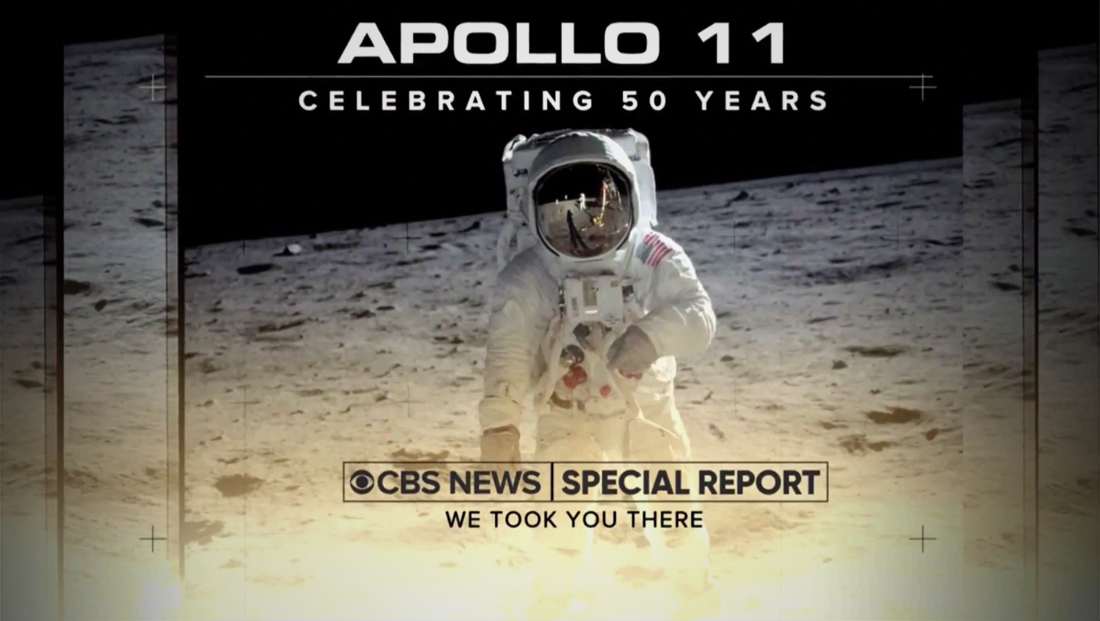 CBS News rebroadcast the Apollo 11 liftoff, exactly 50 years after it original aired and blended its normal special report countdown with one of a different kind.
CBS used its normal special report countdown to break into programming Tuesday, July 16, 2019, to carry original coverage and a rebroadcast of the network's launch coverage from 1959.
Like most networks, the special report countdown displays the digits 5, 4 and 3 on screen, representing seconds.
The 2, 1 and 0 are not shown on screen, but are still accounted for.
On July 16, CBS had the unique opportunity to continue the countdown theme by airing mission control audio from the launch that includes an audible countdown to liftoff.
When cutting in, CBS faded in the NASA audio to roughly continue the countdown seen on screen using the historic recording as topical special report graphic played out.
Network special report opens typically contain countdowns at the beginning.
This serves as a sort of "alert" for stations not carrying the network feed to switch over if they wish to air the special report.
After the numbers disappear from screen, the countdown continues "silently" and after hitting the 0 seconds point, most networks display a special report title card.
In cases where special reports are for breaking news story, this is typically a generic look — but it's not uncommon for topical designs to be included when a special report, like the one for the Apollo 11 anniversary, is scheduled in advance.
Depending on when, exactly, the local station picks up the feed, portions of the countdown or even the title card part of the open can be awkwardly cut off.
However, many stations are able to, thanks to broadcast automation technology, cut over almost immediately, so the countdown frequently shows up on air.
In the past, when station master control was not automated, master control operators were trained to keep an eye out for the countdown — which then gave them a few seconds to manually switch over if needed.
Even with today's more advanced technology, there's still sometimes a bit of delay in taking the feed, which is one reason the countdown remains.
The latest in design, production and engineering
Subscribe to NewscastStudio for the latest delivered straight to your inbox.