'Fox & Friends' pulls out 'rattiest city' list to try to back Trump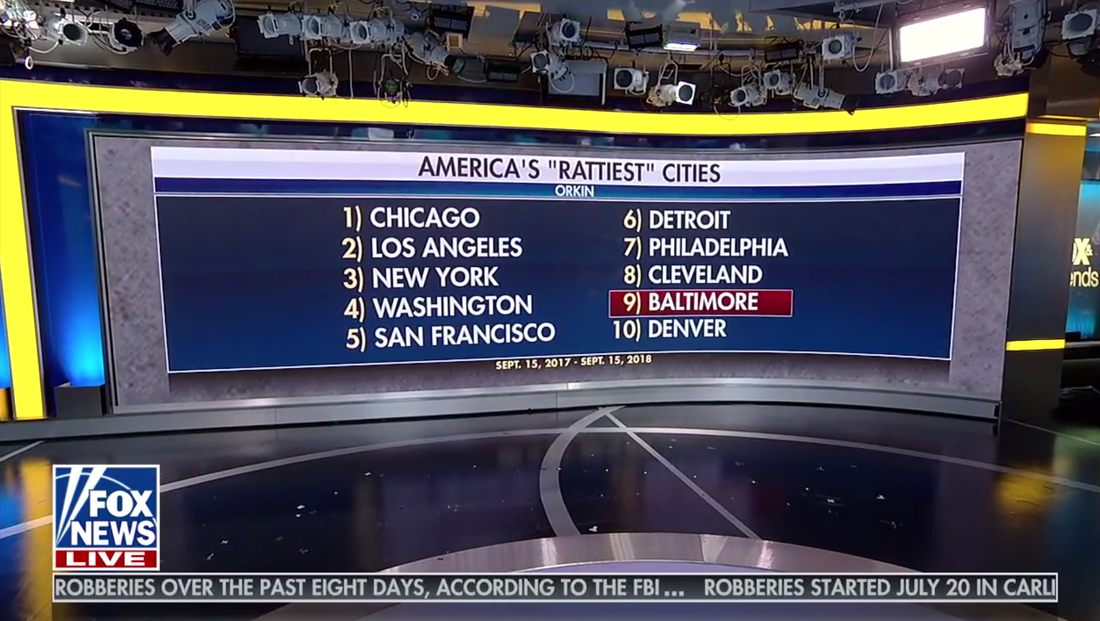 "Fox & Friends" aired a giant graphic of the so-called "rattiest cities" in attempt to back Donald Trump's racist statements about the city of Baltimore.
The list, released yearly by pest control company Orkin, is based on the company's internal data on the number of residential and commercial exterminations performed during a one year period.
On the list, Baltimore ranked ninth — behind New York and Washington, two cities Trump has residences in.
Chicago, which is home to a prominent Trump owned property, topped the list.
Fox pointed out that all of the cities on the list are "controlled by Democrats" though it failed to mention Orkin's political action committee donated, according to public records, 89% of its funds to Republican candidates in the 2016 cycle. The PAC has also raised near record amounts in 2018 but spent less than a quarter of it.
Fox also neglected to point out that, according to Orkin's own press release on the ranking, Baltimore actually dropped a spot on the list year over year.
Of course, statistics being statistics, it's also worth noting that this list isn't exactly scientific:
First, it's based on internal Orkin data that appears to lack transparency as to the actual raw data.
The data also only accounts for the number of new exterminations performed — which isn't necessarily indicative of how "ratty" a city is but rather how many people call (and presumably pay for) extermination services.
The list also doesn't appear to account for the number of critters exterminated in each treatment — or any repeat treatments.
It's not uncommon for companies to create lists like this — typically around their area of expertise — as a public relations stunt that many media outlets eat up.
The latest in design, production and engineering
Subscribe to NewscastStudio for the latest delivered straight to your inbox.