A busy Labor Day weekend: How the networks covered multiple big stories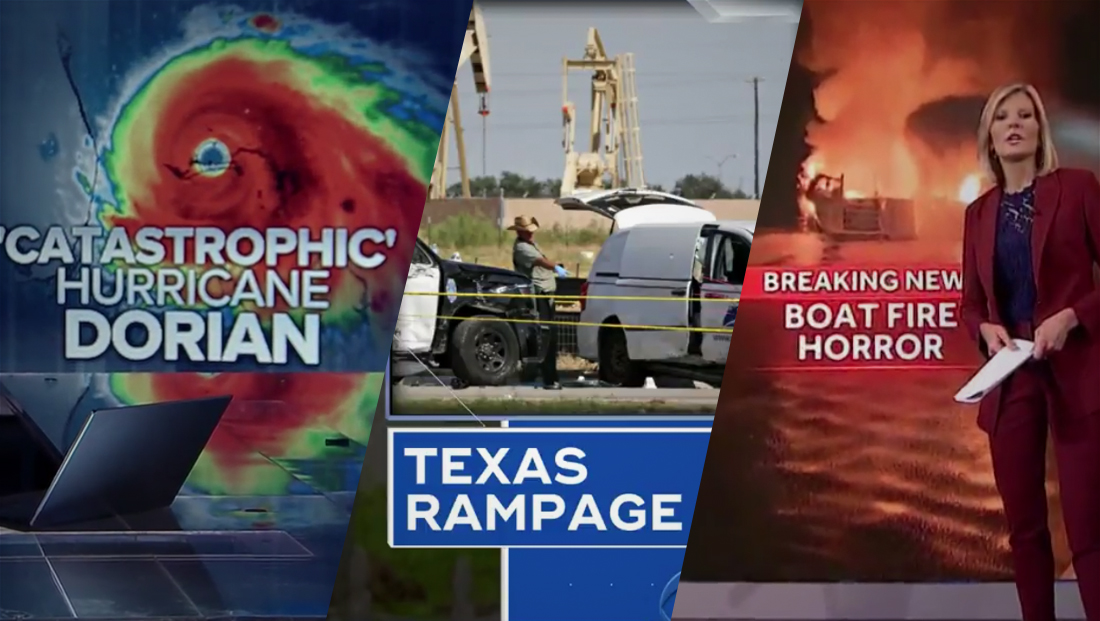 The "slow news month" of August (does anyone really believe that anymore?) ended over Labor Day weekend, with Hurricane Dorian, a mass shooting and boat fire dominating the news headlines.
Here's a look at how the networks covered the news this past weekend:
Friday, Aug. 30, 2019
All "big three" anchors were out.
'NBC Nightly News'
Kristen Welker filled in for Lester Holt.
'CBS Evening News'
John Dickerson filled in for Norah O'Donnell.
Hurricane Dorian

Extended overview from Dickerson.
Update from WCBS forecaster Lonnie Quinn in studio.
Overview of NASA and military preparations for Dorian from Dickerson.
Mireya Villarreal on how citizens are preparing for the storm.
Mark Strassmann on travel affects.

V.A. medical center investigation Natalie Brand.
"Breaking News" on Tyler Skaggs autopsy with Dickerson voiceover.
Trump's assistant resigns, also with voiceover.
Kay Ivey blackface scandal with Major Garrett, including live shot in Washington.
Death of Jim Leavelle, a police office handcuffed to Lee Harvey Oswald after the Kennedy assassination, voiceover.
Break 1
Minor league baseball player Blake Bevins' family murder investigation.
Break 2
Valerine Harper death voiceover.
Juul e-cigarette company voiceover.
Twitter CEO Jack Dorsey hack voiceover.
Break 3
"On the Road" segment on toy soldiers from Mark Hartman.
'ABC World News Tonight'
Tom Llamas was in for David Muir.
Hurricane Dorian
Trump's assistant resignation standup from Kyra Phillips at the White House.
Adrienne Bankert package on Tyler Skaggs autopsy.
Simone Biles' brother charged with murder voiceover.
V.A. medical center deaths package from Pierre Thomas.
Uighurs internment camps report from Bob Woodruff (under "Developing Now" label).
E-cigarettes dangers voiceover.
Break 1
911 drowning death package from correspondent Alex Perez.
Break 2
"The Index"

Louisiana officer attack probe.
Maryland student hit getting on bus.
$60 million lottery winner.

Break 3
"America Strong" Cori "Coco" Gauff package from Llamas