A busy Labor Day weekend: How the networks covered multiple big stories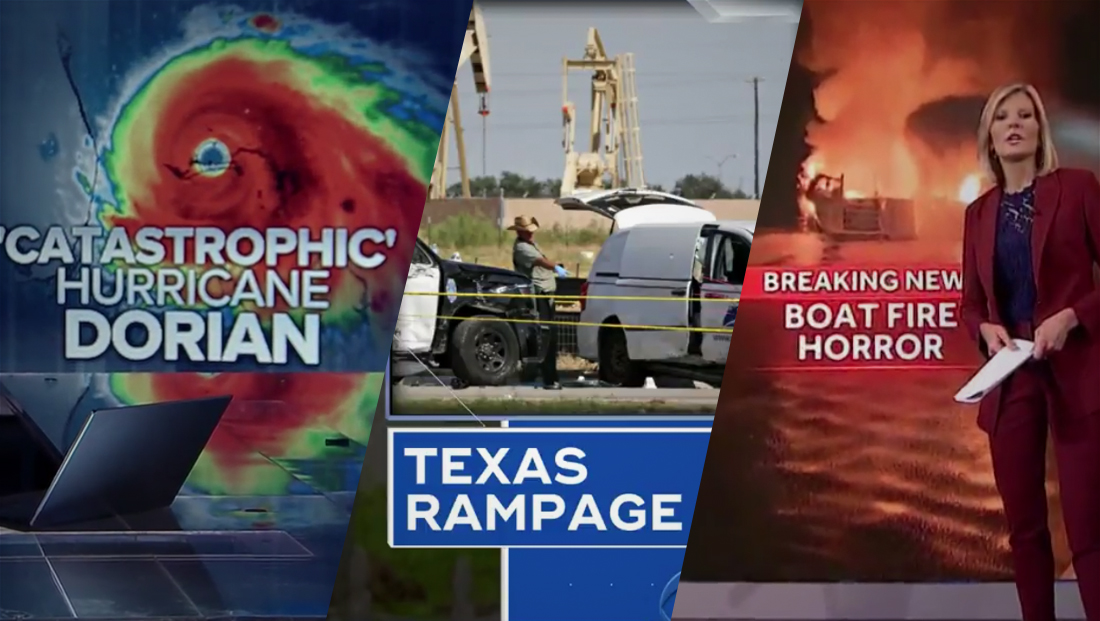 Saturday, Aug. 31, 2019
'NBC Nightly News'
Peter Alexander filled in for Jose Diaz-Balart.
Odessa shooting live update from Ron Allen on opposite side of the "Nightly" set in Studio 3A, relying mostly on social media posts from law enforcement.
Hurricane Dorian
Trump's assistant out with Kelly O'Donnell package.
"The Price You Pay" trade war package from Jo Ling Kent, including in-studio debrief.
Break 1
911 downing death from Blayne Alexander.
Break 2
Ice bucket challenge: 5 years later from Ron Mott.
Break 3
Zac Brown summer camp profile from Kendis Gibson.
'CBS Weekend News'
Reena Ninan anchored.
Broadcast opened with note that Hurricane Dorian coverage would come soon.
Breaking news on Odessa shooting voiceover from Ninan.
Hurricane Dorian

Overview from Ninan.
Weather contributor Jeff Berardelli provides update.
Storm preparations from Mireya Villarreal.

Hong Kong protests package from Ramy Inocencio.
Trade war package from John Blackstone.
911 call drowning package from Kenneth Craig with in-studio wrapup.
Solider identified voiceover.
U.S. missile strike in Syria from Holly Williams.
Ruth Bader Ginsburg National Book Festival soundbite and voiceover.
Break 1
Kris Van Cleave package on red light cameras.
Break 2
"Eye on Earth" Joshua tree package from Jamie Yuccas.
Break 3
Hurricane hunters package from WTSP's Beau Zimmer.
'ABC World News Tonight'
ABC's newscast did not air in the central time zone.