Set, graphics tweaks dawn on 'CBS This Morning'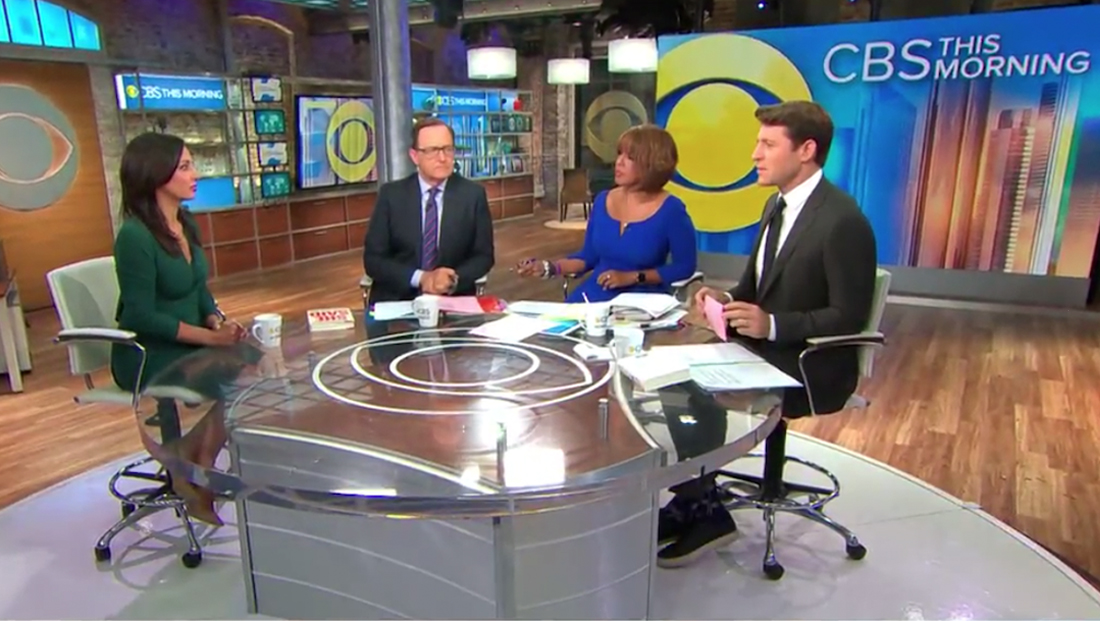 "CBS This Morning" unveiled a series of set and graphics updates Monday, Sept. 9, 2019.
The show, which broadcasts from Studio 57 and sharing the space, for the time being, with "CBS Evening News," changed things around a bit over the weekend — including an updated primary background and set tweaks.
For the video wall background that typically is used behind the anchor desk at the top of the show, the network switched to a less flat look with a glassy — and more colorful — cityscape imagery — with similar imagery fed to the long video array camera right above the in-studio workstations.
The change is interesting because it moves away from the flat, angular look the show introduced earlier this year — while that same look continues to be used elsewhere throughout the show, including on other video walls and panels.
That said, however, the look is also more in line with the colorful stylized cityscape views used on the "Evening News" video wall backgrounds — and also have some similarities to the backgrounds on "GMA."
The network also added "CBS This Morning" banners on the shelving units around the set that were previously light blue backlit panels or exposed brick. Other segments of the shelving have cityscape or "CTM" inspired graphics now as well.
In addition to those updates, the adjustable flat panels mounted to the metallic columns around the anchor desk have been removed. These panels were frequently used for both remote interviews and OTS elements for anchors and correspondents and could be adjusted to be either portrait or landscape orientation.
To make up for the removal of these units, a mobile panel can now be placed behind talent at the anchor desk — which in many ways gives the studio more flexibility that being locked into the locked down monitor locations.
CBS is also leaving one of the "barn door" style panel to the right of the seamless video wall that appears at the center of the opening shot wide open now — showing viewers more of the street view outside the studio.
Also tucked in near the camera left windows are two seemingly random chairs — perhaps an attempt to make the set feel more "homey."
Meanwhile, with "CBS Evening News" still originating from New York until November, that broadcast may seem some tweaks as well on its next broadcast from the studio.
Anchor Norah O'Donnell has been on the road covering Hurricane Dorian and also has been anchoring from Washington, D.C. from time to time. She was back in New York Friday.
CBS will move production of "Evening News" to Washington in November and is in the middle of building a new studio for O'Donnell there.
The latest in design, production and engineering
Subscribe to NewscastStudio for the latest delivered straight to your inbox.