Networks find a variety of ways to depict text of Trump call memo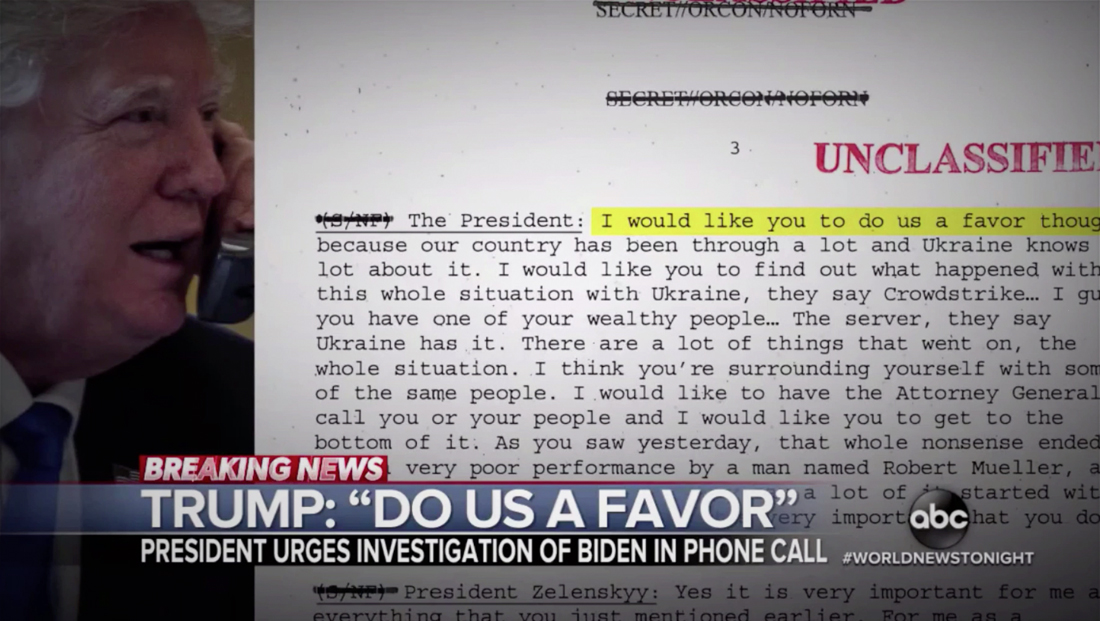 The release of the memo summarizing a conversation Ukraine's President Volodymyr Zelensky between Donald Trump lead all of the major U.S. network newscasts Wednesday, Sept. 25, 2019 and the allure of the report's typewriter style lettering and red "unclassified" stamps provided the visual foundation for all three networks — but each one found its own way to spotlight specific passages.
In digital scans of the memo striked out references to "eyes only" and "secret" among other classifications added to the sense that the document comes straight from a James Bond or Jack Ryan movie.
"ABC World News Tonight" anchor David Muir was the only one of the big three anchors to anchor the broadcast from the United Nations, where Trump is currently meeting with world leaders and held a press conference responding to the release and impending impeachment inquiry.
To, quite literally, highlight select portions of the memo, ABC News added bright yellow backgrounds behind words it wanted to draw viewers' attention to.
ABC enlarged the digital scans to take up roughly four fifths of the screen, zooming in on specific parts, while the remaining sliver of the screen was used to display a photograph of Donald Trump on the phone (though it's likely not a photo taken during the actual call in question) when it was quoting from Trump's statements.
Meanwhile, the enlarged memo scan shifted over to insert Volodymyr Zelenskyy's photo on the right side for quotes recounting what he said.
The memo is not a direct transcript of the call — but rather a summary assembled from multiple sources who were present during the call.