CNN revamps 'Anderson Cooper Full Circle'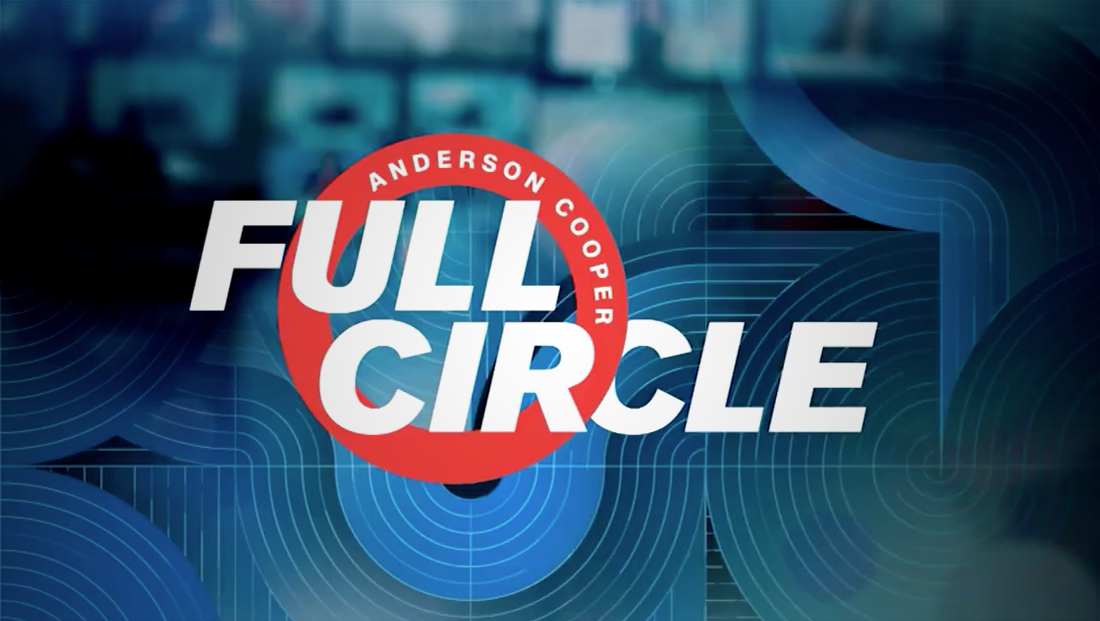 CNN gave Anderson Cooper's popular digital only newscast a bit of an update — and a literal change in (screen) direction — after it debuted its first episode outside the Facebook Watch platform.
The show has retained its circular logo but added a winding, textural background element that is both a nod to the "circle" in the show's name as well as as the iconic intertwining CNN logo.
That look, which also has a bit of a "retro" style to it, is used for both the show's on-screen graphics as well as on the video wall behind Cooper.
The show is produced in Studio 21L at CNN's Hudson Yards studios, the same studio "Anderson Cooper 360" broadcasts from.
Cooper is typically framed very tightly, so only a small portion of the studio video wall appears behind him.
The rest of the screen is dividing into segments with animation effects that feel a bit like "The Situation Room."
Graphics are kept fairly simple, with on-screen text used to show headlines, identify guests and segments and add additional information.
It's notable that the show is now produced in landscape orientation, as opposed to the "vertical" portrait one when it was on Facebook Watch and like many other digital content targeted at mobile users.
While the show is no longer exclusive to the Facebook Watch platform, CNN still does provide the video on Facebook as well as its own website and mobile apps.
"Anderson Cooper Full Circle" launched in July 2018 exclusively on Facebook Watch.
At the time, it was produced from both on the road (as was the case of its premiere episode) and from one of CNN's former newsrooms at Time Warner Center. CNN added a small half wall with "sneeze guard" for the broadcast's home base.
When CNN moved to Hudson Yards, the show switched to using Studio 17N's open newsroom set.
In June of 2019, CNN announced it was dropping the exclusivity deal with Facebook Watch.
At the same time, it was announced the show would go on a summer hiatus July 17 and return in the fall.
The show now spends the majority of its time focused on a single topic — whereas its old format was more of a traditional newscast that covered a summary of the day's stories.