'CBS Evening News' fixes its 'impeachment Dumpster fire' graphic goof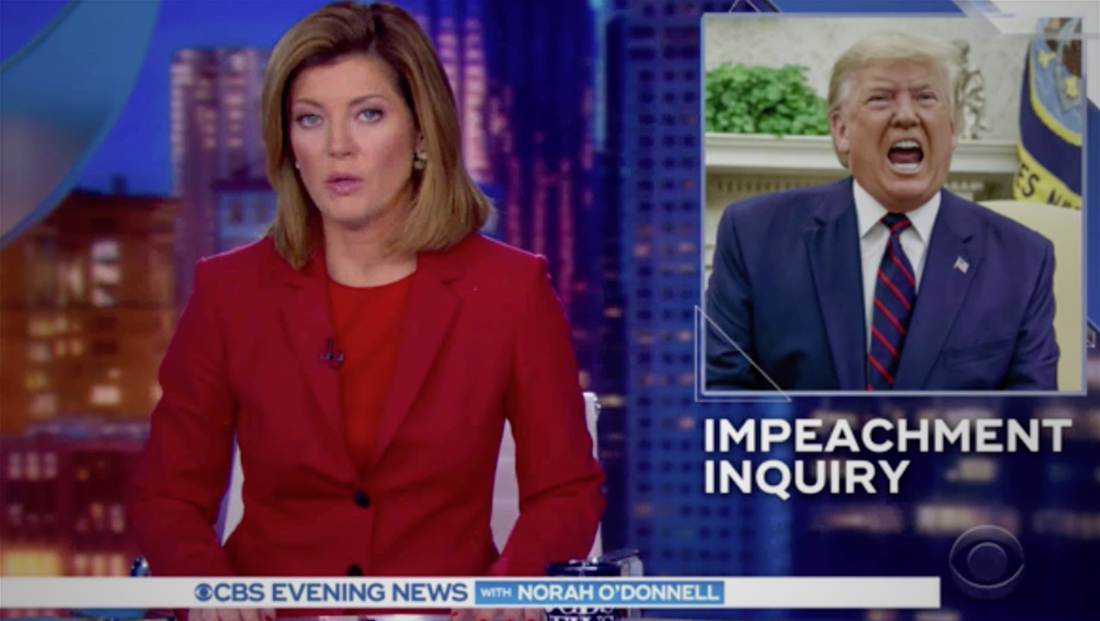 CBS News went back and fixed an error that caused the image of a smokey plane crash to appear to next to the headline "Impeachment inquiry" — drawing the inevitable connections to the proverbial "Dumpster fire."
The glitch appeared on the first feed of the "CBS Evening News," which typically airs live at 6:30 p.m. eastern and is shown live in much of the east coast and central time zones.
The second feed version is also often used for online videos, on demand and other platforms and it appears CBS corrected the mistake and posted it online and made it available for affiliates who use later feeds.
In the corrected version, O'Donnell appears next to an image of Trump while a fullscreen graphic showcases his "bullshit" tweet with the letters "hit" starred out.
During the first feed, a photo from a deadly plane crash appeared next to O'Donnell while an unrelated drought graphic popped up on screen.
Traditionally, networks offer at least one second feed at 7 p.m. eastern, which is used live in select markets and is taped for the west coast, Alaska and Hawaii stations to play back later.
The second feed is often updated to not only include updates or corrections to stories, but also to fix any technical problems or slipups.
On smoother nights with little new developments, the second feed may simply involve the network feeding out the first version. If a few minor errors need "cleaned up," the network might play back the tape and "dip in" live to anchors or correspondents to fix error or provided updated information.
In some cases, most or all of the broadcast may be done live again.
Some networks will also use commercial breaks to record "redos" on minor errors and then insert them into later feeds as needed.
For nights with breaking news that continues to develop, networks may offer additional live feeds for west coast affiliates or leave a "window" near the top or end of the broadcast for a live update from the anchor or a correspondent.