Watch: Canadian forecaster dresses up as a unicorn named Ferdinand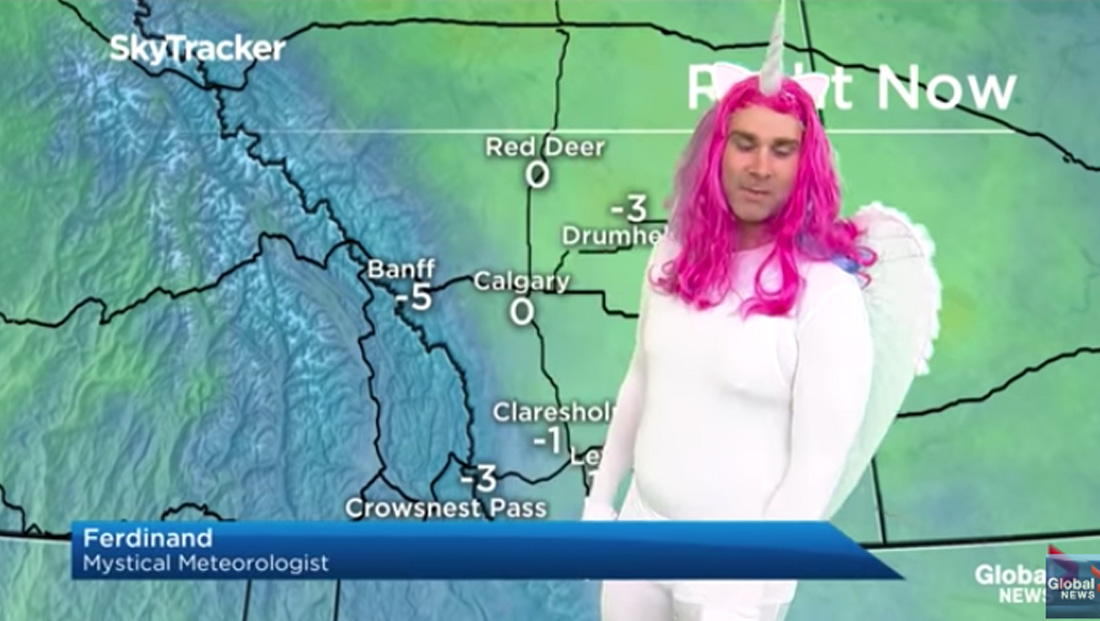 A Canadian forecaster dressed up as a unicorn for Halloween, a move that sent his colleagues into a fit of giggles.
On Thursday, Oct. 31, 2019, Jordan Witzel walked on set wearing a tight white outfit with pink socks and wig, wings, ears and, of course, a single horn for a hit on Global Calgary's "Global News Morning Calgary."
He also had on "hoofs" (which thankfully, as he pointed out, were "magical" so he could still control the clicker to control the weather computer).
That said, his carefully planned costume did have a digital "wardrobe malfunction" — with portions of his rainbow striped tail getting keyed out — presumably because they were green.
Global Calgery uses a virtual set, with an anchor desk placed inside of a giant green screen studio, which also explains why, in some shots, Witzel appears to be able to "walk" on the chroma keyed map but in the cross shot he's standing on a black floor.
As his coworkers giggled to the point of tears, one was able to slip in and ask if he drove "deerfoot" into work.
At one point, the on air team joked that they needed a "big" banner to cover parts of the rather revealing outfit — so the control room helpfully added a lower third that read "Ferdinand, Mystical Meteorologist."
Witzel mostly stayed in character — preening for the camera, holding his "hoofs" aloft and even wiggling his posterior a bit.