MSNBC moves to Megyn Kelly's old set for impeachment hearing coverage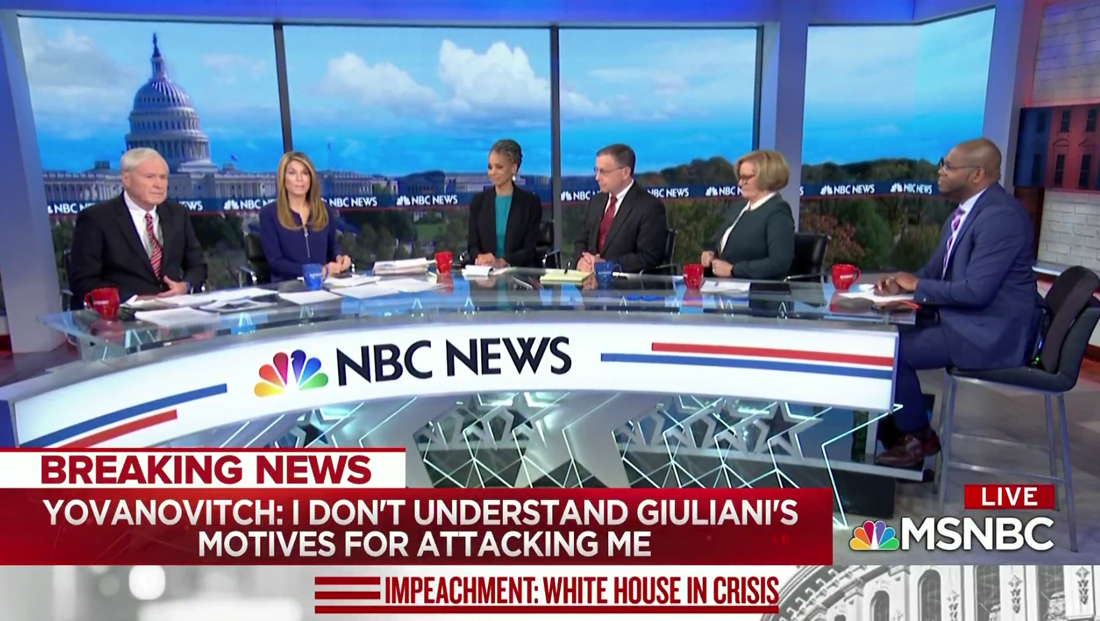 MSNBC's live coverage of the second day of impeachment hearings moved upstairs to Megyn Kelly's old studio on the sixth floor of Rockefeller Center.
Wednesday, Nov. 13, 2019's coverage, anchored by Brian Williams and Nicolle Wallace originated from the MSNBC side of Studio 3A, using the two video walls that meat in a corner to showcase a feed of the Capitol with a blue and red NBC News band added.
Friday's coverage, however, shifted to Studio 6A, the set that was originally designed for "Megyn Kelly Today."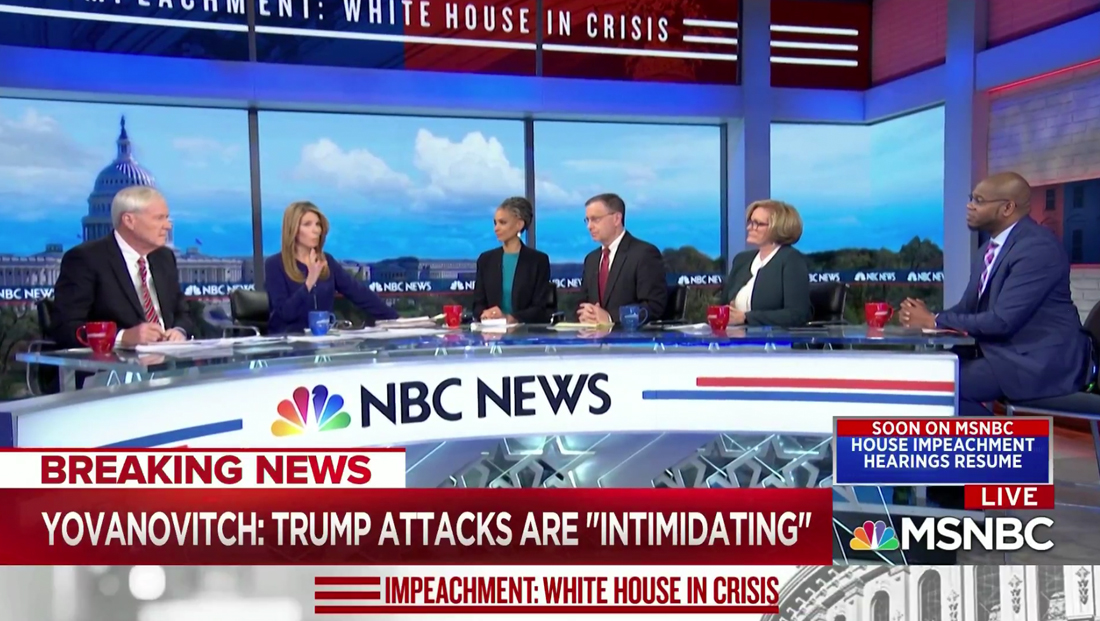 MSNBC moved its large curved anchor desk with glass star accents, which was used Wednesday three floors below, into the space, and fed a similar view of Washington on the studio's multiple video walls, though this appeared to be a static image.
MSNBC uses the star anchor desk for a variety of political coverage. Wallace and Matthews were positioned on the far left, with the Capitol dome between them on their two shot.
The pair were on camera shortly before 11 a.m. eastern when something in the studio fell over, causing a series of loud thumps to be heard on air.
'Something fell' MSNBC anchor explains after loud thuds come from off camera https://t.co/4kPeYs9tqj #TVNews #BroadcastNews

— TVNewsMix (@TVNewsMix) November 15, 2019
Above this, the LED video panels in the set's headers sported the "Impeachment: White House in Crisis" branding, with the graphics showing up on other places behind the panel.
NBC also lit the normally white frames around the video walls with blue light.
MSNBC's coverage of the hearings essentially started with "Morning Joe" rolling into the 9 a.m. hour normally occupied by "MSNBC Live with Stephanie Ruhle."
Then, by the time the hearings took a midday break, Wallace and Matthews, along with a legal and political panel took over coverage from 6A.