How the networks broke in for impeachment hearing coverage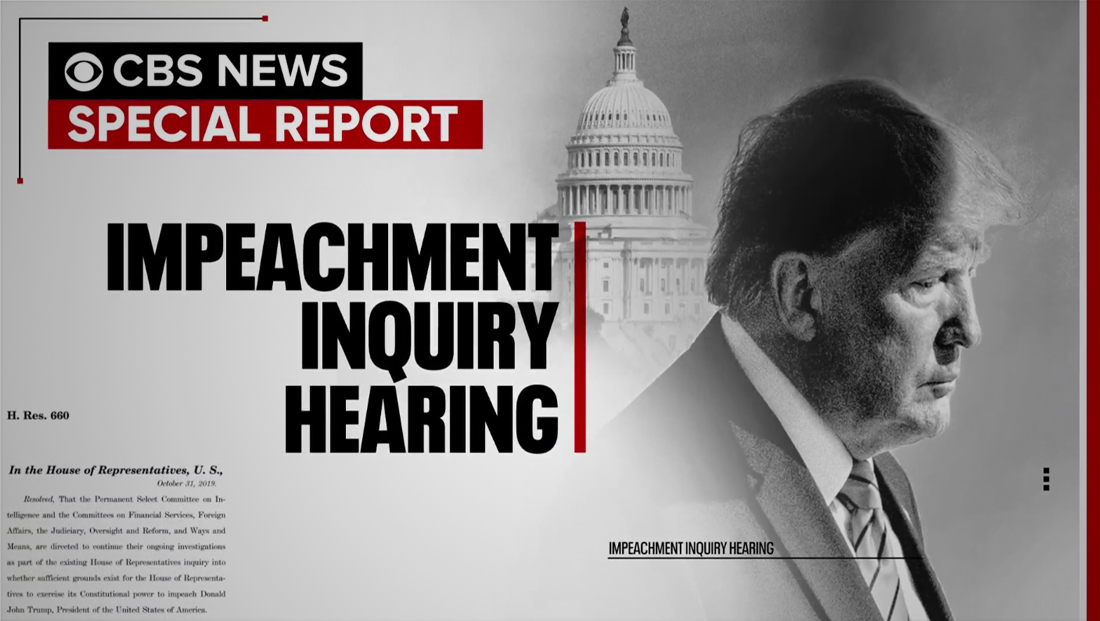 The "big three" broadcast networks and cable channels all pre-empted their normal morning schedules for extended coverage of the first two public impeachment hearings.
The networks all stuck with the looks they introduced earlier in the week.
All networks used the same opens on Wednesday, Nov. 13 and Nov. 15, 2019.
ABC used a look similar to what it introduced earlier in the week, though it moved the logotype to three lines.
CBS also continued using the look it debuted earlier in the week, though the special report open also showed the "jerky" movements that the network used in its Mueller Report look.
NBC continued to use the bold red branding. Anchors Lester Holt and Savannah Guthrie anchored in front of a video wall image of the White House with the impeachment inquiry logo running in a simulated frost band behind them.
NBC also inserted a graphic running along the bottom of the screen like it does for most special coverage. This design was monotone and didn't use any red, although the network's special report graphics are mostly red.
CNN's primary coverage, anchored by Wolf Blitzer, used the short stinger style open with ominous music the network has used previously.
CNN also notably updated its schedule grid to clear out all of its normal programming titles, replacing it with a generic "show" entitled "Impeaching Hearings."
"New Day," however, used a longer open.
MSNBC's open included an extended voiceover from Brian Williams that showcased the networks team of correspondents and guests. After this, a short sequence of animated typography borrowed key phrases from the Constitution about impeachment as well as other key phrases.
MSNBC also titled its coverage "Impeachment: White House In Crisis" as opposed to NBC's "Impeachment Hearings."
Telemundo used a hard hitting, gritty open under the banner "Juicio a Trump: Audiencia Publi," which roughly translates to Judging Trump: Public Audience."
The Fox cable network carried the impeachment coverage as a "special edition" of "America's Newsroom" but did not use a special open.