'CBS Evening News' moves to D.C. with a new look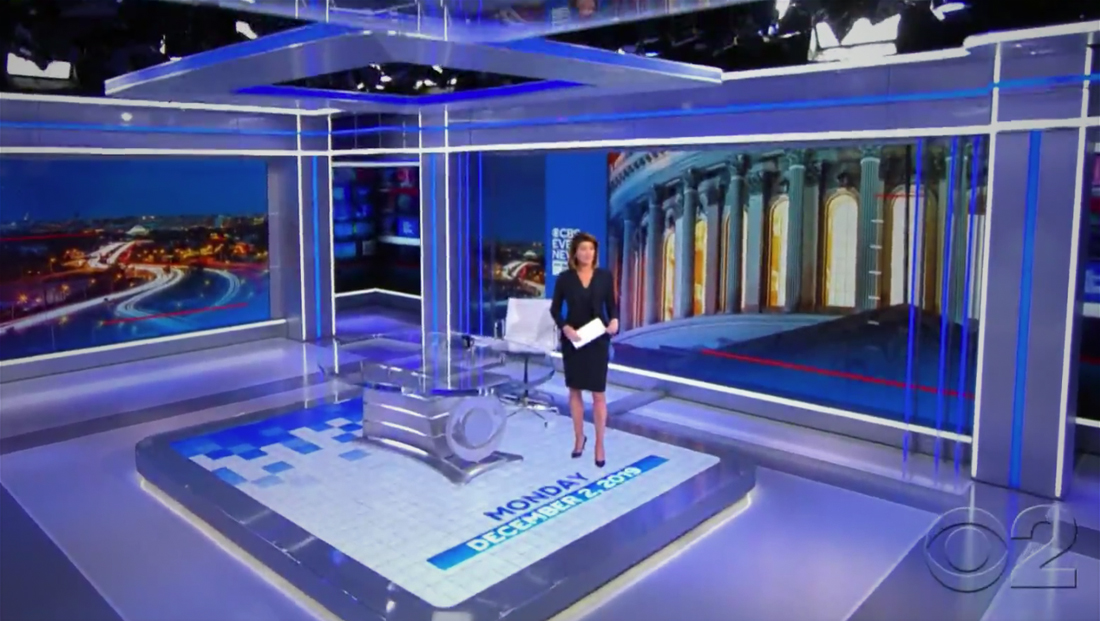 Home base is an anchor desk that sits atop a square riser with LED floor tiles which was used to showcase the show logo and date on debut night.
The base of the anchor desk, which features an oval glass top, features a gray metallic base with reveal lines and a dimensional CBS eye logo that pivots.
Home base is surrounded by four large video walls with each corner featuring a band of L-shaped video panels.
Since the studio is rectangular, two wider video walls face each other along the longer side of the space, while smaller ones face each other on the shorter sides.
For "Evening News," the corner panels typically display a control room monitor wall look, while the larger panels are used for stylized Washington and topical graphics.
Additional elements include edge-lit glass, including three vertical pieces installed in front of the LED wall used behind O'Donnell at home base.
Edge-lit glass is also used in horizontal header elements that wind around the space. All of the edge-lit glass is equipped with color-changing technology, though white and blue is the default look.
In the corners, the glass juts out above the alcoves formed by the video and structural metallic wall elements, an element that is also featured in the graphics.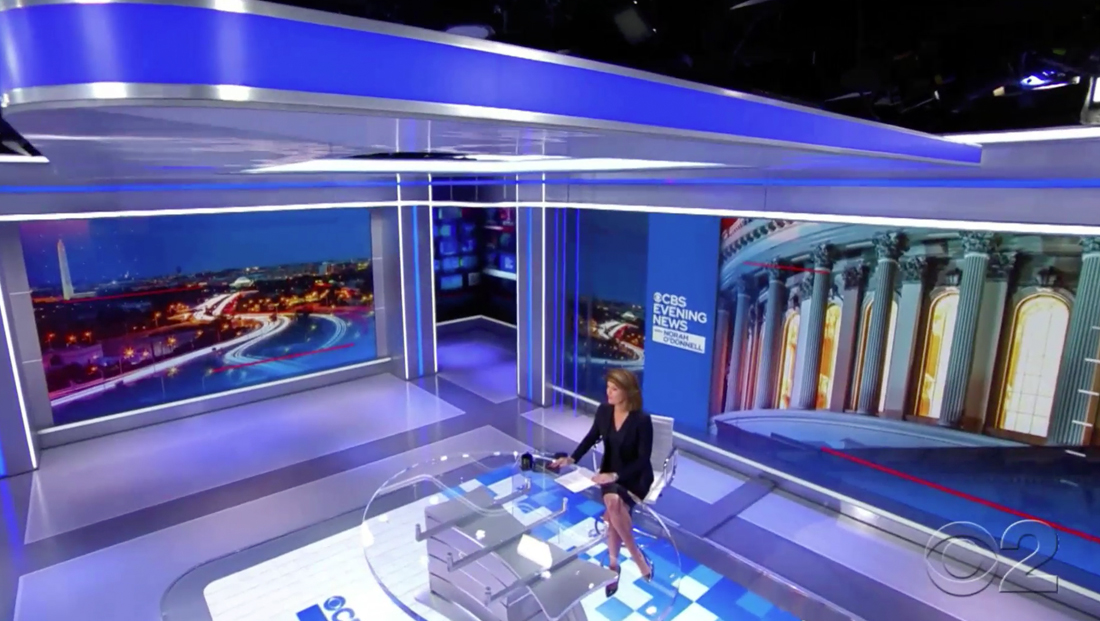 The edge-lit glass and solid square header element, as well as the anchor desk riser, make use of rounded corners, however, an element that isn't used in the graphics.
On its debut date, CBS positioned a camera between these horizontal glass elements before shifting down giving an uninterrupted wide view of the studio.
In addition to the video walls, the studio also includes wild vertical monitor panels with thick vertical glass accents, though during the debut, only one of these was seen on set and only used during a wide push in after coming back from a break.
CBS will also use the studio for "Face the Nation" and special reports.
All told, CBS says the new studio features 41,610,240 million LED pixels spread across 17 video walls.
Most of the LED is high resolution 1.5 mm and is all controlled by Viz Multiplay from Vizrt. Systems in both New York and Washington can drive the video wall graphics, according to CBS.
Video Visions provided integration of the set's video walls with LED display technology from Leyard including a TVF 1.5mm and CarbonLight CLF Series 2.6mm video wall. Showman Fabricators built the set.
Lonnie Juli, of CBS, provided lighting design for the studio with lighting systems integration from Barbizon and fixtures by Desisti, Chauvet, ETC, Lumos and Gantom.