'Face the Nation' debuts updated look from D.C.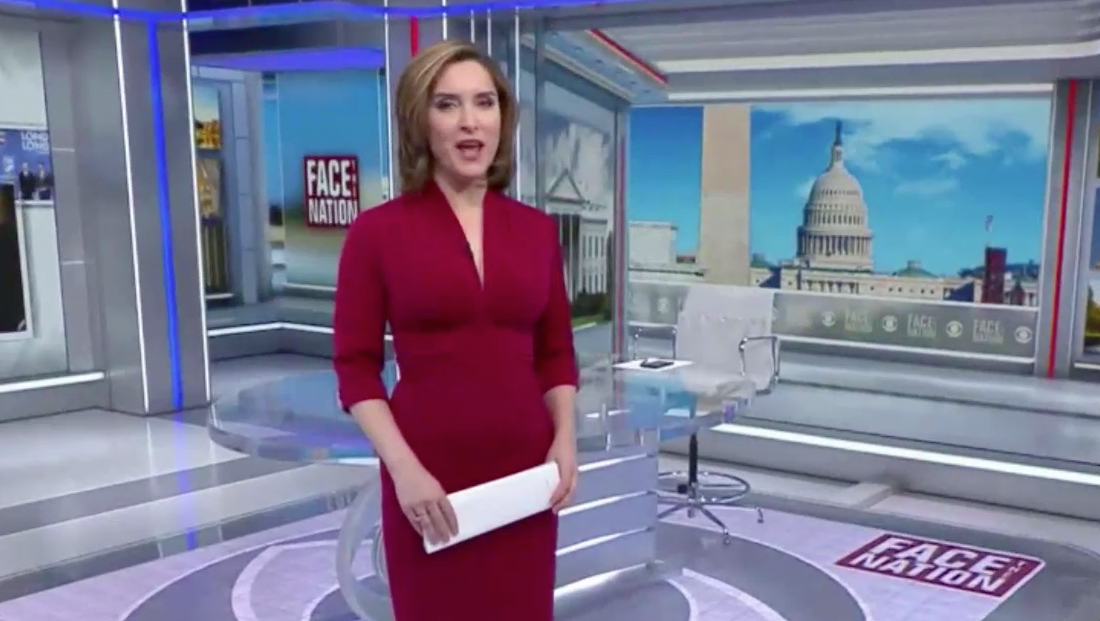 Despite a rocky start, CBS News' "Face the Nation" soldiered through some technical mishaps and got a full show from its bright new look that blends boxy elements and virtual set extensions.
"Face the Nation" gave up its studio in the network's Washington, D.C. bureau back in September when construction began on a new set for it and "CBS Evening News."
On Dec. 2, 2019, "CBS Evening News" debuted from the new set, with "Face the Nation" following Sunday, Dec. 8, 2019.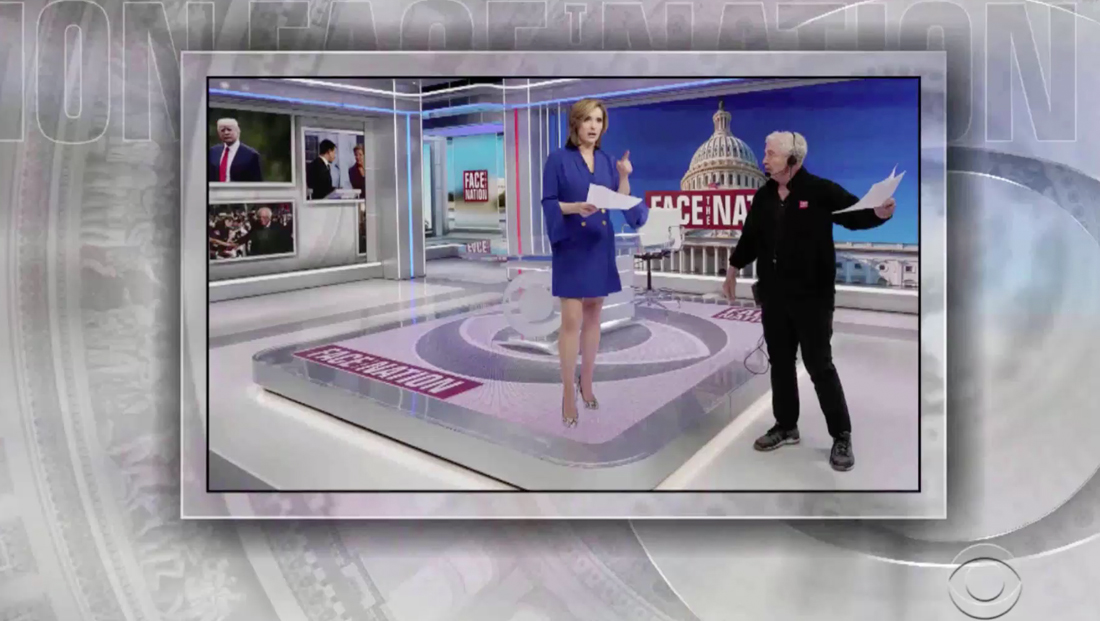 "Face the Nation" got a new, brighter open that uses glassy frames to showcase photos of what appears to be host Margaret Brennan during rehearsals and on the temporary set.
Imagery of the show's logo, CBS eye and the Capitol rotunda complete the look.
The open also included animated vertical bars.
"Face the Nation" still uses the red sidebar style graphics during the show teases it used previously.
Meanwhile, the show used brighter lighting cues in the studio to give the space a bright and airy look.
The edge lit glass and head elements were colored red, white and blue, while the video walls displayed virtual set extensions feature D.C. imagery.
Many of the video wall graphics featured virtual "walls" and "corners" while the 3D graphics also created "windows" overlooking imagery of other landmarks.
The virtual extensions largely depict structures with right angles, echoing the structure of the hard set elements and gave the space a unique look that's significantly different than the darker, bluer looks used on "Evening."
The faux 3D space "windows" could also be used to insert live remote feeds of guests or display graphics.
The virtual extensions also feature a 3D CBS eye along with simulated frosted panels and smaller photos of famous D.C. sites.
CBS fed a large gray CBS eye to the desk riser along with various iterations of the show's logos.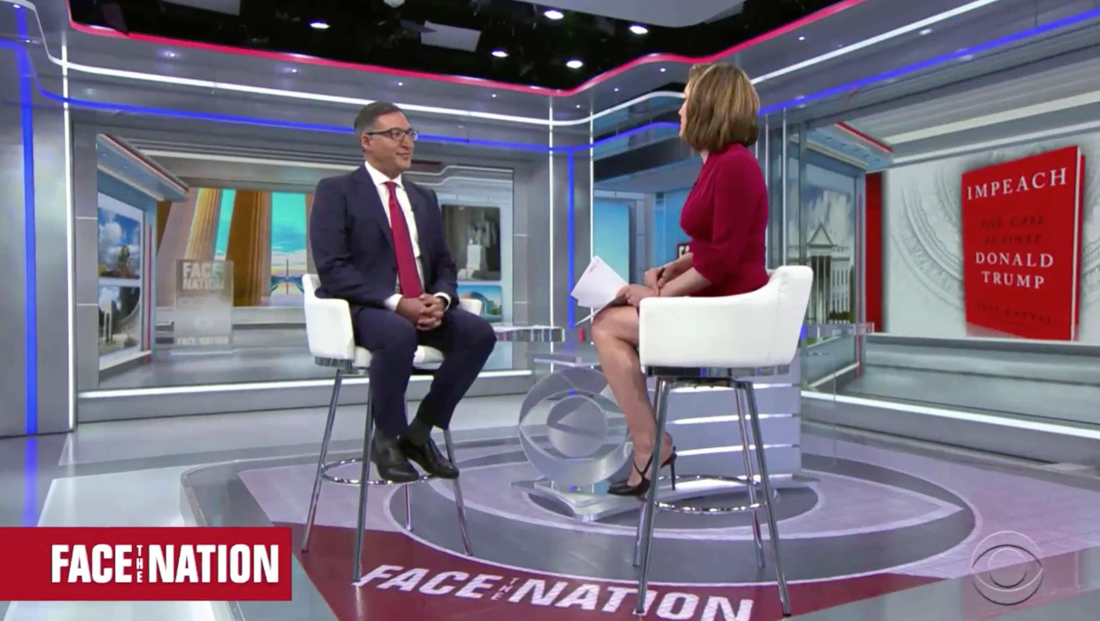 For a one-on-one studio interview, Brennan moved to a pair of high stools placed on on corner of the riser, with the corner of the riser featuring angled red space for the logo.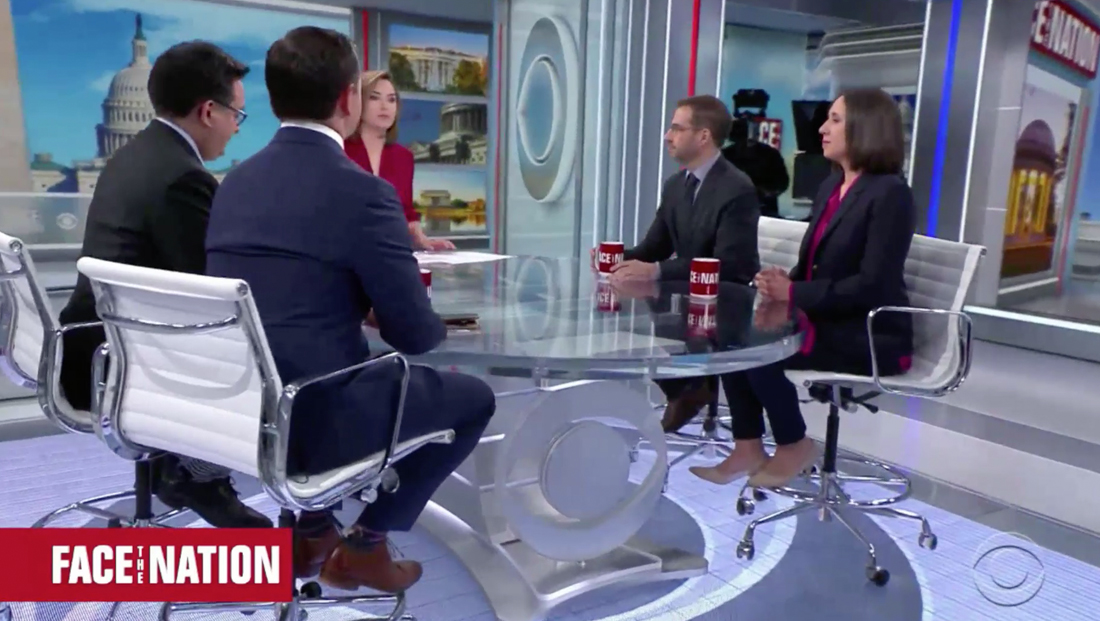 For the roundtable segment, four chairs were brought in around the glass desk and two cameras were moved into the "alcoves" on either side of Brenna, who was seated in front of the video wall with vertical glass accents.