How the morning shows covered yesterday's historic impeachment vote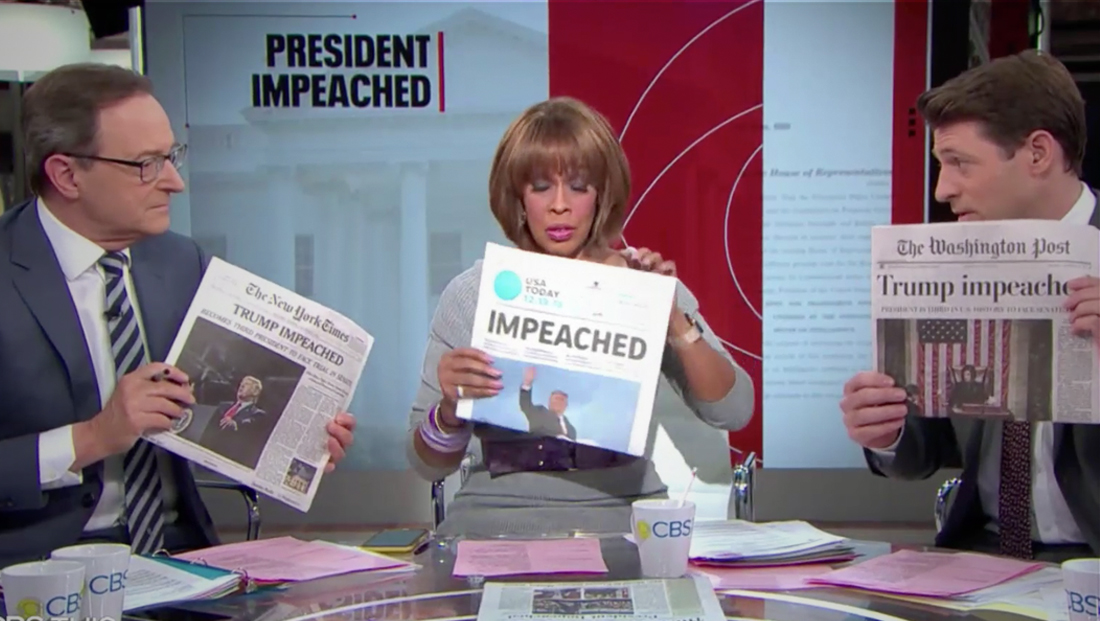 All "big three" morning newscasts lead with the impeachment of Donald Trump, but also included coverage of other news of the day Dec. 19, 2019.
None of the morning shows were billed as a "special edition."
"Good Morning America" lead with the story and included other stories in its teases, including a mention of its network's "Live in Front of a Studio Audience" special the night before.
"CBS This Morning" lead with the story and included it in its "EyeOpener." The show's three co-anchors also showed off physical copies of the morning newspapers before switching to digital view of front ages from around the country on its primary video wall.
"Today" lead with Hoda Kotb and Craig Melvin, who is sitting in for Savannah Guthrie, overviewing the morning newspapers and then showcasing a split screen view of Trump's campaign rally and impeachment vote on the video panels in the production area of Studio 1A.
The handheld camera view then swung to show a poll on one of the studio's wild landscape monitors before moving on to show team coverage on the large video wall.