Networks juggle programming with impeachment news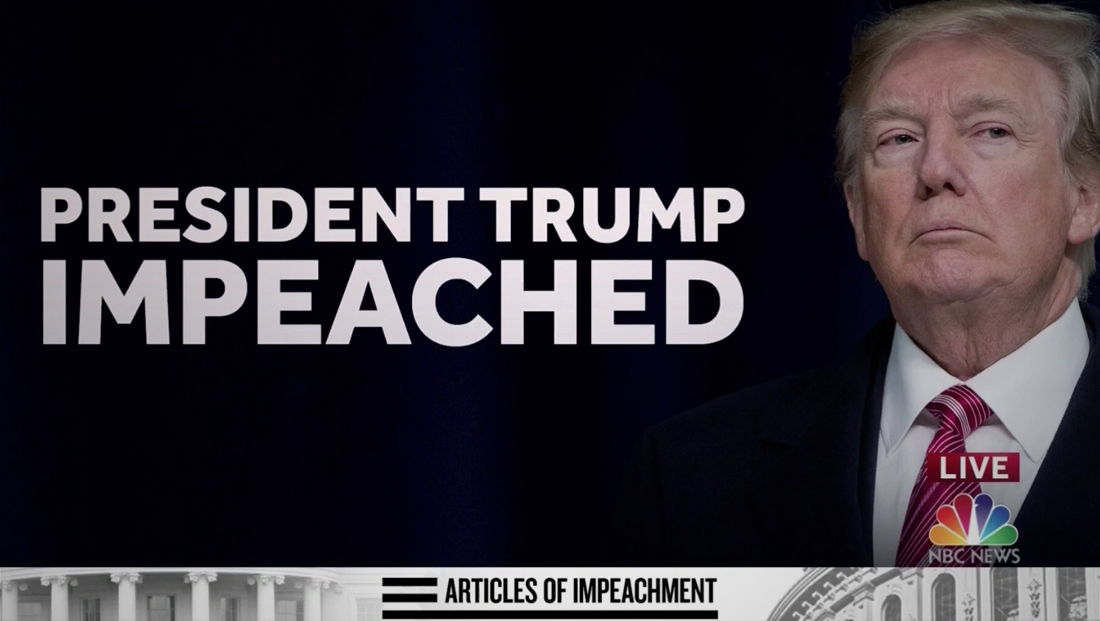 As the House of Representatives made a historic impeachment vote yesterday, the timing of the news threw the metaphorical wrench into network programming Dec. 18, 2019.
The first vote of impeachment against Donald Trump came down at approximately 8:24 p.m. eastern time, about a half hour into primetime on the east coast.
In the eastern and central time zones, CBS was airing reality show "Survivor" while ABC was airing its "Live In Front of a Studio Audience" special and Fox was airing "The Masked Singer."
NBC pre-empted the first hour of an Ellen DeGeneres holiday giveaway special with live coverage in the east and central time zones — a move that didn't go over well with many viewers.
NBC also used a bold fullscreen graphic, shown above, with Trump's photo.
CBS did offer a special report during "Survivor," with "CBS Evening News" anchor Norah O'Donnell assuring viewers they wouldn't miss a minute of the show due to the cut in.
The report came after both votes were cast in the middle of the two hour episode.
ABC also cut in during "Live in Front of a Studio Audience" with an update.
All three networks offered full coverage on feeds of their evening newscasts that aired on the west coast — which also aired overnight on O&O stations in most major markets.
Cable networks, meanwhile, stuck with live coverage and captured the moment votes hit 216.
CNN used a special impeachment "seal" graphic and also included a large bar reminding viewers of the number of votes needed — which later was updated to include a bold "impeached" banner.
MSNBC added bold red "breaking news" lower thirds each time the vote reached the key number.
Fox, meanwhile, aired "Tucker Carlson Tonight" in a split screen showing the vote tallies, with Carlson and graphics acknowledging the impeachment votes.