PBS Politico debate stage mixes LED with 'NewsHour' aesthetic

Last week's PBS NewsHour Politico Democratic presidential debate featured a design that built off the aesthetic of the "PBS Newshour" production design.
"As we did with the 'PBS Newshour' set at WETA in Washington, DC we gravitated towards a collection of simple, clean shapes," noted Eric Siegel, who designed the stage and main "NewsHour" studio along with George Allison.
"We wanted the look to be bright, clean, and uncluttered."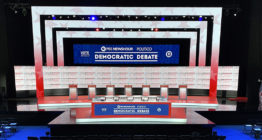 Set Design
PBS / Politico Democratic Debate
View a gallery of this project…
The stage was created inside the Gersten Pavilion on the campus of Loyola Marymount University in Los Angeles and framed by three LED archways.
These displays formed a proscenium arch with a mix of stars and a red gradient effect.
Inside this header is signage featuring the PBS "Vote 2020" branding and the debate sponsor logos, which was also featured on signs flanking the stage to further emphasize the branding.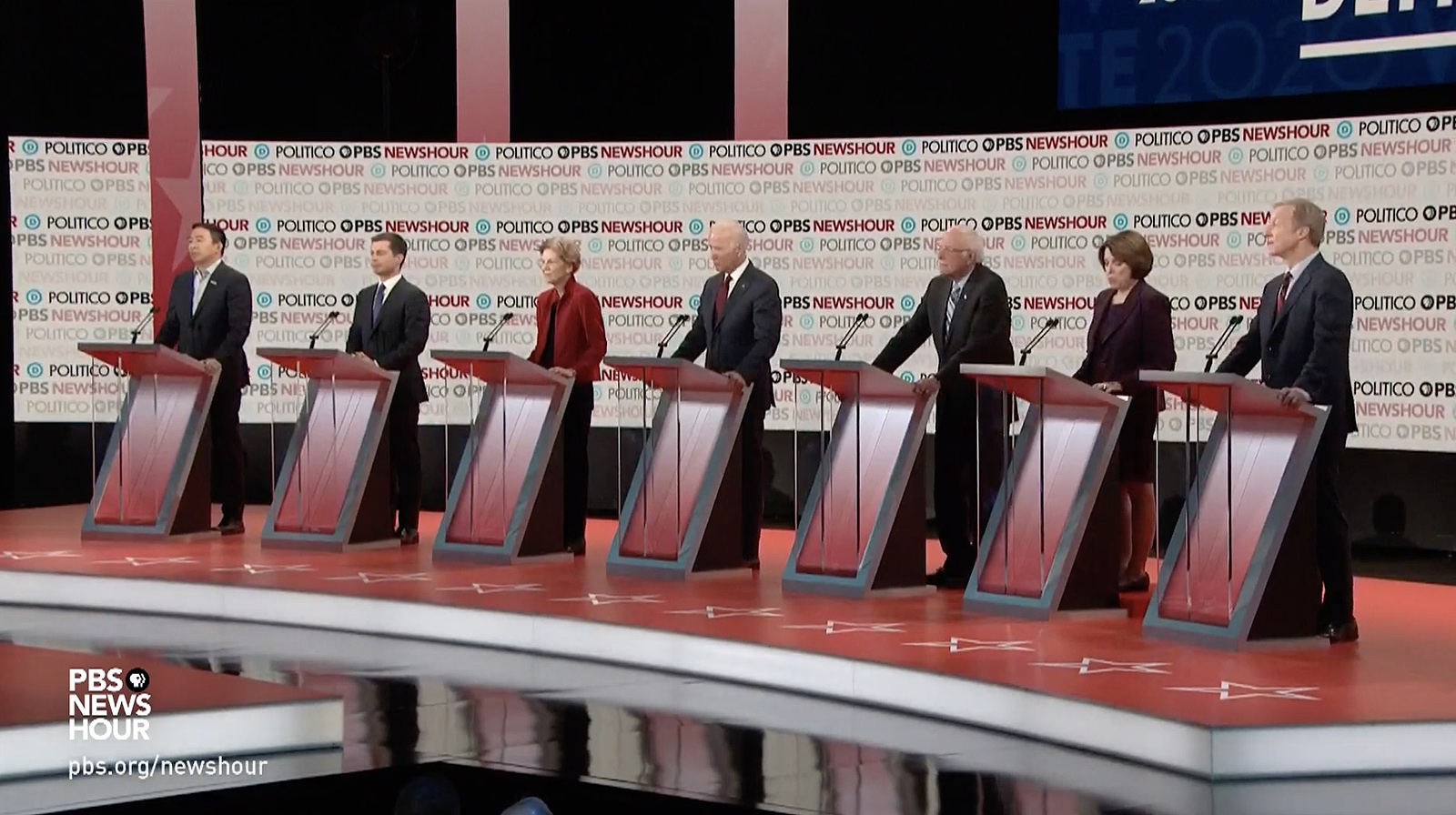 A 64-foot curved LED wall provided the candidate backgrounds with a subtle animation effect applied to the logos, which also featured varying degrees of opacity.
The seven candidates' lecterns were fronted by acrylic panels with another instance of the red-to-white gradient also seen on the LED archway.
The overall colors of the design pulled from both Politico and the "PBS NewsHour" look with red, white and black used throughout the design.
The debate moderator's desk included a branded front along with an illuminated riser that could change colors to indicate that a candidate's allotted time had ended.
Project Credits
Scenic Design by Eric Siegel and George Allison
Lighting Design by Dennis Size of The Lighting Design Group
LED Staging by NEP Group's Creative Technology
Scenic Fabrication by Gotham Scenic