Broadcast Exchange: Relaunching a network, inside the studio upgrades at Bally Sports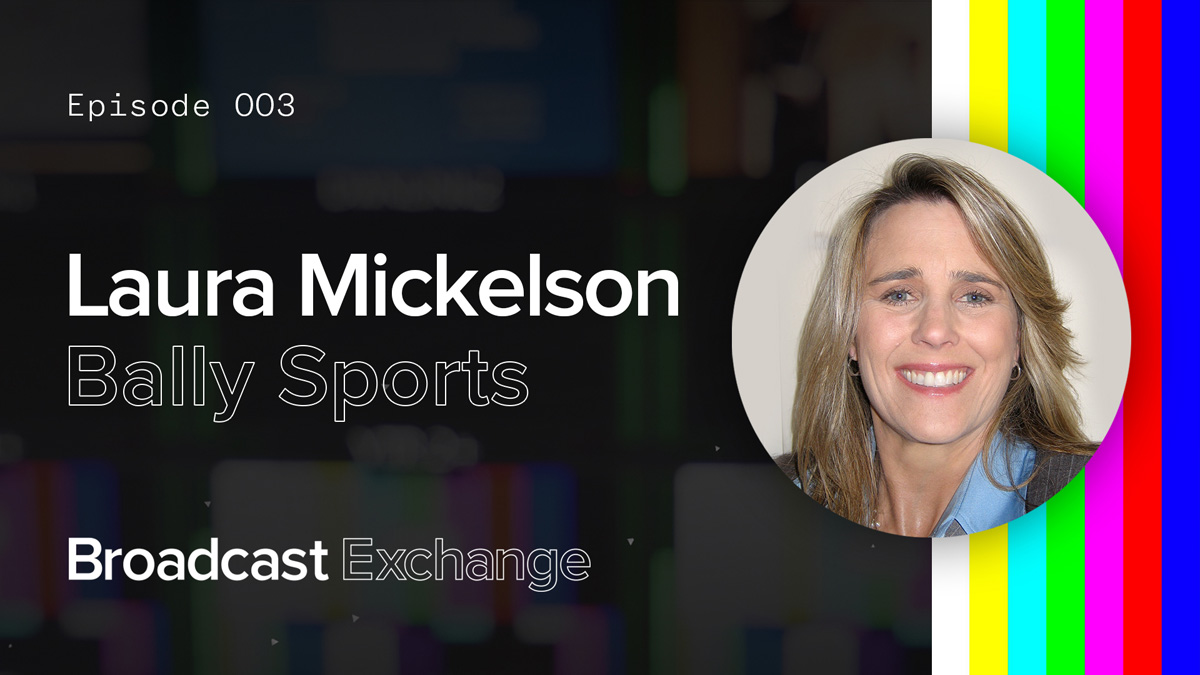 After 25 years under the Fox banner, 19 regional sports networks have rebranded as Bally Sports.
This change is more than a new logo and name for the sports channels, which Sinclair Broadcast Group acquired in 2019. The updates span eight existing studios and two new build-outs with 500 new pieces of on-set artwork and 64 updated desks.
In this week's Broadcast Exchange, we speak with Laura Mickelson, VP, production, Bally Sports Networks, about the rebranding effort, which spanned multiple teams of designers, fabricators and studio technicians.
Stream here or on your favorite platform below.
More coverage of the Bally Sports launch coming including a look inside the motion graphics from Drive Studio.
---
---
Listen and Follow Us
Video: YouTube
Audio: Apple Podcasts | Google Podcasts | Spotify | Stitcher | Tune In | Pocket Casts | iHeart Radio | Amazon Music
Show Links
---
Transcript
The below transcript appears in an unedited format.
Dak
This spring, the regional sports networks formerly known as Fox Sports, have transformed into Bally Sports, with eight studio upgrades, two brand-new studios and 64 new desk. So, what goes into rebranding and revamping a network? Welcome to the Broadcast Exchange from NewscastStudio. I'm your host, Dak Dillon. On the Exchange, we talk with those leading the future of broadcast technology, design and content.
This week, I'm joined by Laura Mickelson, Vice President of Production at Bally Sports Networks, part of the Sinclair Group. In our conversation, we look at the new studios, the new technology, and how Bally Sports Networks came together. We welcome Laura to the Broadcast Exchange. Today we're talking about the exciting rebranding of what are now formerly, the Fox Sports Regional Networks, into Bally Sports. So, from a 10,000 foot view, back us up and talk about the process to get to where we are today, and all the things that go into rebranding a national network.
Laura
The biggest thing about rebranding this network, it's been 25 years since the network started, and this is the first major overhaul this network has had in naming, or rebrand. So, all of those things that were out there and established, now have to be regrouped into a big, massive rebrand. This consists really exciting new Bally Sports Network. So, it was more of a huge coordination undertaking, and really, where do we start? When? And we started about over a year ago, under the direction of Dana Feldman at Sinclair Marketing, just obtaining the logo and the brand. And then it really kicked in four and a half, five months ago when Bally Sports became the name, and we got into full gear to make all the products across all the regions.
Dak
From a perspective of fitting the brand into the existing sets, plus adding on the new sets. Where does that begin, and how do you go about reshaping those to meet the new brand standards?
Laura
Yeah. That was probably, one of the most interesting aspects of this large, massive project. Usually, when you do one of these things, you're tasked with, "Hey, there's one studio, let's go rebrand that, and let's design it and look at what is new in technology and scenic design, and get that done once." Maybe, if you're lucky, you get one a year, or maybe two a year. In this case, we got two brand new studios that were ready to be built out by Sinclair and done, so that was both, Midwest region and Tampa. And those got a brand new refresh, and just started from scratch. We took some of the same similar masculine, sports-types concepts, but updated them with huge LED screens, touch screens, bright new Bally logos, and made them fresh and innovative for the new brand.
Laura
But, on top of that and doing two new studios at the same time, we're looking at revamping, eight to 10 new studios. Can't really go back and create 20 new studios in a rebranding period. The massive scope of that project is just huge. So, we really decided to focus on the elements that would make those studios pop. So, the 3D logos, the plexus, and of course, the real signature element for each one of those studios in remotes is the desk. Desk is a linchpin for sports production, has been for years, so we decided to focus on those elements to really hone in on what we wanted the new network to feel, and look like.
Dak
Yeah, I'm here in St. Louis. So, Fox Sports Midwest is obviously something that, Dan McLaughlin and the team are on quite often with Cardinals baseball. In terms of technology and how you've worked that into the new spaces, and the existing spaces. How do you view the relationship with technology changing, and how do you view using it in production moving forward?
Laura
Yeah, I think that's a perfect question, and that's something that I was really keen on addressing, and so was the teams moving forward. The RSNs have a deep range of technology across the board in all the live productions we do, and our sets had been somewhat similar, or same in scope for a number of years. And the traditional desk has a monitor, and you get a monitor and that's how you display things. And we really just thought it was time to move into the new technological world. So, on both the Tampa and the Midwest studios, there's huge LED screens and touch screens. So, those LED screens were made possible by a great group at synergy with Sinclair Scenic, Mark Nidal [inaudible 00:05:07], and Eric [inaudible 00:05:07] out of Sinclair, and they have really good relationships with Flora lighting and LED boards. We were able to bring that high-end LED technology to the studios, but also to the desk.
Laura
And I think that's key. That these desks become more functional. They'd be far more production elements. They're just not, let me sit behind as a talent so I can be comfortable, but a technology that really makes it seen. So, I'm really excited about the new desk. There's two versions of the studio desk. It's a 10 and eight foot Sinclair ribbed-circular desk. It's circular, it's got a circular face and a full LED screen in front with lit LIBS. So you can light the LIBS and change the colors in the LED screen, amazing to have on a desk. Because not only can you national brand it, but you can use those as production elements, which I think is what you're talking about. You can say Tatis Jr, or Manny Machado, or a real Jack Flaherty in the desk. So, that becomes different production element for you. So, we're really excited to get that technology on the air.
Dak
And I would assume that the upgraded LED on the desk, also presents new opportunities for the marketing and the sales team to possibly monetize those spaces.
Laura
Absolutely. All of those elements become key production elements across the board, bringing you the game, really getting into being able to bring you the details of the game during the pre and post games, not just during live, but you can bring the elements from the game back to those pre and post games, back to your intermissions, back to your saints. And then of course, really look towards the future of not having sponsor on a hard card, or something like that, but creating dynamic and animations for those to just flow.
Dak
Part of the deal with Bally's, was to bring more sports betting content to the regional networks. Has there been any thought on the production side of things, how that's going to integrate into these spaces of the graphics and make that cohesive?
Laura
That's not really inside my preview, but I imagine as we move forward, all of those elements are going to be incorporated into the overall production, and place partners, team partners across the board.
Dak
So, taking a step back for a second. So, the sets are obviously one part of the refresh, and the new look. The other part is just the new logo, and the new colors, and the new tones that are going to be across everything. So, how would you describe the new look of the network?
Laura
So often in sports, especially on the side, we were stuck in that tobacco, smoky, navy overall room. And now we're really excited to bring the Bally's white, red, monochromatic, minimalistic look. Smartened up look to make that Bally logo pop. And I think the logo pops. The set changes make it pop. So, bright, new, and fresh. That's really what we were looking for as we move forward.
Dak
And in terms of the insert graphics and the other graphical elements on air, when can we expect to see some changes on that front?
Laura
They are rolling those out as we speak, but what's really unique about what they're rolling out is that, as we're able to start fresh, we are able to really work together. So, between Brad Rowe, and Nellie, and Mike Conley and the whole production team, we're able to really collaborate. And as everybody knows, one of my favorite lines is, "Make the through line." Not only the through line in a documentary production or something, but in the set designs and the animation. So, in some of the areas, you'll see where the animation that was created from the production group reaches over into the production elements that we do on the staging of the studio. And that cohesiveness of really thinking that through has made a grand difference. I think in Southwest, particularly, we have a really nice looking energy cell wall that compliments the animation. And I think you'll have a really nice cohesive look when we launch here.
Dak
So, in terms of the remote production sports networks like to go on the road, they like to broadcast from the ballpark, what all went into updating the desks that are used there, how was thought put into making sure they were flexible enough for all of the various types of productions, a regional sports network needs to do. And of course, making sure they're rugged?
Laura
So, that part is also very dynamic because as you guys know on the RSN side, there's a lot of remote production. There's outside the studio that doesn't happen in the studio, and even more important during COVID. So, those are getting all brand new look also. Those go from clean, white, and red, and bright, and dynamic in the studio to a very cool, nice, dark background with a Bally sport red logo.
Laura
And all of the railings have been cleaned up. Those also get the eight, or 10 foot desk. And then they also get a really unique remote desk. It's called the SNS, and it's a dynamic sit-stand desk. As production in sports innovates and changes, that desk is really made so that you can sit and stand. So, maybe a analyst, who's an NBA player at 6'8, he's sitting down, and then you have a talent who is maybe 5'11 and they can be at the same height and present the same amount of material. It's also a really unique desk and it's lightweight. Dak, you and I can carry it 50 feet ourselves. So, it's made of carbon fiber. It has a rhino liner top that's really durable for rain. And some of those areas out there, that's going to be a linchpin for the remote areas moving forward.
Dak
And how did the experiences of the past decade, and more of Fox Sports help inspire, and educate those decision-making processes to make sure that something like that desk is weather ready, or these items are ready to go on day one?
Laura
Yeah. I think there was a lot of help from all the producers, and directors, and operations people out there. We really did a tremendous amount of research. Did a lot of surveys. Spend a lot of time prior to COVID out on the road, working with the regions, seeing how the desk are used, not just designing and saying, "Hey, let's get a studio desk outside." But hearing what some of the challenges were moving the desk, working with the teams, lifting the desk, beating up the tops of the desk, making them lightweight and easy to maneuver, and dynamic.
Laura
So, really putting all those things into consideration was fantastic. We didn't have to start from something that happened at a national level, and was really made for inside. We were able to create a desk, and then this case with a really great vendor, IDF who we've used from the past, and even prior to all the national scraps. IDF and I, Mike being the host, we had a long standing relationship, and we've been keeping notes over the last 25 years of what we wanted to do, and what we had. And we always vowed if we had a chance to redo. And here it is. That we would make something that people in the field just really loved, and I think that's going to happen.
Dak
And then, we are now almost to the moment where it all comes together and it hits the air. So, what is the anticipation like from your team, and your partners about that?
Laura
Yeah. Well, between this past month, we have like 50, some odd vendors out in different locations, installing all these sense across the country. Everybody was asking me, what is it like? because it's not just doing one set. I reckon it to doing a remodel, but not just your home, but remodeling 25 houses across the country, all at the same time. That aren't all cookie cutters. They all have different measurements, different sizes. So, it's challenging because of COVID. Usually, we spend a lot of time on site, following, but now we're following all the COVID protocols.
Laura
We're getting vendors in there at limited time. So, it really forced us to work cohesively with, Jesse Madeiros and I at Big Creative, we're working with Filmworks, we're working with IDF, we're working with Scenic Solutions out of Utah, and it really forced us to bring everything together in a really smooth organizational system that was allow it all going to be ready on the 31st.
Laura
And I'm here in San Diego, one of our last big installs. Now refurbishing of this super large studio. And I think everybody's going to be wild with just the new dynamic. It's a new look for sports. It was very clear from the beginning with Dana Feldman, Mike Conley, who's had a production, that we want to be new, innovative, and fresh. And I think this look is just going to pop on air with the white, and the reds, and the clean, and the clear. It's going to be bright and brilliant. So, I'm really excited how these products have come out. It's a lot of work, lots of testing, had to test all the different colors and make all the products work. And I'm thrilled at the outcome.
Dak
Well, thanks Laura for taking some time, and we will all be watching. I know here in St. Louis Cardinals draw a large crowd. So, we're all ready for an opening day.
Laura
Okay. Well, I look forward to it. Thanks a lot Dak.
Dak
Thank you for joining us today on the Broadcast Exchange. New episodes release about every two weeks, and we hope you like, and follow us on YouTube, or your favorite podcasting platform. In the meantime, make sure to check out NewscastStudio for the latest in Broadcast production.