Industry Feed
Blackmagic Design announces new models of studio cameras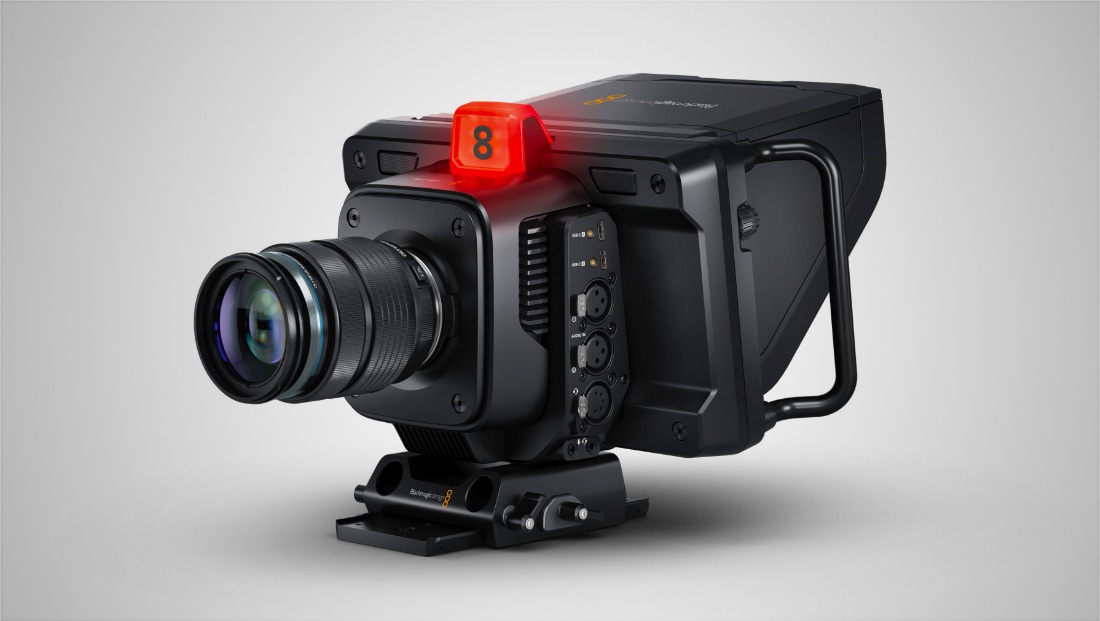 Blackmagic Design has announced new models of its all-in-one studio cameras.
With an MSRP from $1,295, the cameras are designed for live production environments and are configurable with a variety of options and upgrades.
Key Camera Features
Designed specifically for live production.
Carbon fiber reinforced polycarbonate chassis.
Up to 25,600 ISO for incredible low light performance.
Native 4K sensor with 13 stops of dynamic range.
Compatible with a wide range of popular MFT lenses.
Large 7 inch high brightness viewfinder.
Includes 12G-SDI, HDMI, 10G Ethernet connections.
Single 10G Ethernet allows SMPTE fiber style workflow.
USB-C port allows recording directly to external disks.
Features incredible quality Blackmagic RAW recording.
Built-in stereo microphones with wide separation.
Professional mini XLR inputs with 48 volt phantom power.
Includes tripod mount for quick location setup.
Powers by 12V or Ethernet connection.
Optional focus and zoom demands for lens control.
Blackmagic Studio Converter allows all connections via Ethernet.
Blackmagic Studio Cameras have the same features as large studio cameras, miniaturized into a single compact and portable design.
While Blackmagic Studio Camera is designed for live production, it's not limited to use with a live switcher. It can also record Blackmagic RAW to USB disks.
The Blackmagic Studio Camera 4K Pro model has SDI connections that include talkback so the switcher operator can communicate with cameras during live events. That means the director can talk to the camera operators to guide shot selection, eliminating the problem where all cameras could have the same shot, at the same time. The talkback connector is built into the side of the camera and supports standard 5 pin XLR broadcast headsets.
Blackmagic Studio cameras have lots of connections for connecting to both consumer and broadcast equipment. All models feature HDMI with tally, camera control and record trigger, so are perfect for ATEM Mini switchers. Customers also get headphone and mic connections, and 2 USB-C expansion ports. The advanced Blackmagic Studio Camera 4K Pro model is designed for broadcast workflows so has 12G-SDI, 10GBASE-T Ethernet, talkback and balanced XLR audio inputs. The 10G Ethernet allows all video, tally, talkback and camera power via a single connection, so setup is much faster. That's just like a SMPTE fiber workflow, but using standard Category 6A copper Ethernet cable so it's much lower cost.
The Blackmagic Studio Camera 4K Pro model supports connecting cameras via a single Ethernet cable. Traditional broadcast studio cameras use SMPTE fiber to communicate and power cameras, however SMPTE fiber is very expensive. Blackmagic Studio Camera 4K Pro model has 10G Ethernet as an alternative to SMPTE fiber so it's much lower cost. The Ethernet includes all camera video, program return feeds, tally, talkback, camera control and also power. The Blackmagic Studio Converter handles all video conversions at the switcher end plus adds power to the Ethernet cable. That means customers don't need to connect power to the camera.
The Blackmagic Studio Camera features a high speed USB-C expansion port that allows customers to record to external disks or connect to a wide range of accessories. Plug in an external USB flash disk and the camera can record high quality 12-bit Blackmagic RAW files for later editing and color correction. That means customers can just move the disk to a computer to work, and customers don't need to waste time with file copying. Plus the USB port will power any phone or disk that's plugged in.
Some file formats such as H.264 are highly compressed, so add noise and artifacts, causing sensor detail to be lost forever. Blackmagic RAW eliminates this problem so customers get stunning images with incredible detail and rich color throughout the whole post production pipeline. Blackmagic RAW also saves camera settings as metadata so customers can change ISO, white balance and exposure later in DaVinci Resolve. Plus the files are small and fast, so editing responsiveness is incredible.