CNN preparing to move final operations out of namesake complex in Atlanta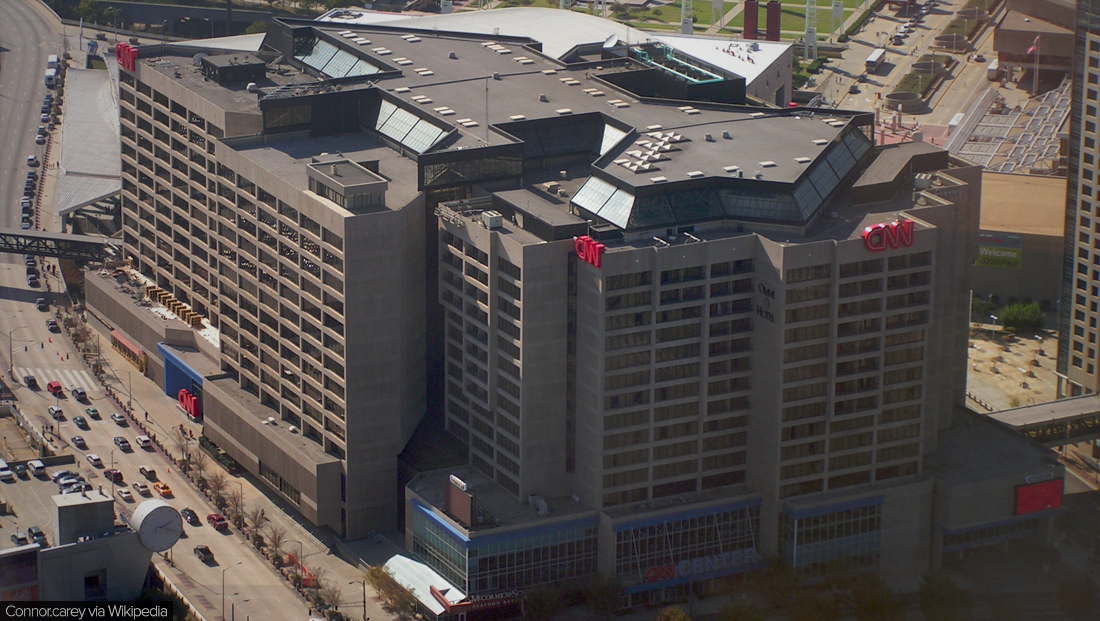 CNN is set to move out of its longtime world headquarters in Atlanta, wrapping up a previously-announced plan to consolidate operations in the city.
The network has used CNN Center since 1987. Originally known as the Omni Complex, the building was renamed after Turner Broadcasting became its anchor tenant. That deal included naming rights to the mixed use building.
CNN sold its ownership of the complex in 2021 to CP Group but leased back portions of the building.
For years, the building was home to a significant portion of the network's broadcasts, especially dayside coverage. Much of that was broadcast from a large working newsroom set that also included an observation deck for tourists taking tours of the network's facilities after ascending a large, open escalator that rose through a large model globe.
It also housed dozens of other operations, including its radio service, footage archives, Newsouce affiliate video service and administrative space.
CNN gradually began moving more and more operations to New York City and Washington, D.C., though it still billed the Atlanta facility as its world headquarters.
Soon, however, the network will pull up stakes from CNN Center and move to renovated spaces in the Techwood neighborhood of Atlanta where Turner Broadcasting offices and studios are.
These new spaces are expected to be significantly smaller but still will contain production, technical and editorial operations. At least some of these operations also have the advantage of being geographically disparate from metro NYC and D.C., which can be a key part of continuity of operation plans.
When asked if CNN will still consider Atlanta its world headquarters, a CNN spokesperson told NewscastStudio "Atlanta remains the heart of CNN's operation. We're just moving buildings, back to the Techwood campus where CNN started under Ted Turner."
Techwood was the original home of CNN. It operated out of a building previously home to a Jewish social organization, with its newsroom and studio in the basement.
As of this writing, CNN only produces select programming out of Atlanta. Its primary master control will remain in Atlanta and has already moved to Techwood.
HLN's "Morning Express" previously represented the most significant broadcast still based in Atlanta, but that show was canceled in late 2022 as part of broader cost-cutting and restructuring by Warner Bros. Discovery, which was formed after WarnerMedia, owner of Turner, merged with Discovery Inc., in 2022.
Once the move out of CNN Center is complete later in 2023, a chapter will close on a significant part of broadcast history. CNN made history in the 1980s when it became the first 24-hour cable news operation. At the time, many felt the venture was nothing more than a folly by Ted Turner, who founded Turner Broadcasting and CNN.
Turner reportedly opted to launch CNN from Atlanta for a variety of reasons, including efforts to purposefully keep it removed from the New York media landscape as well as lower operating costs.
Of course, CNN proved to be highly successful and lead to the creation of the genre of cable news, though much of what airs today has shifted toward panel discussions and opinion programming over delivering headlines and hard news.
CNN appears to be pivoting back to a more news-centric format, at least during the day, with an upcoming schedule shakeup designed around two major news blocks during the day.
CNN has floundered in recent years, dipping in the ratings. It still remains highly profitable even after slipping to just under $1 billion in profit in 2022.
Back at CNN Center, it appears likely that the large CNN logos atop the building will eventually be removed, as will the large sculptural version that sits outside one of the entries.
The building was damaged in 2020 after the killing of George Floyd when protestors flooded the area, which is also home to Centennial Park, originally built for the 1996 Olympics.
CNN Center also sustained damaged during a 2008 outbreak of tornados in the region, with windows shattering, leaving interior spaces exposed to the elements.
The latest in design, production and engineering
Subscribe to NewscastStudio for the latest delivered straight to your inbox.