NBC correspondent, crew create sweeping drone standup in California mountains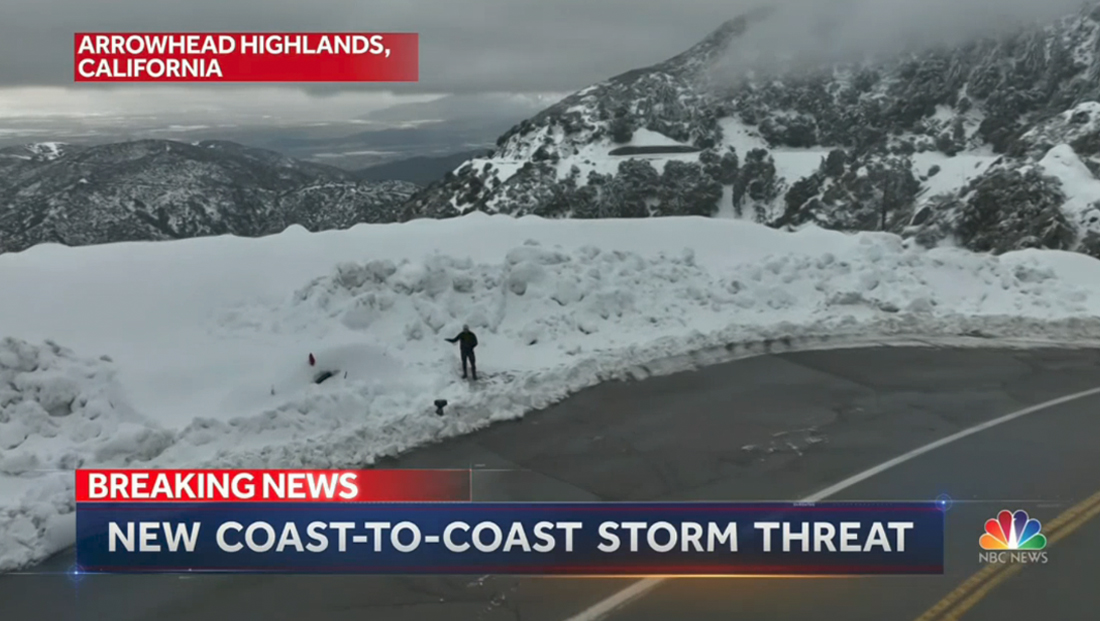 NBC News' Miguel Almaguer and his crew put together a stunning standup shot that combined sweeping mountain views, a buried car and drone.
Almaguer, who is based in Los Angeles, was covering a nationwide storm threat and shot his standup along a windy snow-covered road forged through the mountains in the San Bernadino National Forest.
The report aired March 1, 2023, on "NBC Nightly News."
He was standing alongside the road near an abandoned vehicle nearly completely buried in snow.
What made the standup so eye-catching, however, is that a camera on a drone was used to capture the scene starting from above an outcropping before flying down toward his position roadside.

As the drone moved toward Almaguer, it also appeared that the network may have propped up some kind of lighting panel aimed at him in amidst some of the snow around the scene.
"On our trip up the hill, we thought with the immense beauty that surrounded us, a drone would best showcase the conditions. But first the crew pulled out a 'standard' camera for a 'walk and talk standup close' which captured the situation that had unfolded," Almaguer told NewscastStudio.
However, the team wasn't done.
"Photographer Abraham Villela plotted his flight path as audio tech Robert Colvill dialed in our sound and served as our spotter," said Almaguer.
"After a few fly overs in the frigid conditions we adjusted our timing and ending shot. A few takes later we had what we though was visually moving and editorially sound to convey the snowfall, the dangerous conditions and the challenges ahead," he concluded.
The latest in design, production and engineering
Subscribe to NewscastStudio for the latest delivered straight to your inbox.