Industry Insights: Security and APIs in broadcast media asset management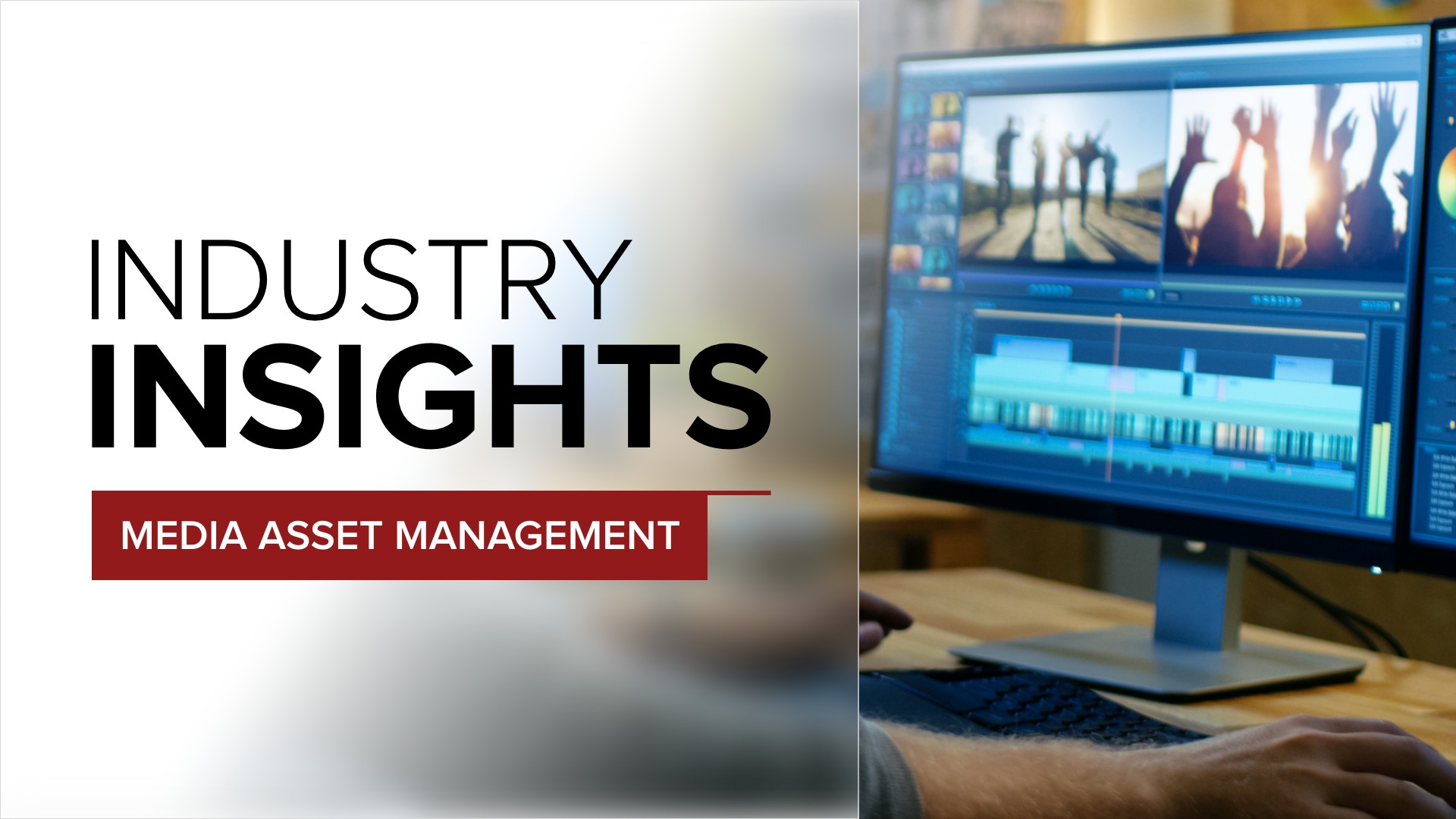 Subscribe to NewscastStudio's newsletter for the latest in broadcast design, technology and engineering delivered to your inbox.
The media landscape is constantly evolving, and with it, the need for effective media asset management (MAM) and storage solutions is growing increasingly crucial.
In this Industry Insights roundtable discussion, industry vendors have come together to address the most pressing concerns and trends in media asset management. Security concerns, APIs, cross-platform support and the future of storage are just a few of the topics hit on in part two of our roundtable discussion.
One significant concern that emerged from the discussion is the security of storage and MAM technology. Experts emphasize the importance of mitigating unauthorized access, content leaks, and ransomware attacks while maintaining a strong focus on cybersecurity hygiene. Solutions such as one-time access codes, signed URLs, well-architected cloud security methods, and robust disaster recovery plans are all suggested as ways to ensure content remains safe and accessible only to authorized parties.
The roundtable participants also weigh in on the role of APIs and cross-platform support as more broadcasters look at platform-agnostic solutions plus the potential of hybrid MAM technology, combining on-premises and cloud-based solutions to optimize content accessibility, scalability, and security.
Make sure to also read part one of our roundtable which dives into current pain points, cloud adoption and new technology like AI and machine learning.
What are the current security concerns with storage and MAM tech?
Julián Fernández-Campón, CTO, Tedial: Unauthorized access to storage and content leaking are very serious security concerns. MAM systems need to secure the access to the storage with one time access codes, signed URLs, etc.

Geoff Stedman, CMO, SDVI: Security is always top-of-mind for our customers. All media companies want to protect their content as well as tightly control who has access to their content. Fortunately, there are well-architected methods for securing cloud-based content and workflows to ensure that work can be done by only those who are authorized.
Melanie Ciotti, marketing manager, Studio Network Solutions: Ransomware, leaked content, excessive downtime, data loss—cybersecurity threats can do a lot of damage in a very short period of time. It's important to evaluate all of the systems within your workflow and consider recent data breaches and known vulnerabilities that could impact your content security.
Savva Mueller, director of business development, Telestream: Like other industries, media and entertainment organizations have been targeted by ransomware attacks. These attacks have crippled many of their critical systems, including MAM and storage. The result has been an increased focus on cybersecurity hygiene and better tools to track the fixity of data.
Aaron Kroger, product marketing manager for media workflows, Dalet: As people migrate their content to the cloud, security becomes a big concern. There are two main areas: the cloud provider and the access points. Even if you are comfortable with the cloud provider's security, your MAM is a door into that data and must have its own protection to keep your data safe. At Dalet, we think the principle of zero trust is the best way forward.
Crystal Pham, VP, Trusted Partner Network: Centralized MAM and cloud storage solutions allow us to leverage content accessibility and storage scalability, but in our environment of universal sharing, collaborative tools, work from home, bring your own devices, and web-facing applications, our media industry is facing heightened security vulnerabilities. Mitigating content breaches mean having security protocols in place and following security and business disciplines to keep threats at bay. This includes implementing systems and best practices that help avoid potential threats and allow you to recover quickly from a content security attack, such as business continuity and disaster recovery plans, as well as Identity and Access Management (IAM) technologies and processes.
Sam Peterson, COO, Bitcentral: Security is a concern regardless of what MAM tech is integrated. The primary concern is content security, as there will always be the existential possibility of denial of service and other access concerns. However, the continued evolution of storage and MAM tech outweighs these unlikely challenges and adopting the right tech significantly mitigates them.
Toni Vilalta, director of product development, VSN: MAM should have an open API to connect with any storage, but when interoperating with multiple platforms security is a must. MAM services and storage should support mutual and standard TLS authentication (MTLS) for API calls. Running periodic security audits in the MAM software should be one of the best practices that must be introduced in the product methodology to detect vulnerabilities and apply corrections to be protected from them.
Jon Finegold, CMO, Signiant: Security concerns across the board are at an all-time high. The storage landscape is so complex, the more places you have assets, the more the security challenges can come into play. One growth driver and reason why people turn to Signiant, is we provide an abstraction layer across all your storage giving you fast, seamless, and secure access to content across all your storage locations, whether that's on-prem or in the cloud.
Sunil Mudholkar, VP of product management, EditShare: In talking with today's IT executives they're really concerned with two things: (1) How does this integrate with my existing SSO infrastructure — I don't want an island. (2) Traceability and auditing — how can I see who is accessing the system?
Alex Grossman, VP of product management and marketing, Perifery, a division of DataCore: Not all storage is created equal, the design and application will dictate the security. There should always be encryption and immutability capabilities as well as multi-factor admin access.
James Fraser, VP of U.S. sales, Newsbridge: The current security concerns that we see with storage and MAM tech include data loss and leakage, data privacy and confidentiality, accidental exposure of credentials, incident response, legal and regulatory compliance, and data sovereignty, residence, and control. To overcome these concerns, customers need to make sure their suppliers meet standards such as DPP Committed to Security or ISO-27001 and look under the hood to ensure replications and back-ups observe the best practices of checksum, encryptions, and data integrity.
How are you thinking about APIs and cross-platform support?
Julián Fernández-Campón: APIs are the key to abstracting content from its physical location and accessing storage methods. This is the way to go but there is not a single API for all. S3 has been adopted by many vendors but it's not the only one. Tedial's AST abstracts from all the different APIs and storage technologies by providing the same ID across all the storage technologies.

Melanie Ciotti: EVO was built on the principle that creative teams should be able to edit in whichever applications they work best. We've built open APIs into EVO's software programs and cross-platform integrations with popular NLEs and other post-production tools to create the best workflow experience possible.
Savva Mueller: It is assumed that solutions will have a comprehensive RESTful API. While these APIs provide a toolbox that allows organizations to create bespoke solutions that integrate multiple products, this requires dedicated software development and testing by the customer and/or significant professional services from the vendor. An alternative to that model is workflow orchestration, which gives organizations the ability to automate repetitive tasks and customize their media supply chain workflows without writing code.
Aaron Kroger: Your MAM should be the hub of your digital workflow with connections to all aspects of your business. Dalet Flex has a robust API framework which allows you to connect to everything you need today as well as in the future. In addition to the API framework, we offer hundreds of out of the box integrations for even easier and quicker integrations.
Andy Shenkler, CEO and co-founder, TMT Insights: We focus heavily on API based interfaces and ensuring that business logic can exist independently in both your front-end application and your back-end services. While there is significant commonality in workflows, its important to realize that organizations are unlikely to adopt a one-size-fits-all approach to their systems, and leveraging powerful sub-systems that can operate as headless components provides the most flexibility in the market.
Sam Peterson: They are critical components to what companies like us do in the cloud, and much of the benefit is lost if we don't tool appropriately for connection with third party services. The easy integration of additional services is essential.
Jon Finegold: We are an API-first company, so we always design and develop APIs as first-class citizens. We build APIs and use them ourselves in our own products and then make many of those APIs available to our customers and partners. We strive to make it easy for our customers to integrate with any systems.
Sunil Mudholkar: Published APIs are a must. Whether it's for integrating with centralized command and control systems or for working with partners. The web won this argument years ago as open APIs were key to building ecosystems.
James Fraser: Cross-platform APIs deliver the unified data management needed to enable secure data sharing, fully execute multi-cloud strategies, and provide organizations with a single source of truth. By enabling data to move freely, cross-cloud capability delivers on the promise of multi-cloud strategies. Data can then move anywhere easily, which requires a high-throughput communication "mesh" that enables complete data portability. Newsbridge facilitates connections between cloud services at the application layer. Our flexible offer ranges from hosting 100% of a customer's content to integrating with their third-party storage provider. Our Bring Your Own Storage connector enables integration with a variety of storage providers such as AWS S3 and Object Matrix, among others, showing our commitment to being a fully agnostic cloud service provider.
What are we forgetting to ask about or talk about with storage and MAM?
Julián Fernández-Campón: How do you foresee the evolution of storage in the future? As communications improve and storage becomes cheaper with the emergence of new technologies, the use of cloud storage will be adopted more and more. Vendors need to provide simple methods to migrate from one system to another and break the feeling of being locked into one system.

Melanie Ciotti: Many people try to steer the conversation into an on-prem vs. cloud debate, as if the answer must be all or nothing. In reality, most production teams will benefit from a hybrid approach that includes one or more shared storage servers in the office that are enhanced with cloud capabilities for off-site access, archival, transcoding, and so on.
Stephanie Lone, director of solutions architecture in media and entertainment, AWS: Sustainability is a top priority in the M&E space, and major media companies like the BBC, Comcast, ITV, Netflix, Sony, and Disney have all publicly announced sustainability goals around carbon neutrality, renewable energy, and net zero carbon emissions. Amazon has also committed to sustainability goals and is on the path to power its own operators with 100% renewable energy by 2025. Moving to the cloud comes with many sustainability benefits, such as reducing the production staff and equipment required on-site, travel emissions from crew and OB trucks, and the number of generators needed to power the productions.
Savva Mueller: The industry trend seems to be moving away from monolithic MAM systems. More customers are deploying smaller, more targeted asset management solutions to address specific workflows. In many cases, larger organizations may have multiple asset management solutions.
Aaron Kroger: Businesses today need much more than just media asset management; they need a solution that can handle their content from production through distribution and into archives. A comprehensive solution connecting production workflows, media asset management, and supply chain orchestration enables businesses to maximize their market potential and reduce their costs. Content is moving so rapidly today it doesn't make sense for it to be transferring systems, which will cause inefficiency in creativity, time, and cost.
Sam Peterson: We must ensure that both storage and MAM are incorporated into the same conversation – not either/or. Ensuring to have the right partner in place that has the know-how and experience to help organizations navigate this balance is critical. Storage is but one aspect, the discoverability of the content stored is key to monetization.
Sunil Mudholkar: The existence of hybrid on-prem and cloud workflows to help bridge customers today. If customers do not have a cloud strategy today, whether big or small, they are behind. There are ways to gradually introduce cloud into the day-to-day workflow without an entire lift and shift. Providing these seamless workflows eases the stress of technology change and makes it invisible to the client.
Alex Grossman: Metadata. Different technologies handle metadata differently and this can affect the performance and security of MAM systems as well as whether metadata can be added to, or enhanced, outside the MAM, as is often the case with remote workflows.
James Fraser: Egress has become a dirty word in our industry. Customers unfamiliar with the cloud have long hidden behind the cost of egress as an excuse for not adopting cloud technology, or at least a reason to be cautious of cloud services. We've made egress a non-issue by including a fair usage policy around egress within our package prices. In essence, we allow a customer to download the capacity of the storage they have per month. The market is now ready to move to the cloud, even in non-linear editing use cases. Production formats such as 4K and DNXH120, however, would lead some files to be extremely heavy – more than 100 GB per game – and inadequate for cloud usage. Today, lighter mezzanine formats are being used for 95% of usage. For example, the NBA uses the MP4 format at 18 Mbps which suits the majority of their use cases. They store this content in the cloud, and then keep the super heavy original file on prem. The only reason to keep this original file is for legacy reasons and for advanced usage (for example a movie or a Netflix documentary), but these use cases are far less common compared to social media publishing.
Talk briefly about your storage or MAM solution.
Julián Fernández-Campón: AST (Augmented Storage Management) from Tedial allows the customer to choose the storage that adopts better to each use case by integrating Cloud, OnPrems, different vendors and multiple sites into the same platform as it abstracts the physical location of the file. Migrating from one storage technology to another is a seamless process for the applications using it.
Geoff Stedman: The SDVI Rally media supply chain management platform is unique in that it enables media companies to manage not just their assets, but all the work and resources required to prepare those assets for distribution to any platform. Rally deploys all the applications and infrastructure needed in the cloud for whatever workload is required, elastically scaling as needed, and all on a per-unit, pay-as-you-go consumption basis. Going well beyond asset management, the SDVI Rally platform optimizes all the effort associated with turning those assets into revenue, across all delivery outlets.
Melanie Ciotti: EVO is the high-performance shared storage solution purpose-built for creative media production. Every EVO workflow solution on-premise and in the cloud comes with the award-winning EVO Suite of software tools included, giving creative teams powerful and easy-to-use media asset management software, built-in transcoding and automations, and remote editing tools to help them create amazing content, faster, from anywhere. All of this comes included with EVO for unlimited users.
Stephanie Lone: AWS offers a wide range of Media Supply Chain cloud solutions, including rights, ingest, QC, metadata enrichment, transcoding, editing, localization, DRM, fingerprinting, distribution, and archiving, in addition to a broad set of partner solutions that are purpose built for cloud-based media asset management. When a customer needs to migrate their video library and/or archives into the cloud, they can create a data content lake on Amazon S3, and as the media is ingested, they can run an AI/ML solution, like AWS Media2Cloud service, alongside S3 to execute automated metadata generation. For example, if our customers leverage one of our MAM solutions, such as Media2Cloud, they can also use an ISV in our Partner network, or they can develop their own solutions using core native AWS services like AWS Elemental MediaConvert, Amazon Rekognition, Amazon Transcribe, Amazon S3, and Glacier.
Savva Mueller: The Telestream Content Manager is built on the DIVA Core technology used by the world's largest media organizations to provide a single access point to all of the content in their storage ecosystem, including cloud, LTO, and disk storage. We have added a new user experience to discover, search, preview, and repurpose this content, along with simplified pricing and deployment models to make it accessible to everyone. Alongside Telestream's media processing and workflow automation products, we can offer complete solutions to transform the media supply chain.
Aaron Kroger: Dalet Flex offers the most comprehensive solution to manage your media assets from production through distribution. Its cloud-native architecture can be deployed on any cloud, on-premises, or hybrid, and is built around a state-of-the-art workflow engine enabling complex media supply chain orchestration and advanced storage management. Dalet Flex is a true business enabler: it unlocks your content's potential, maximizes your revenue, and reduces your TCO.
Sam Peterson: Bitcentral's Oasis is enabling broadcasters to get their news out to their audience quickly and reliably, wherever the journalist or audience may be through multiple platforms and distribution points. In addition, Bitcentral's Fusion Hybrid Storage is part of a new set of services that are providing an increased feature set backed by cloud capabilities. The combination of Oasis and Fusion Hybrid Storage gives storytellers the most powerful toolkit available for asset management, archiving, and content sharing.
Roberto Pascual, head of sales, VSN: VSNExplorer MAM is our web, scalable, open and flexible MAM System. It allows any company to catalog, search and locate, publish, distribute, preview and archive media content whenever they prefer. Its open architecture allows for integration with AI engines for automated cataloging, and it's ready to work on all cloud environments under the SaaS business model.
Jon Finegold: Signiant doesn't offer storage or MAM solutions; rather we connect to your storage, whatever type that is and wherever it's located but we do not provide storage in any way, shape, or form. Signiant's Media Engine service makes it easy to search and preview assets across any Signiant-connected storage without needing to move or ingest your assets. Users can search and preview assets and provide secure, fast access to assets in whatever storage they're in.
Sunil Mudholkar: Editshare delivers open, collaborative EFS storage and FLOW MAM solutions. These solutions are designed to allow creators from anywhere to use their favorite tools to share, protect and deliver their media to customers worldwide in production, broadcast/news, live/sports, education and enterprise.
Alex Grossman: We offer a full line of highly secure, high speed and fully scalable content archive and long-term archive object-based storage solutions designed specifically for media applications and engineered to for broadcasters' complex worfklows. Avid and Adobe enhancements add efficiency and additional capabilities to these workflows.
James Fraser: Newsbridge is a cloud media hub platform for live and archived content. Powered by Multimodal AI Indexing and a data-driven indexing approach, Newsbridge provides unprecedented access to content by automatically detecting faces, objects, logos, written texts, audio transcripts, and semantic context. Whether it be for managing and accessing live recordings, clipping highlights, future-friendly archiving, content retrieval or content showcasing and monetization, our solution saves media companies time and money.
Make sure to also read part one of our roundtable which dives into current pain points, cloud adoption and new technology like AI and machine learning.
The latest in design, production and engineering
Subscribe to NewscastStudio for the latest delivered straight to your inbox.