Industry Insights: Navigating the future of media asset management in broadcast production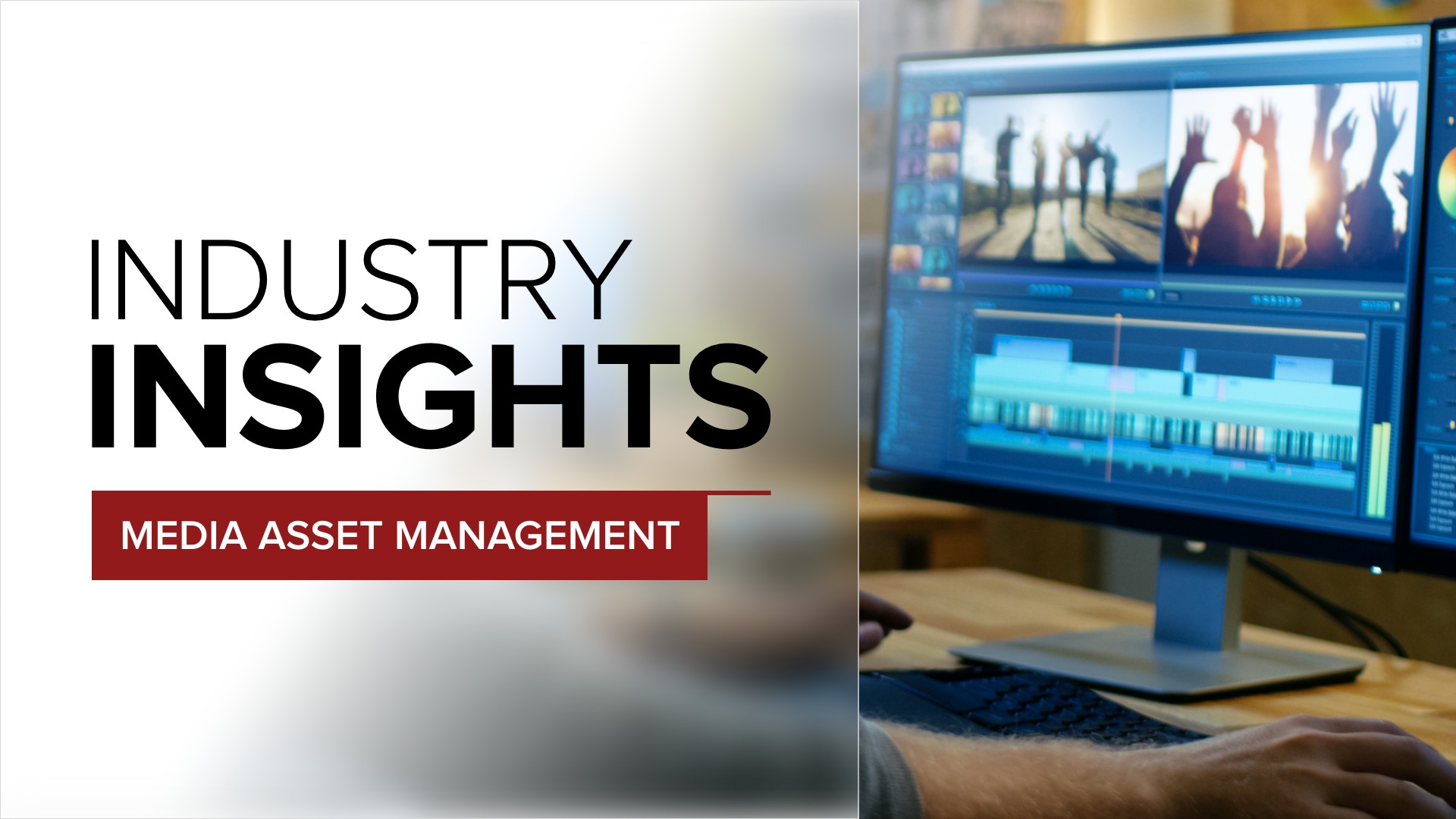 Subscribe to NewscastStudio's newsletter for the latest in broadcast design, technology and engineering delivered to your inbox.
The rapid evolution of the media landscape has created an increasing demand for efficient, scalable, and secure broadcast storage and media asset management (MAM) solutions.
As part of our Industry Insights series, leading vendors gathered to discuss the current challenges and explore the potential of cloud-based MAM systems along with emerging technologies such as artificial intelligence (AI) and machine learning (ML) to address these pain points. Central to the discussion is the importance of seamless collaboration, navigating the complex storage options landscape, managing high operational costs for new formats, and prioritizing flexibility and openness in MAM systems.
The roundtable participants acknowledge that cloud adoption for MAM and storage has gained significant traction, primarily due to the coronavirus pandemic, which emphasized the need for remote access and greater flexibility. However, professionals in the industry often operate within storage silos and face challenges in unlocking the full value of stored assets for distribution and monetization. As a solution, hybrid cloud models, which combine both on-premise and cloud storage, are emerging as a practical and efficient approach for many organizations.
In addition to embracing cloud solutions, the impact of AI and ML on broadcast workflows is becoming increasingly apparent.
These technologies have the potential to streamline operations through improved metadata management, automatic transcription and translation, and intelligent indexing of content. This allows media professionals to focus on creating and delivering high-quality content in a competitive market. As the industry evolves, leveraging these cutting-edge technologies will be essential for success and maintaining a competitive edge.
Make sure to also read part two of our roundtable which dives into cloud security, APIs and current MAM offerings.
What are the current pain points in broadcast storage and MAM?
Sunil Mudholkar, VP of product management, EditShare: Current pain points I think are focused on making collaboration easier across locations that are more dispersed than ever. Whether this is performant, remote access to media or keeping NLE projects in sync across tools and creators/producers.
Jon Finegold, CMO, Signiant: The sheer variety of storage options and MAM vendors make it a very confusing landscape. There are so many different choices between on-prem and cloud, different tiers of storage, file and object storage, etc. IT teams have a lot of flexibility to balance cost and performance but that choice also creates complexity.
Toni Vilalta, director of product development, VSN: New formats, such as 4K or 8K, make the operational costs too high. With cloud or hybrid storage architectures, MAM systems should provide support for critical security services like encryption or cryptographic protocols. Another challenge of MAM systems is to be able to manage enormous amounts of content in storage, adding AI capabilities for automatic cataloging.
Sam Peterson, COO, Bitcentral: There is no "one size fits all approach" because customers and the industry as a whole will have varying business requirements and they're constantly evolving depending on their needs and the market landscape. For some in the industry, there is also a resistance to change, which is undermining successful projects. Changing these attitudes can have a positive impact going forward.
Andy Shenkler, CEO and co-founder, TMT Insights: As people have shifted their supply chains to become predominantly cloud based, their assets continue to exist in a both a legacy on-prem storage model as well as single or multi-cloud. Processing of content must be co-located with your assets in order to be economically viable. Large content libraries are not easily migrated, and often times require clean-up before being viable for automated processing, all of which comes at a cost of both money and time.
Aaron Kroger, product marketing manager for media workflows, Dalet: Many people find themselves with aging on-premises infrastructure managed by an out-of-date monolithic MAM that is lacking the connectivity and scalability they need to achieve their business goals. Replacing this equipment comes at a high cost and leads people towards the cloud. While the cloud can alleviate many of the current pain points, it's not without creating some new ones and raising questions such as what are the true costs, how do I migrate all my data, and is my data secure?
Savva Mueller, director of business development, Telestream: In this constantly shifting market, media companies do not want to be locked into any one vendor's solution, and they need their content to be accessible to all of their business systems instead of being stored in a proprietary format. For these reasons, they are looking for more open approaches to asset management and storage.
Stephanie Lone, director of solutions architecture in media and entertainment, AWS: While our M&E customers are in varying stages of their digital transformation journeys, common pain points include: operating in storage silos; navigating the sheer volume of assets that require storage; unlocking the value of these stored assets for distribution and monetization; and localizing content for broader distribution. Presently, many of our customers operate multiple lines of business that use different MAM and storage solutions, making it challenging to uncover and unlock the value of all the assets across their enterprise. Often, they find that their on-premises storage capacity can't accommodate the growing volume of video footage being acquired.
Melanie Ciotti, marketing manager, Studio Network Solutions: Lack of speed, collaboration, ease-of-use, and organization are repeat workflow offenders, and creative teams are looking to solve those shortcomings when they set out to find their first shared storage and MAM solution. What they don't always consider is the flexibility of that system, which becomes an issue after it's been in use for some time. Accessing the shared storage and MAM system remotely, adding users easily and cost-effectively, and scaling the system as your team grows are all pain points we see when well-established teams come to us to fix their existing storage or MAM workflow.
Geoff Stedman, CMO, SDVI: Users must select an archive format, a tape format, a tape library and drives, and a hierarchical storage management system. They also must continually keep track of milestones such as hardware and software end-of-life, and tape format or drive migrations. MAM systems were typically deployed to manage what assets were stored where, but most have significant gaps in metadata, making it difficult to find what a user is looking for.
Julián Fernández-Campón, CTO, Tedial: The physical location of files and the obsolescence of hardware leading to hardware replacement and content migration from time to time.
Alex Grossman, VP of product management and marketing, Perifery, a division of DataCore: One of the most common pain points we hear is the overall complexity in setting and using most MAM systems, and the on-going difficulty in configuring for change.
James Fraser, VP of U.S. sales, Newsbridge: The biggest pain point that exists is undoubtedly content discovery. Every prospect and customer we speak to highlights the poor searchability within their existing infrastructure as a real headache that costs them time and money. Poor searchability limits them from not being able to find assets for long periods of time or worse, purchasing content from competitors that they know they own, but simply can't locate.
Another pain point is how much they rely on archivists to be the internal knowledge base for locating content. They need a solution that enables journalists and content creators to be truly autonomous and find what they want. Furthermore, content not being centralized is a challenge. We commonly see content stored in multiple locations and not accessible to everyone. Finally, expensive SLAs are an issue. Customers are fed up with paying thousands of dollars and still having to wait for a call or email back from vendors to help them with an issue. This is why we introduced intercom, a direct communication line into our operations and support team that has a response time of under two minutes.
Where are we in terms of cloud adoption for MAM and storage?
Sunil Mudholkar: I think it's practically in the main line at this point. Virtually every opportunity we are involved with has some sort of cloud component whether it be MAM or storage or both. Use cases range from simple archival to full cloud editing.
Jon Finegold: On the MAM side, it seems most deployments are still on-prem but there are some innovative approaches to media management leveraging cloud technology. Media Engine isn't a MAM, but it does leverage the power of the Signiant Platform and cloud technology to offer lightweight media management capabilities in a disruptive way.
Roberto Pascual, head of sales, VSN: The adoption of cloud technology in terms of MAM and storage has been accelerated for the last four years, especially after the Covid-19 outbreak, and it will continue as we discussed a few months ago on FIAT/IFTA World Conference.
Sam Peterson: MAM has generated more interest in recent times, and we are seeing more and more media companies make the transition to the cloud. This was accelerated due to the pandemic, but its evolution in a short space of time has really helped the whole value chain thrive in this new era for broadcasting.
Andy Shenkler: Cloud adoption for core MAM services has finally reached a crescendo and most go-forward activities now are being done in the cloud. Along with that adoption is a cloud-first model for storage, but trepidation still exists around mismanaged costs and lack of control. There is still emotional comfort that comes from having a "fixed" based cost model for storage that has been the predominant way on-prem storage has been thought of for so long.
Aaron Kroger: The industry is well on its way to transitioning to the cloud, but it's happening in steps. Having a cloud-native solution such as Dalet Flex that can also be deployed on-premises or hybrid, is a popular option allowing for the best of both worlds. There are still some links in the chain that have not migrated to the cloud so a hybrid solution can create better connectivity to those today and be ready for the transition to a fully cloud-hosted business in the future.
Savva Mueller: Pre-2020, cloud adoption was still fairly low. While many customers were investigating hosting critical systems and storage in the cloud, very few had near-term plans to do so, and even fewer had already made the move. The Covid pandemic accelerated the move to cloud storage and cloud processing. This was most pronounced in North America. Other regions have seen a slower adoption.
Stephanie Lone: Challenges remain in defining the best practices for how the industry should build media supply chains for enhanced localization when it comes to MAM and storage. To this end, the International Broadcasting Convention (IBC) Accelerator Initiative Cloud Localization Blueprint is working to standardize practices and formats to ultimately empower the entire industry to save time and money.
Melanie Ciotti: The cloud is everywhere—it's on our phones; it's in our workflows; it's omnipresent. And while the cloud has made its way into a majority of broadcast and post-production workflows across the nation (and around the world), very rarely is the cloud managing 100% of that workflow. It is much more common to see a hybrid approach with both on-premise and cloud storage working together—which truly offers the best of both worlds.
Geoff Stedman: Today, the cloud has become a central location for media storage, as users have become much more comfortable with the reliability, security, and affordability of the cloud for content archives. In many cases, what started out as a secondary, or backup, location for content storage turned into the primary storage location as people discovered the ease with which they could access and collaborate on content from anywhere.
Julián Fernández-Campón: Storage in the cloud has been adopted for some specific use cases, but not widely. Often a second, low-res copy is used for redundancy or native storage for workflows that are executed in the cloud, such as massive distribution or collaboration workflows.
Alex Grossman: Many organizations adopted a public cloud first initiative in 2018 or 2019 and archive was the most often preferred usage model. News and live broadcast saw the adoption of production/editing, but there has been a retraction due to unpredictable costs.
James Fraser: The cloud is finally becoming the new norm for small-to-medium sized media companies. The sports industry has been an innovation ambassador of transitioning to the cloud for media asset management. Large media companies are still not fully embracing the cloud for media asset management. Many are adopting hybrid models thanks to edge computing, which offers a more gradual transition path. There are a few challenges for major media and public companies to overcome with cloud adoption, such as data sovereignty regulations, security, vendor lock-in, skills gaps, existing data center investments and the capex and opex business model.
What benefits come from moving to the cloud?
Sunil Mudholkar: MAM and storage can become easier to access for clients in varying sites. Utilizing tiered cloud storage for both block and object based, in an intelligent manner can be very cost effective for those that like OPEX style financial models with predictable infrastructure/software expenses.
Jon Finegold: Elasticity is probably the biggest benefit, being able to manage surges. If you have lots of projects at once or a big influx of assets at one time, the cloud gives you tremendous elasticity. There are cases where cloud can be a lot more economical, but that depends on a lot of factors and your use case.
Roberto Pascual: Firstly, the cloud allows maximizing flexibility as well as minimizing capital investment in terms of business, which is significantly appreciated in times of upheaval or constant adaptation to new viewer demands. Secondly, cost is high but evolution of hybrid solutions Finally, there is a final reason to think about since maintenance and security might be one of the unexpected benefits from moving to the cloud.
Sam Peterson: There are many benefits for broadcasters and other media companies including greater flexibility and reliability. Cloud also enables a level of scalability that would be otherwise unaffordable through on-premise storage. Moving to the cloud provides the added capabilities regarding remote access to content and tools, which allows the industry greater opportunity to work more collaboratively.
Andy Shenkler: A clear benefit from moving to the cloud is the ability to scale dynamically without needing to invest ahead of an activity or needing to procure capacity for peak loads that become costly and sit idle for the majority of the time. In addition, flexibility around business continuity without needing to stand-up complete duplicate physical footprints certainly changes the mindset about your business and its options.
Aaron Kroger: Moving your MAM to the cloud enables you to have a highly accessible, auto-scalable, metadata-rich library that will decrease your TCO while increasing your collaboration and ultimately, your revenue. Being able to easily access content from anywhere allows you to reuse content already captured in new and creative ways or even directly monetize it. With cloud storage, you can automatically scale your storage volume and tier as you need, allowing you to find the correct balance between storage costs vs retrieval time.
Savva Mueller: The trend toward remote work has been a major factor in the increased adoption of cloud services since cloud services are designed to be accessible anywhere. Hosting systems and storage in the cloud also provides operational benefits including built-in business continuity through data replication and the reduction of organizations' data center footprints and associated costs.
Stephanie Lone: Elasticity is one key benefit, as providing live coverage of tent-pole events such as the Super Bowl and March Madness to large-scale audiences requires the ability to quickly spin up resources on-demand. The cloud enables content providers to deploy hundreds, or even thousands, of servers in just minutes and then promptly spin them back down as their traffic patterns return to normal. Cost savings is another cloud advantage, as it alleviates customers' need to wade through the lengthy hardware purchasing and provisioning processes required to house data centers, which typically takes months to plan, acquire, install, and provision.
Melanie Ciotti: When done right, a cloud or hybrid cloud workflow can be a major catalyst for productivity and creativity. The cloud can enable better remote editing, archival, file sharing, mobile workflows, and so much more for a production team. No hardware needed can also be a benefit.
Geoff Stedman: Companies of all sizes are realizing that they can become more efficient and agile when they take advantage of cloud technologies. With content in the cloud, it can be easily standardized into a common format, and the metadata can be enriched using cloud-based AI tools. Moving their archives and media processing to the cloud, even at relatively smaller scale, makes monetizing that content for the plethora of distribution platforms now available much easier and faster.
Julián Fernández-Campón: Benefits include redundancy, which is provided naturally for the storage service, scalability, and accessibility.
Alex Grossman: While most would say OpEx vs CapEx, the real benefits are derived from taking advantage of the apps and services provided by the cloud including AI/ML functionality.
James Fraser: A key benefit is flexibility. Cloud users are not limited by input-output on hardware. Opex and sustainability are additional advantages of the cloud. Newsbridge is running AI indexing on CPUs instead of GPUs, reducing cloud processing pipelines and media transit weight by 80%. Our approach provides significant cost efficiencies to our customers. In addition, it enables organizations to reduce their energy consumption.
How are AI and machine learning impacting broadcast workflows?
Sunil Mudholkar: AI is making it easier to add value to content through extended metadata with great accuracy and volume, reducing the need for manual resources. It's also speeding up aspects of the remote workflow with features like automatic transcription.
Jon Finegold: There are some very practical applications of machine learning and AI that are in play today. One example is Signiant's use of machine learning in its intelligent transport protocol to determine the most efficient way to move data over a network at any moment in time. There's certainly a lot of buzz about using artificial intelligence to automatically translate content, to tag content, identify images in videos but that mostly seems in the early experimental phase but we're on the cusp of some of that capability being used in more widespread ways.
Toni Vilalta: Thanks to AI, human tasks can be focused on supervising the metadata generated automatically, instead of wasting time and resources in manual cataloging. The automatic transcription and translation can save a lot of time too, and the closed captions or subtitle files can be easily generated, delivering packages to traditional broadcast or new multiple non-linear platforms. With machine learning capabilities, broadcast and media professionals can train their own archiving systems and create their own term structure, without worrying about the type of content or the localization of their companies.
Sam Peterson: AI and machine learning have the potential for significant positive impacts on broadcast workflows as they are helping broadcasters make more informed decisions. One application where broadcasters are using AI and ML technology today is for intelligent indexing of content. These techniques are also improving workflow efficiencies which is crucial in today's demanding market, allowing broadcasters time to focus on creating new products/productions.
Andy Shenkler: At the moment, the machine learning activities around broadcast workflows still remain heavily focused on reducing repetitive human tasks (i.e. identifying commercial breaks, credit points, augmented QC functions), not to say there isn't other more sophisticated processes being deployed. As both the technology and the skillsets of the people leveraging that technology improve, we will begin to see greater adoption around compliance editing, localization and real-time enriched consumer experiences.
Aaron Kroger: AI enables you to identify what is in your content, what was said, who is in it, what logos are shown, and more. Today, this also allows you to increase the automation of your existing workflows. With richer metadata, you can trigger automated processes to send those clips to the next step in the process and the relevant audiences.
Savva Mueller: Currently speech to text is being widely used, particularly to provide closed captioning and subtitles for content. The quality of these services has improved dramatically over the past decade. Visual recognition is not being used heavily today, both because of its costs and its effectiveness. Going forward, we expect that visual recognition services will become more effective, and that systems will provide more efficient ways to implement these services to reduce their costs.
Melanie Ciotti: AI and ML continue to astound me. ChatGPT and friends are making waves in every industry with well-written, well-researched content for virtually any purpose, and AI can add relevant metadata tags to video clips in ShareBrowser MAM at the click of a button, making decades' worth of untagged media searchable within the media asset management system. AI is the present and future of broadcast workflows, and I'm waiting with bated breath to see what it does next.
Geoff Stedman: The use of AI and machine learning is still in its infancy for broadcast workflows, although it is starting to have a positive impact. One way that AI tools are being used is to analyze video and audio content to extract information about the content that can be used to enrich the metadata for those assets. AI is also being used to perform automated QC reviews, with results that then guide operators for manual reviews of only questionable points.
Julián Fernández-Campón: The impact of AI and machine learning is increasing in some use cases such as video analysis, image recognition, speech to text, but there are many features that currently exist as a result of AIs based on GPT 3 (Open AI) and others that claim to be able to do summaries, create pictures or videos.
Alex Grossman: The impact has been minimal compared to where it will go. As applications take advantage of AI/ML, the efficiencies provided will drive faster adoption.
James Fraser: AI is bringing overall business efficiencies to broadcasters and media companies. Thanks to automatic multimodal AI indexing, our clients are reporting improved time to market, reduced manual/human logging requirements and general improved efficiency of sourcing, editing and distributing content to both internal and external stakeholders.
Make sure to also read part two of our roundtable which dives into cloud security, APIs and current MAM offerings.
The latest in design, production and engineering
Subscribe to NewscastStudio for the latest delivered straight to your inbox.